Mini Pies and Recipes for Small Pies
Photo by Pie Guy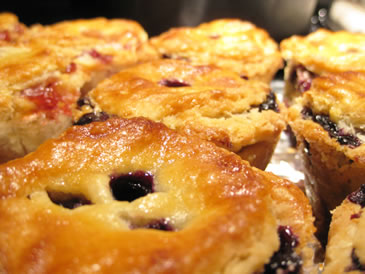 Mini Pies – The New Trend
Mini pies are starting a new trend that is riding on the heels of cupcakes. These pies are 6 inches or smaller in size, and can serve one or two people. It is a great romantic pie to share with your love.

People want more pastry
Today people want more pastry. Full size pies are mostly pie filling with some pastry. With mini pies, you get more of that lovely pastry.
One warning, your pie crust better be very good if you are baking mini pies. It will make or break your pie acceptance.
Mini Pies from oven to mouth in a shorter time
Mini pies can be easier to make and inexpensive. These pies cooks faster and are perfect for giving as gifts to family and friends.
These pies are not only quicker to cook but also cool down faster.
Pie filling holds a lot of heat and takes a long time to release it. However, the good news about mini pies is that the filling is not as deep, so they tend to cool down fast, less than an hour if done in the refrigerator.
This all means you get to eat pie sooner, and you don't need to plan so far in advance to bake a pie.
Petite Pies offer portion control and variety
Tiny pies are less threatening when you are on a diet. There is not as much guilt if you eat one all by yourself.
Mini pies are nice when you do not want to eat the same pie day after day trying to finish off a full size pie. With mini pies, you can bake several kinds at the same time.
How about some blueberry, peach and apple at the same time. You can save these tiny pines in the refrigerator or freeze them for weeks to eat later.
Mini Pies keep it clean
Cutting into a full size pie can make a mess. A cut pie may look unpleasantly messy, even gross at sometimes. But eating a mini pie leaves no evidence. It is nice and clean. The next time you want a pie, you do not need to take what is leftover. How special you are now. You get a fresh pie that no one has touched.
Use less ingredients
Mini pies use less of the ingredients. This means two things. One, they are cheaper and if you want to use fancy or special ingredients you do not need as much.
Do not need a big oven for small pies
Another thing special is that you do not need a conventional oven to bake these little bundles of joy. If you have a toaster oven you are good to go. Are you in college? Then bake a fresh pie in your room.
Be the hit of the party with mini pies
You got to know that these pies are a hit at parties or company potlucks.
I made a dozen of these tiny pies for my company. I placed them at the end of the table where we had cake and cookies. Normally, you wait until you finish the main course before grabbing the dessert. But when I finished my meal to check on my pies, they were all gone! A good thing I kept a few home.
Mini Pies – A convenient food
These tiny pies are very convenient for on the go eating: picnics, lunch bags, sidewalk snacks, fishing, any place for finger food.
You can put them in sandwich bags and eat them with your hands. No plate or fork needed.
Kids, especially girls, will go nuts over these cute bundles of pastry and fruit. Why buy that store junk of nothing natural but the sugar? Bake your own mini pies knowing you are feeding them with wholesome ingredients.
Interested in Mini Pies
Mini Pies and Recipes