"Mini Pies" cookbook review
Posted by Warren
A book review.


2.5 stars based on
1 review


Mini Pies cook book, by Christy Beaver & Morgan Greenseth, 2011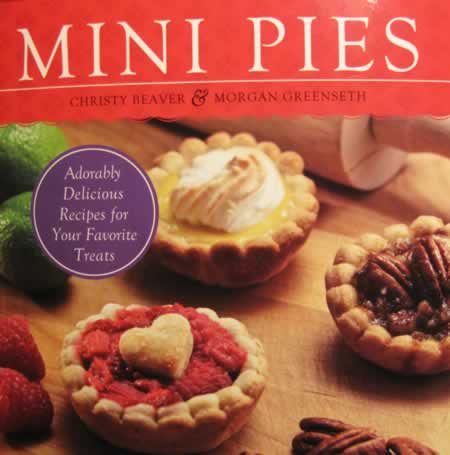 Mini Pies Cookbook
Is a cute little pie cookbook (size of book is six inches by six inches) with great ideas and tips in making mini pies. The instructions for recipes were lacking some detail and somewhat repetitive.
Pie in a Jar
If you wanted to know how to bake a pie in a jar, there is a chapter on it. The "Pie in a Jar" chapter was well defined with illustrated step-by-step instructions.
The real treasure of the book is hidden in the first two chapters, "Introduction" and "Pie Crust Basics".
Should I pay 14.95 dollars for this book?
After the first couple of recipes, the instructions were copied almost word for word except the difference in the ingredients. You would expect more for a $14.95, twenty-five recipe paperback book.
Baked three pies from Mini Pies cook book
Three pie recipes were tried in the book along with two pie crust recipes with slight modifications.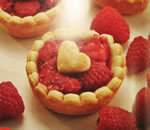 "Mini Pies" is broken up into five sections:
Pie Crust
Fruit Pies
Creamy Custard Pies
Nut & Savory Pies
Toppings
The recipes are nice but most can be found online, some more than others. It is the techniques and methods of baking mini pies that make a cookbook a success.
Mouthwatering mini pie photos
This cookbook is lacking a little in this area.
A cookbook should be supported by well placed illustrations and photos to follow. "Mini Pies" lacks step by step illustrations. You do get a chance to see the finished product with a mouthwatering photo, but that is it.
25 recipes decorated the same – almost
There is a section on adding finished touches to your mini pies. What is disappointing is that every pie in the cookbook visually used the same looking pie crust. No variations in crimping or decorations of the edges. They talk about various pie dough recipes, but the 25 recipes are mostly pictured with the exact same crust with just different pie fillings.
A few are made with a graham cracker crust and some cheese crust.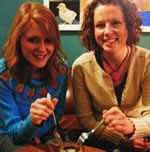 "Mini Pies" seems like it was rushed to get published, but do not take me wrong about the cookbook. It has problems but I still like it.
Can we meet?
I would love to meet Christy Beaver and Morgan Greeseth one day. I am drawn to them for their efforts in writing a mini pie cookbook. Their passion for pies is as strong as mine. It would be a pleasure to share a slice of pie with them.
Complaints
Some have complained that the recipes were too complicated and require ingredients that are not commonly stored in one's pantry.
I can not recommend "Mini Pies"
This book would be nice if you are a pie-aholic like me, but offers little help to those who want to bake a great mini pie. "Mini Pies" cookbook will appeal only to a very small group of people because of this, I can not recommend that you buy this tiny book.
Mini Pies cook book description from publisher
Authors: Christy Beaver & Morgan Greenseth, by Ulysses Press, 2011
Publisher's Book Description:
Do you love the taste of pie but prefer the cute size of a cupcake? Then toss the pie pan, grab your muffin tin and open this book. With delicious recipes, easy-to-follow instructions and stunning color photographs, Mini Pies provides everything you need to bake these adorable miniature desserts with professional results.
Featuring gourmet recipes for a range of fruit, custard, nut and savory delights, Mini Pies serves up hold in-your-hand, single-serving versions of all your favorites, as well as the authors??? all-new creations, including: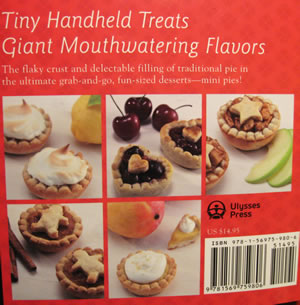 Apple
Cherry
Strawberry
Pumpkin
Key Lime
Lemon Meringue
Chocolate Cream
Bourbon Pecan
Honey and Pine Nut
Dilled Spinach Quiche
Onion, Olive and Thyme Tart
Whether you are baking a single batch to have around the house for your family or making a collection of different mini pies to offer guests at your next party, this book is packed with tips, tricks and techniques for creating crowd-pleasing mini pies. The authors guide you step-by-step through making the perfect crust, plus graham cracker, vegan, shortbread and gluten-free variations.
– founded Seattle-based Mini Empire Bakery.
Interested in Mini Pies
Mini Pies – Recipe Reviews
—Below are three recipe reviews baked from the "Mini Pies" cook book.
Review ??? Mango Cream on page 75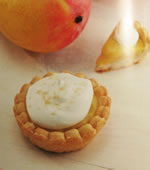 Review ??? Mango Cream:
The filling was loose, almost soupy. Cooking mango puree with cornstarch is not a good idea. It will prevent the starch form thickening the filling.
Too much water was added to the puree. I recommend just adding ?? cup or just eliminate it all together. Use a hand blender to puree and mix.
Set pie in the refrigerator with plastic wrap to prevent a skin development on top of the filling.
This recipe made about 3 cups of filling which is never mentioned in any of the recipes.
Review ??? Bourbon Pecan Pie page 95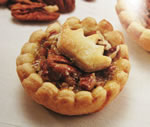 Review ??? Bourbon Pecan Pie:
Review ??? Bourbon Pecan Pie
Roast nuts first before mixing in filling. They lost their snap and were a little chewy.
Cook the filling first in a pin and then pour into pre-baked pie shells. Chop most of your nuts but leave some whole.
Add a teaspoon of vanilla to improve the flavor of the filling. Place the whole pieces of nuts on top coated with some of the syrupy filling.
This recipe makes approximately 3 cups of filling.
Review – Gluten-Free Pie Crust page 22
Review – Gluten Free Pie Crust:
My daughter is gluten intolerant, so I made this pie for her to try.
The gluten free pie crust on page 22 was a nightmare to make. The dough is almost impossible to roll out and place into mini pie pans. It wanted to break in a thousand pieces. The only thing holding the ingredients together is the cold palm oil.
I got this to work by scooping some of the dough into the pie cavities and forming it by pushing and pressing it against the side and bottom of the pie pan.
This crust surprisingly kept its form once it was baked and cooled.
The gluten free crust was great tasting. Guess what? It was loved and enjoyed by my young judge.
If asked if I would make it again. I am sorry to say, No!
Mini Pies final comments
I feel "Mini Pies" cookbook will appeal only to a small group of people. Because of this, I can not recommend that you buy this tiny book.