Mini Pie Dough Help
Posted by Pie Guy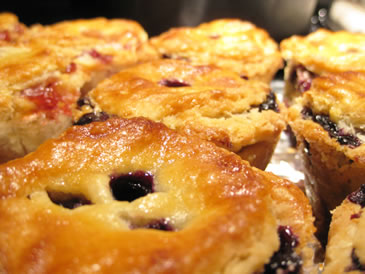 What size dough circle to use for your mini pie
Mini Pie Dough Help
Using a muffin pan for mini pies,
how big should the dough circles be for a standard muffin pan?

Measure the bottom of the muffin cup. Then add 1 1/2″ to this. This measurement should be the size of your dough circles for the bottom crust.
Use whatever you have in the house to make your dough circles. Try using a wide mouth jar, a large cookie or biscuit cutter, a round plastic container or whatever. Save any scraps for pie decorations.
Cut folds and tuck
If the dough folds or wrinkles when inserted it into the muffin cups, just snip through the fold with a knife or scissors. Then lap one side over the other, and press to reseal the pastry.
When it comes time to fill the mini pies, use an ice cream scoop or a tablespoon. You want to prevent from spilling all over your crust, and muffin pan. The spills will burn and smoke in the oven.