Pie News – Pie Trends – Events – The Latest Information on Pies
What is new with pies? What is going on with pies? We talk only about pies here.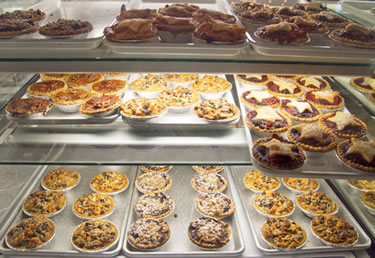 Pies Top Trend List for 2011
Pies, both sweet and savory, will be the top food trend in 2011, by Restaurant News.

Andrew Freeman of San Francisco consults on marketing for restaurants and hotels nationwide. He detailed some top trends for 2011.
"If I had one trend of the year that I could predict, the number one position, this would be the trend for pie," he said. "I think that we're going to make room for pie shops in 2011."
Pies are following on the heels of cupcake shops.
"This is not just sweet pies, this is savory pies, bite-sized pies. They are even blended into milkshakes," he said. "I'll eat pie if I don´t get this one right at the end of the year."
Pies are even baked in cakes.
Testing the water with a Pop-Up Pie Shop
February 2012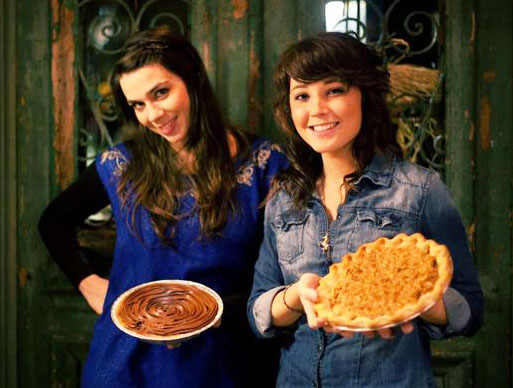 Want to know if you'll make it opening a pie shop. Then open a pie pop-up shop. This is what Megan and Mary are doing. Emporium Pies will be doing a trial run of their pie shop. They are interested in investing in a tiny real estate for a bakery in the area of Texas. The young woman are smartly testing the water first.
Megan Wilkes and Mary Gauntt are the woman behind Emporium Pies. They both grew up baking pies with their moms and have a dream of owning a bakery. They mostly focus on two pies at a time using local ingredients when ever possible.
This weekend they will have the Smooth Operator, which is a French silk pie made with both milk and dark chocolate on a pretzel crust.
Appropriately enough, they'll also have a Drunken Nut, which is a bourbon pecan pie with a shortbread crust.
They have also whipped up a special new kind of pie just for Mardi Gras, but it is a secret for now. You must show up to find out what it is.
Megan says their pies are from-scratch with organic products "where it matters," and strictly stay away from ingredients with hormones, dyes, corn syrup, or hydrogenated oils.


Pie Recipes and much more…