Dancing Ballerina or Wedding Bride Pie
for that special person
Posted by Warren
The dress fashion pie.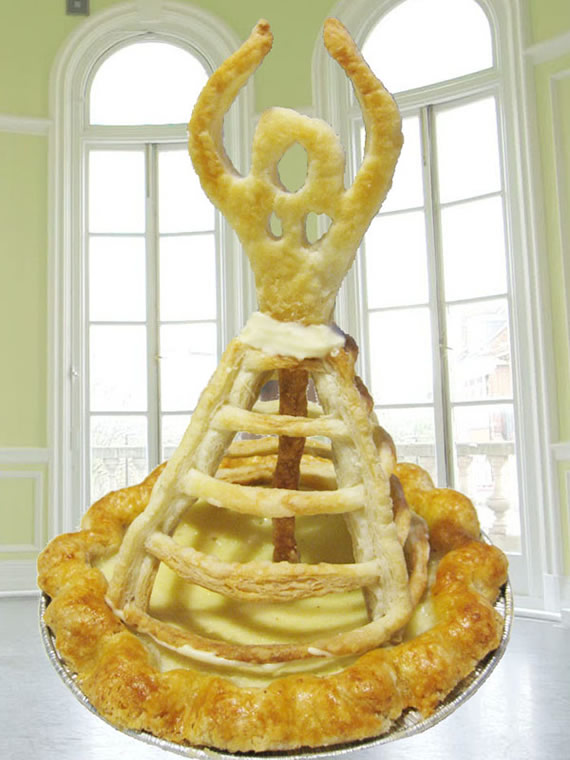 A Pie for those fun Parties
Ballerina pie. Why?
I know. I know. You're baking another pie inspired by your daughter. I'm sorry, but I can't help myself.
My daughter started taking ballet classes since she started kindergarten. Now after a few years she's one of the best dancers in her group.
However, the last couple of years she has been in Jazz dancing. The faster movements and tempo appeals to these girls.

Boy, going to dance classes and recitals sure does make mom tired.
Model my favorate dancer
This pie I made a 3-D model of my daughter in one of her ballet positions.
I placed my paper doll on some rolled out pie dough and used a sharp E-Xacto knife to cut out the profile without the legs.
Dress of dough
The dress I made out of strips of puffed-pastry. I used a little flour and water as glue to tack the dough in place.
You can use straight pie dough. However, I found that pie dough is more brittle and tends to be heavier than puffed-pastry. I'm still trying to perfect this technique.
I baked the doll and my wire-frame dress separately.
After baking, I placed the dough doll into the dress. The dress is used like a stand or support for the body. To keep the pieces set together, I used some softened white chocolate.
They thought it was a wedding bride
When I took the pie in for show and tell, most everyone thought my pie was a bride in her wedding dress. Maybe they want husbands even though most of us are married. Anyhow, after I told them, it's a ballerina, they all seem a little disappointed. You know, I never found out why.
Next time, I would use some colored icing to add some glamour to my ballerina.
If you have any ideas on how to improve on my pie crust ballerina. Please send me a note. I do enjoy hearing from you.
Have some playing with your dough dolls. Stay tune for more creative and far-out pies.
Interested in Pies?