Carousel Pie – Fun Party
Posted by Warren
Round and round we go.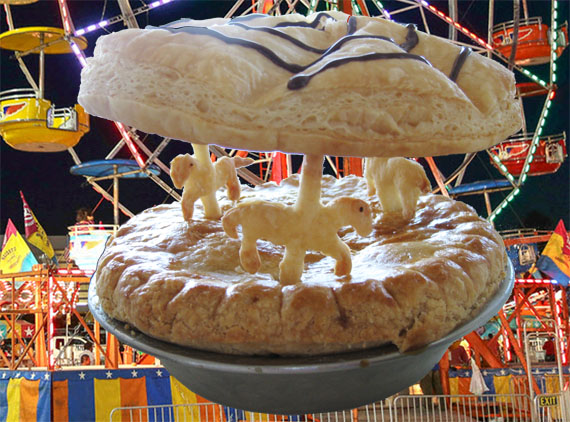 A Pie for those fun Parties
Carousel pie. Why?
I wanted to bake a pie that would some how connect with the State Fair park.
One ride my daughter liked to ride and a ride I could join her with was the carousel or merry-go-round. Those memories will always be close to my heart.
The first time she rode the ride, my girl was hesitant. I think it was because the music was loud. But after that day, she loved it.
It was interesting to watch her chose the animal she wanted to hop on. Today you can ride big bunnies, ostriches, lions, tigers, giraffes, and of course horses and zebras.
As some of you know, I compete at the State Fair with my pies by entering the pie contest. Since it's the fair, why not bake a pie that mimics one of the rides, my carousel pie.
Well, it seemed to me to be a perfect match. Pies are flat and round like a carousel. So why not bake a pie that looked like a carousel.
How I did it
You know you can cut out pie dough just like animal crackers and baked them like cookies. So that is exactly what I did.
Using a very sharp Exacto-knife, I cut out animals. Except for everything else, you'll need to add a pole through the center of the animal, just like the real carousel animals.
This pole serves two purposes. One is to use the pole to support the animal on the pie top, and secondly to hold your canvas top, if you wish to do so.
My initial plan was to bake a second pie, and have it serve as the carousel top supported by the animal poles. However, I quickly came to realize it was just too heavy.
Some dough for the top
So I just baked a piece of puffed pastry I made for the top and decorated with some melted chocolate.
When I do this again, I'll use colored icing and apply it very gingerly with a very soft brush.
The problem using puffed-pastry for the top, was it was difficult controlling the shape as it baked. Even though I used weights to control the rising of the pastry, the pastry expansion was just too strong and was able to push the weights off. This is the reason why the top is not uniform as an umbrella's shape.
I want your help
Other than that, I was pleased with the way it turned out. If you have any suggestions on how I could improve on my carousel pie, please let me know and Email me here.
I will try your suggestions and post my results the next time I bake a carousel pie.
Have fun with the carousel pie, and stay tune for more creative and far-out pies.
Interested in Pies?