Mini Pie, the definition. What is a Mini Pie?
Posted by Pie Guy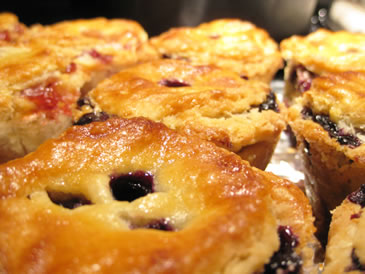 Mini Pie, what am I?
Definition of Mini Pie:
mini pie [min-ee pahy]
noun
1) The simple definition:
A mini pie is any pie less than or equal to six inches in diameter.

Other names for Mini Pie:
Tiny pie
Small pie
Petite pie
Cutie pie
Mini Pie, my measurements – 6 inches or less
The diameter of the pie is taken from the top insides of the slope-sided dish; the intersection of the slope side and the rim of the pie. This excludes the rim from the measurement.
Mini Pies, The story
I am the first, it seems, to define what a "mini pie" is.
The pie pan manufactures have indiscriminately defined a mini-pie to be six inches or smaller with slope-sides and a top edge of a round shape as a circle.
The one hand food
Mini pies must be small enough to be held by one hand without it being cut or modified after being baked or prepared for eating.
Mini Pies, 16th century fast food
Mini pies are said to be the first fast food (convenient food) of the 16th century. Mini pies were the prelude of the sandwich.
Mini Pie – the weak meaning
Mini pies in the looser since can include pies not of circular forms but are less than six inches in size. These include:
Pie turnover – origin America
Pie pop – origin America
Pot pie – origin America, Australia, Britain
Empanada – origin Latin America
An empanada is a stuffed bread or pastry, folded in half, crimped edges and fried or baked.
Pierogi – origin Poland
Pierogi are boiled, baked or fried dumplings stuffed with potato sauerkraut, ground meat, cheese, or fruit.
Samosa – origin India
A samosa is a stuffed pastry. It is generally a fried triangular pastry shell with a savory filling.