Mini Pie Pans Review, Chicago Metallic
Posted by Pie Guy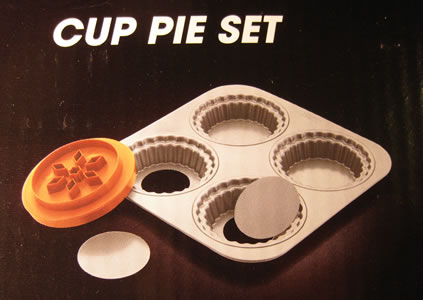 Best of 2011 – The Mini pie pan set
Buy it Here for a Low price
Honestly, this could be the Best Mini Pie Pan for 2011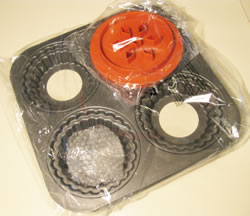 Honestly, this is the best pan for making homemade mini pies.
You will no longer need to use a muffin pan.
You will no longer need to line your pan with parchment paper or foil so pies can be lifted out in one piece.
This mini pie pan came out in the summer of 2011.
These non-stick pans are manufactured by Chicago Metallic.
A single pan holds four mini pies. The bottoms are removable allowing an easy and quick release of the pies from the pan. These pans even come with a dough press to cutout your dough for the mini pies.

Mini Pie Pan Features:
Create 4 custom, personal-size sweet or savory mini pies.
Great for making pot pies, mini fruit pies, tarts and more.
Lift and serve feature allows for quick and easy removal.
Includes a double-sided dough cutter for perfect size bases and tops.
Manufacture's comments – Chicago Metallic Mini Pie Pan
Directions:

1. Spray each cup with non-stick spray. I prefer to rub some butter or corn oil instead.
Buy Here for Low price
2. Simply roll out your favorite pie dough. Homemade or frozen store bought dough will work fine.
3. Lightly flour the dough cutter. Use the large side of the cutter to cut out dough circles to create the base of each mini pie. Place each dough circle into the base of each cup.
4. Add your favorite filling to each cup with dough bottoms.
5. If a lattice top crust is desired, use the smaller side of the cutting tool to cut the top crust and place over the top of each cup pie.
6. Put pies in a pre-heated oven. Watch them closely as it may not take as much time as a traditional size pie.
7. After baking the mini pies, remove them from the oven and allow to cool.
8. De-pan the mini pies by bringing fingers underneath each cup and raising up on the removal bottoms. An inverted cup may also be used to act as a stand to de-pan each pie. Simply place the cup a flat surface, align the pie with the cup and lower down.
Use and care:
Before using, wash the pan with hot soapy water. Metal utensils, scouring pads and abrasive cleaners should NOT be used on non-stick surfaces. Usually a soft sponge or a kitchen brush will remove baked-on food particles. Sometimes it may be necessary to scrub lightly.
The mini pie pans are dishwasher safe. However hand-washing is recommended to extend the product life.
25 Year warranty:
Chicago Metallic warrants pan to be free of defects in material and workmanship during normal use.
Product is made in China.
First mini pie pan of its kind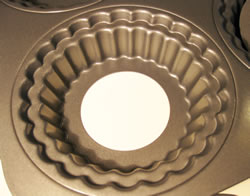 The Chicago Mini Pie Pan is a fantastic pan for mini-pies. Even though I love this pie pan, it could use some improvements.
Fits toaster ovens
The pie pan is square and holds four 4 1/2 inch mini-pies. It fits nicely in a toaster oven designed to fit a 12-inch pizza.
False bottoms
What is great about these pans is that the bottoms are removable. This feature along with its non-stick surface makes easy removal of the mini-pies. You do not need to use parchment paper or foil as pie handles to release your mini pies from the pan.
Soggy bottoms, yuck!
To prevent soggy bottoms of my custard or pumpkin pies, I like to pre-bake the pie crust. I wanted to test how well these pans transfer the heat. So I put my pumpkin filling into a chilled un-cooked pie crust. And guess what, the bottom of the pie was golden brown. It was cooked fully and not doughy.
One requirement is to place the pan close to the bottom of the oven if not using a toaster oven. These pans transfer the heat evenly and nicely. Its dark color and thick heavy gauge metal worked.
Filling bubbles out, No more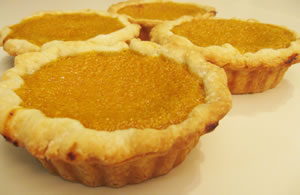 Since the mini pie cups are opened wells, the filling if it bubbles out will be caught and left in the pie pan. This feature reduces the likelihood of the filling spilling onto the oven and smoking.

You have pretty sides
The sides of the pie are fluted.
You might think this is for decoration which it could be. However, it has a purpose.
Fluted sides give the most delicate pie crust structure and strength to hold your filling without collapsing the sides.
Negative review of this mini pie pan:
A true review would not be compete if you do not mention the problems. This pie pan if far from perfection.
Pan is hard to butter
I do not like to use spray on fats;
they add a funky taste
to your crust.
The pie pan is hard to butter by hand. It was challenging to spread the fat into the pie wells with all its bumpy and small crevices.
No wonder the manufacture recommends using a non-stick spray.
Your pie filling leaked out
Your pie crust better not leak. Since the bottoms of the pan are removable, any pie filling that gets past your bottom crust will flow out of the pan through these openings, spill all over the oven, smoke and burn.
So you must make sure the crust has no rips or cracks in it, or you might find your filling all over the bottom of your oven.
Pie pan is shallow, more filling please
It would be nice if the mini pie wells were a little deeper. It takes about one cup of filling to fill a single pie. A mini pie this size should not be so shallow.
It is hard to clean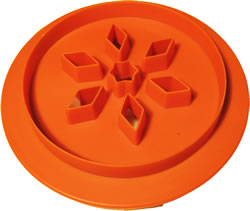 Because there are so many irregular surfaces to the pie pan, it is not east to clean with a wash cloth or sponge.
A soft dish brush is the only way I found to clean these pans. It is not recommended to put them in the dishwasher.
Not cheap but a good pie pan
These pans retail for around $30 which seems a little pricey compared to a good set of stainless-steel pie pans.
It does include a pie crust cutter.
I guess there is a cost for specialty pans.
All in all, these are great pans to own if you are a mini pie Baker.