Blueberry Pie made with frozen blueberries
Posted by The Pie Guy
Makes six mini pies, double crust, fruit filling. Total prep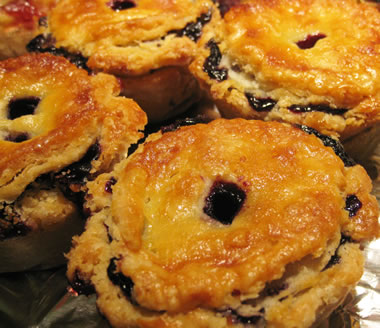 Set the mini pie trend with these cute Blueberry Pies
Mini pies make a great gift
This recipe is for six mini pies, eat one and save the rest
This is a mini pie filled with sweetened frozen blueberries. No one I know can turn down a true blueberry pie.
Fresh blueberries can be used for this pie, but frozen blueberries were used in this one and are less expensive.
Frozen blueberries release a lot of juices when they cook. These juices could give your pie a soggy bottom. To prevent this step up on the thickening with more cornstarch or tapioca.
Wild Blueberries are best for pies
Blueberries are native to North America. There are two most common kinds of blueberries:
Do not thaw your blueberries
before filling mini pies with a top crust.
Keep them frozen all the way to the oven.
The rarer low-bush wild blueberries from Maine, Quebec, and Newfoundland areas. These berries are smaller.
The more expensive high bush blueberries from California up to Newfoundland have an intense flavour.
Blueberries are harvested from mid-April through October. The peak time is July.
These berries have a sweet taste and contain soft seeds that do not need to be removed before adding to pie filling.
To satisfy market demands, blueberries are commercially cultivated. These blueberries not has good as the wild berries you pick yourself. Cultivated blueberries are 2 to 3 times larger than wild blueberries but are not as flavorful.
Blueberries are very high in antioxidants which is good in reducing free radicals in the body. Antioxidants may help prevent heart diseases, cancer and radiation poisoning.
How to buy Fresh Blueberries: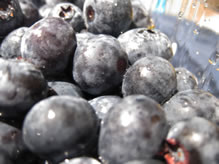 Look for fresh blueberries that have their silvery bloom coating. They should be plump and uniform in size, not shriveled up.
If the blueberries do not have their bloom coating, it is a sign that they are not fresh or that they have been washed. Washed blueberries will not keep as long as unwashed blueberries.
The blueberries should be a deep-purple bluish color, more towards black. If they have a reddish or greenish colors on them, they are not ripe, but can still be used in your pie
Check the bottom of the blueberry container for mold, white fuzz and stains from the blueberries. The berries should be dry, firm, and move freely in the container. Stains on the bottom are an indication the berries were crushed or overripe.
Buying Frozen Blueberries
When buying frozen blueberries, be sure they are separated and loose in the bag. If they are frozen into a clump of ice, it is a sign that they were at least partially thawed and then been refrozen.
Check the bag the frozen berries are in for large holes and rips. It is fine to see pin size holes but any thing larger will allow for funky flavors and dirt to enter the bags content of berries.
Blueberry Mini Pie Recipe
—Ingredients for six to eight mini pies—

Filling
2 1/2 cups frozen wild blueberries
1 fresh-squeezed lemon juice
1/4 teaspoon fresh lemon zest
3/4 cup sugar
1 tablespoon cornstarch
1 tablespoon tapioca flour
1/4 teaspoon ground cinnamon
pinch of ground cloves
pinch of salt
1 tablespoon cold unsalted butter (dotting top)
Directions
1. Prepare the pastry for mini pies: Roll the pastry, cut out large circles and line six cups of a 12 cup muffin pan. Be sure to butter and a 9-inch pie plate with the bottom crust. Roll out the remaining dough for the top crust. Chill the pastry. Preparing the muffin pan for mini pies.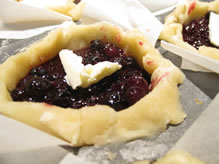 2. Preheat the oven to 400° F.
3. Pour the fresh-squeezed lemon juice in the bottom of a large bowl with your frozen blueberries. Add your lemon zest to the bowl and toss.
4. In a separate bowl, mix together the sugar, cornstarch, tapioca flour, cinnamon, cloves and salt. Add them to the blueberries just before you want to bake the mini pies, mix gently.
5. Scrape the filling into the dough filled cups, dot with butter and cover it with the second crust.
6. Crimp the top crust to the bottom by pinching gently; chill the pie for 15 minutes. Cut vent slits in the top crust. Egg wash the top and sprinkle with sugar.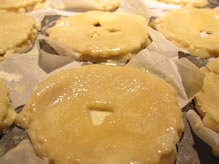 7.
Place the muffin pan on a baking sheet and bake for 10 minutes at 400° until the crust looks dry, blistered, and slightly blonde. Turner the oven down to 350°F, and bake for at least 20 to 30 minutes more or until the crust is golden brown, and visible juices are thickened and bubble slowly through the slits in the top crust.
8. DO NOT remove while the mini pie is hot. Cool the pies before removing from the cupcake pan for at least 30 minutes. Need more help?
9. Store the pie uncovered in a cool place up to three days.
Blueberry Pie Success
For a lovely variation to this berry pie, substitute two tablespoons of the sugar for dark pure maple syrup.