Mini Pie Pans, Hands-On-Experience
Posted by Pie Guy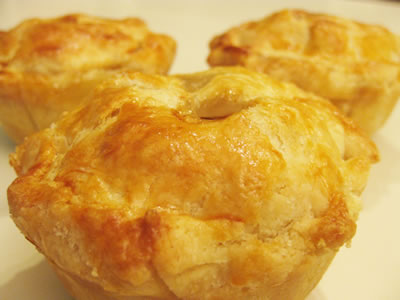 Mini pie pans that make the score
A unique pan for mini pies, review of 2011
Mini pies, choosing the pan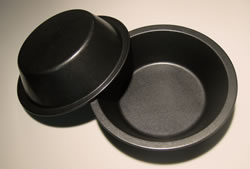 Six inch and five-inch mini pies are baked in individual small pie pans.
You want to use a pan with a non-stick surface but this is not mandatory. Your second choice is a polished stainless steel pan.

Stay away from tin pans. They will rust.
The pan should have a rim no smaller than 1/4-inch wide to hold your crimped pie crust edge.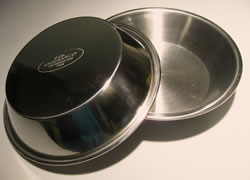 Pick a metal pie pan with a heavy gauge, 1.0 millimeter or thicker is good. This will help distribute the heat evenly along the bottom of the crust.
If a mini pie crust is not fully cooked, you will have a tough time removing it from the pie pan.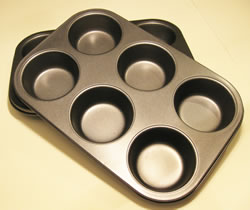 Small (tiny) pie pans
Four inch and smaller pies are baked in muffin pans.
You want a muffin pan with a low profile where the cups are shallow, not deep. Keep it under one and half inches.
Use a muffin pan with a non-stick surface. Usually, these pans have six to twelve cups.
Mini pie pan, bake it in a toaster oven
Mini pies bake perfectly in most toaster ovens for two good reasons.
One, the pie pan is closer to the bottom heating element. We desire this to quicken the cooking of the bottom crust, no soggy bottom.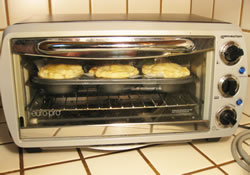 Two, the heat in the oven tends to oscillate less, temperature going up and down. Larger older ovens tend to do this. Newer toaster ovens have a convection setting that helps distribute the hot air evenly in the oven. This is ideal for pies with a top and bottom crust.
A single six-cup large muffin pan will barely fit most toaster ovens. So bring your muffin pan with you if you plan to purchase a toaster oven for baking mini pies. Make sure the toaster oven has a 450 temperature setting and that it can be set to bake for one hour.
Two six-cup muffin pans will fit nicely in a conventional oven at the same time. I prefer electric ovens over gas for baking. Gas ovens tend to burn things.
Fancy mini pie pans – Do not be scammed
Ceramic pie pans, pie pans with punched out holes, silicone pie pans, clay pie pans, these are just sales gimmicks to get you to buy.
You like to own
an unique mini pie pan
then I recommend this one.
You want to stick with your standard high quality metal pie pan for mini pies. These will last you for years.
Never use an abrasive cleaner on your metal pie pans. They will scare the pan and cause the pie to stick to the pan. In most cases, it is the burnt sugars from the pie that become difficult to remove. To clean this up, soak the pan in real hot water for 15 minutes. The burnt sugars should dissolve enough to be wiped clean.
Mini Pies – How much dough do I need?
Once you know the mini pie size and the number of pies you need to bake, you can determine how much dough is needed.
A normal double crust dough recipe that calls for two-half cups or three cups of flour will make six to eight double crust (top and bottom) four-inch mini pies and two six-inch mini pies.
Four-inch mini pies
Double Pie Crust Pie Recipe = 6 to 8 four-inch mini pies (double crust)
Double Pie Crust Pie Recipe = 12 to 14 four-inch mini pies (single crust)
Six-inch mini pies:
Double Pie Crust Pie Recipe = 2 six-inch mini pies (double crust)
Double Pie Crust Pie Recipe = 3 to 4 six-inch mini pies (single crust)
These numbers depend on how thick or thin you roll out your crust.
Roll crust out thinner than for a standard pie crust to about 3/16-inch thick.
Pie Recipes and much more…