What is Pumpkin Pie Spice?
Photo by Libby´s
Makes one spice bottle. Total time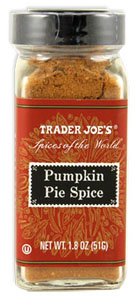 Here's a great subsitute for pumpkin spice.
Homemade Pumpkin Pie Spice Recipes.
What Is Pumpkin Pie Spice?
First I want to say there's nothing special about pumpkin pie spice. It's not a special single spice of its own. It's just a blend of spices.
.
You must know there's no pumpkin in pumpkin spice!
Long time ago I thought pumpkin pie spice actually had pumpkin in it. That's crazy. How on earth would you put pumpkin flavor in a bottle? Dehydrate and grind it? Anyhow, pumpkin pie spice is simply just a blend of traditional spices that go into a old fashioned pumpkin pie. Try Libby´s Pumpkin Pie recipe.
Make the spice yourself
Many pumpkin pie recipes call for Pumpkin Pie Spice. As stated before, this is a ready-made spice you can get in the baking aisle of your local grocery store. It is possible that you could have a bit of a hard time finding it this time of year. Not to worry! You can make your own Pumpkin Pie Spice. It's very likely you already have all of the ingredients in your pantry.
This spice is:
But what is it? What's in it? There are, of course, many variations of this spice combination. They all have cinnamon, ginger, nutmeg and allspice, just in varying proportions. Some include the addition of cloves and maybe even cardamom or mace. You'll have to experiment to find the one that suits your tastes. Trader Joe's adds lemon zest to their pumpkin pie spice.

Make the pumpkin spice yourself
Should you decide to create your own blend of spices, there a few things you should be aware of. Nutmeg and allspice are stronger than cinnamon. Cardamom is pretty powerful too. Also, nutmeg and mace are from the same fruit, so they are similar in taste. Too much nutmeg will cause your pie to taste bitter.
If you buy whole spices to grind yourself, you want to get them to the same consistency as your pre-ground spices. You don't want to bite down on a large piece of nutmeg or allspice. That will simply ruin your otherwise creamy, delicious pie.
If you're using ground spices, simply mix them all and keep in an airtight container. If you are using a mix of whole and ground, just put the whole spices in a spice grinder or coffee grinder and grind to a powder. Add this to the pre-ground spices and again, mix well and store in an airtight container.
Please note – if you decide to use a coffee grinder for your spices, make sure you have one that is designated for spices only.
Why make your own pumpkin spice?
There are several benefits to making your own Pumpkin Pie Spice. One, of course, is that you control the amounts of each spice. Not a big fan of nutmeg? Add a little less. Love cinnamon? Add a touch more. Spice mixtures like this are just like any other recipe- you'll always find variations.
Alternate choice for pumpkin spice
We mentioned Chinese Five Spice Powder earlier. If you don't see this in the spice section of your grocers, try the international aisle. If you can't find it, this is another one you can make yourself. Just like the Pumpkin Pie Spice, this will vary, depending on which recipe you choose. Follow the same instructions as above to grind and store your homemade spice combinations.
Whatever combination of spices you choose for your pumpkin pie, you'll want to be careful about the amount. Add too much and all you'll taste is the spice. Remember, the spices should highlight and enhance the wonderful pumpkin flavor, not overwhelm it.
Interested in Pumpkin Pies?