Fantastic Wheat Free Pie Crust Recipe / Gluten Free Pie Crust
Posted by Warren
This is a fantastic gluten free, wheat free, soy free, egg free, milk free pie crust. Total time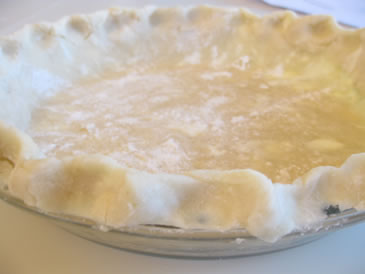 You WILL NOT feel left out with this gluten free, wheat free, soy free, egg free, milk free pie crust.
It is better than all the rest.
This is down right the best wheat free, gluten free, soy free, milk free pie crust on the whole Internet.
If you are intolerant to wheat or gluten, this pie crust is for you.

This pie crust is even better than the regular pie crust made with wheat flour.
Try it. I know you will be impressed.

Fantastic Wheat Free Pie Crust Recipe / Gluten Free Pie Crust
—Ingredients—
Pastry dough – single crust
1/2 cup rice flour
1/2 cup tapioca flour
1/2 cup Red Mills Pizza Flour
1/2 cup unsalted butter
1/4 cup ice cold apple cider juice
2 tablespoons evaporated raw cane sugar
1 tablespoon corn oil
1/2 teaspoon fine salt
Directions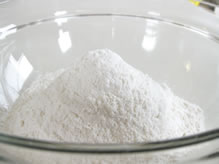 1. Add all your dry ingredients to a chilled glass bowl and tossed the mixture with a fork.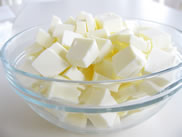 2. Cube your butter into small pieces.
3.
Add your butter to the bowl of flour.
4. Using just your finger tips rub the cold fat into the flour. Stop when the mixture resembles cracker crumbs and tiny peas.
5. Whip the ice cold apple cider juice and oil until it looks cloudy and the mixture looks a little foamy. Quickly add this to the dry ingredients and toss with a fork. If it is not coming together add the remaining liquid.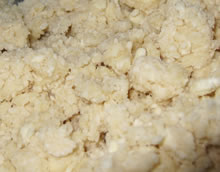 6. The dough should look somewhat dry but come together when squeezed in your hands.

7.
Now divide this mixture in half to make two balls by squeezing it all together. Compress and flatten the balls to form two large disks.
8. Wrap disks tightly with plastic wrap and chill for 30-60 minutes. You can freeze them for one month by adding a foil wrap to the covered disks.
9. Your dough is now ready for your favorite pie recipe.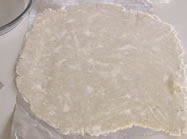 10. Roll dough out on a sheet of foil. Sprinkle rice flour on it to prevent sticking.
11. Put crust in a glass pie pan and chill before filling.
Happy baking!