Pumpkin Pie Recipe – China makes pie a low cost
Posted by Warren
Makes two 9-inch pie, single crust, custard filling. Total prep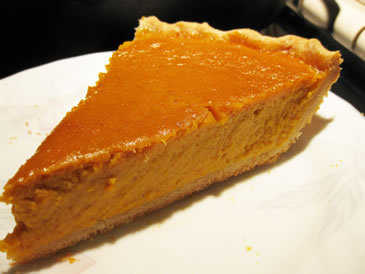 Pumpkin puree from China, is it safe?
Bake a cheap pumpkin pie using canned pumpkin puree from China. Is it safe to eat? How the pumpkin pie taste using a puree from China.
Pumpkin puree from China
I was given a can of pumpkin puree from China that cost 79 cents. The can's net weight is 29 ounces, enough to bake two pumpkin pies.
This pumpkin puree is cheap when you compare it to a four dollar can of Libby's Pumpkin Puree. Adding the cost for eggs and milk made this pumpkin pie less than three dollars ($3.00) to bake.

But is pumpkin puree from China any good? Will it make a good pumpkin pie?
We will test it out by baking a pumpkin pie with it.
China pumpkin puree looks good. But…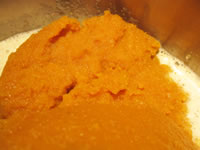 The consistency of the Chinese puree was surprisingly similar to Libby's Pumpkin puree, very thick, dense, and not watery. This is good. But…
Looking more closely at the Chinese puree you can see tiny flakes of orange pumpkin skins. It seems they do not completely peel the pumpkins before pureeing. The assumption is they want to squeeze the last bit of profit from every part of the pumpkin.
The color is good. The canned puree is a nice dark golden orange color.

China pumpkin puree taste somewhat…
The taste was somewhat blah!
The pumpkin puree had a pasty taste and was quite grainy. It lacked the smooth texture of a canned pumpkin puree. The rich pumpkin taste was not present in the puree.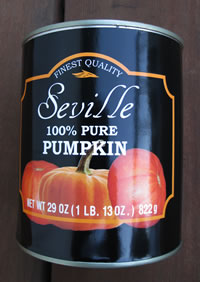 The natural sweetness of the puree was weak.
Add more sugar to your favorite pumpkin pie recipe if you plan to use a puree from China.

It needs it!
Cheap pumpkin puree for cheap pies
Remember to use this product to bake cheap frugal pumpkin pies. Do not use it to bake an excellent pie.
My destiny is to bake the best pies ever. This will be my first and last time using a pumpkin puree from China that can not be traced to its source.
Is this a frozen pumpkin?
After baking the pie and tasting it, the flavor almost reminds me of those frozen boxed pies you get in the store.
The assumption is that frozen pie companies use pumpkin puree from China or that the pumpkin was once frozen before canning.
Looks like pumpkin, taste like squash
It looks like pumpkin, smells like a pumpkin but taste like sweet paste. It had a more squash flavor than pumpkin.
The only difference is the frozen pies are creamer.
Frozen or mass produced pumpkin pies are similar in taste but heavily spiced to conceal this off taste.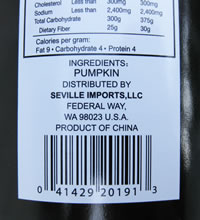 Report on the can I used: Pumpkin Puree Product of China
The label on this can calls its pumpkin puree of the finest quality, which it is not. The distributor is located in the state of Washington.
This distributor buys canned pumpkin puree un-labeled from China and then smacks on its own label in English for stores in the United States.
This can puree could not be traced back to any processing plant in China to verify its integrity. It is recommended for you not to buy or use such a product where no one is whiling to accept any liability.
Therefore, some pumpkin puree from China could be the same can from a different distributor using a different label.
Pumpkin puree from China, Is it safe?
To determine if a can of pumpkin is safe from China, we need to understand how it got to the United States and eventually to your store.
1. Chinese farmer grows the pumpkins.
2. The pumpkins are harvested for processing.
3. A plant in China cleans and processes the pumpkin.
4. A cannery in China cooks and cans the pumpkin puree.
5. The cans are held by a Chinese wholesaler.
6. A U.S. direct retailer or distributor contracts with the Chinese wholesaler for the pumpkin puree.
7. The pumpkin puree is shipped to the U.S.
8. The retailer or distributor affixes its own label to the bare cans. Hopefully, they specify the contents accurately.
9. The pumpkin puree is shipped to local grocers around the U.S.
Trust China for safe pumpkin puree? Maybe yes, maybe no.
If you know and trust the U.S. distributor or direct retailer, you can most likely trust the product from China.
Before a product from China reaches your table, it goes through many hands. The U.S. distributor or direct retailer is the only one who had a direct communication with the wholesaler of China. They know the source of the product and can verify its quality and safeness.
Therefore, direct retailers like Whole Foods and Trader Joe's that sell a product from China can be trusted. They take great measures to verify their suppliers in China and are willing to take on the liability of its safeness.
Use these government agencies to verify products and recalls from China:
United States Department of Agriculture
United States Food and Drug Administration
Quality Assurance International – Checking out organic producers go to menu item search products.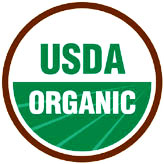 Organic pie products from China are safer
Organic products are spot-checked from farmer to the local grocer.
Therefore, organic products from China tend to be safer and can be verified by Quality Assurance International.
Interested in Pumpkin Pies?
Pumpkin Pie Recipe – for cheap – product from China
—Ingredients—
Pastry dough – single crust
2 1/2 cups unbleached all-purpose flour
2 tablespoons sugar
1/2 teaspoon fine salt
1 cup (2 sticks) cold unsalted butter – (Cheaper yet use half lard)
1/2 cup ice cold water
3 teaspoon cold canola oil (or any vegetable oil)
Filling
2 1/2 cups (one 29 ounce can) pumpkin puree – Product of China for cheap
2 cups white sugar
2 1/2 cup milk (or thick powder milk)
6 large eggs
1 teaspoon pure vanilla extract
1 teaspoon ground cinnamon
1/4 teaspoon ground mace (or nutmeg)
1/4 teaspoon ground ginger (optional)
1/2 teaspoon salt
1 tablespoon melted unsalted butter
Directions
1. Prepare the pastry:  Transfer to a 9-inch pie pan or dish. Trim the edges of the pie. Fold the overhang under itself and pinch it together to create a high edge on the pan's rim. Flute the edge decoratively.
2. Refrigerate or freeze the pie shell until firm, about 30 minutes. Meanwhile, place an oven rack in the lower third of the oven and preheat to 375°F.
3. Partially bake the pie shell: Remove the pastry shell from the refrigerator or freezer and line with a sheet of aluminum foil or parchment paper. Large enough to overhang the sides patting it to the bottom and up and over the sides of the pie shell. Cover the bottom of the shell with a generous layer of pie weights or raw beans. The weights keep the crust from bubbling and help prevent shrinkage.
4. Bake shell for 20 minutes at 375°F. Lift edge of foil to check the dough. If it looks wet continued baking, checking it every five minutes until the dough is pale gold.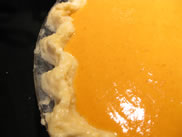 5. Prepare filling: In a large bowl, whisk together the sugars, and eggs until well blended. Add the cinnamon, salt, ginger, and mace and mix well with the melted butter. Add the pumpkin puree, milk, and whisk until smooth. Pour into the partially baked pie shell.
6. Preheat the oven to 375°F.
7. Bake the pie until the filling is slightly raised and firm in the middle, 50-60 minutes. The center will shake like Jell-O when done.
Transfer to a wire rack and let cool. Serve slightly warm or at room temperature. Store the pie covered in the refrigerator for up to two days.
Pumpkin Pie Recipe Frugal Tip
Store the pumpkin pie for up to a month by freezing it.
Do it the right way. Otherwise, when it comes time to thaw the pie, you will be disappointment.
My Freeze Pumpkin Pie has all of the instructions you need.


Pie Recipes and much more…