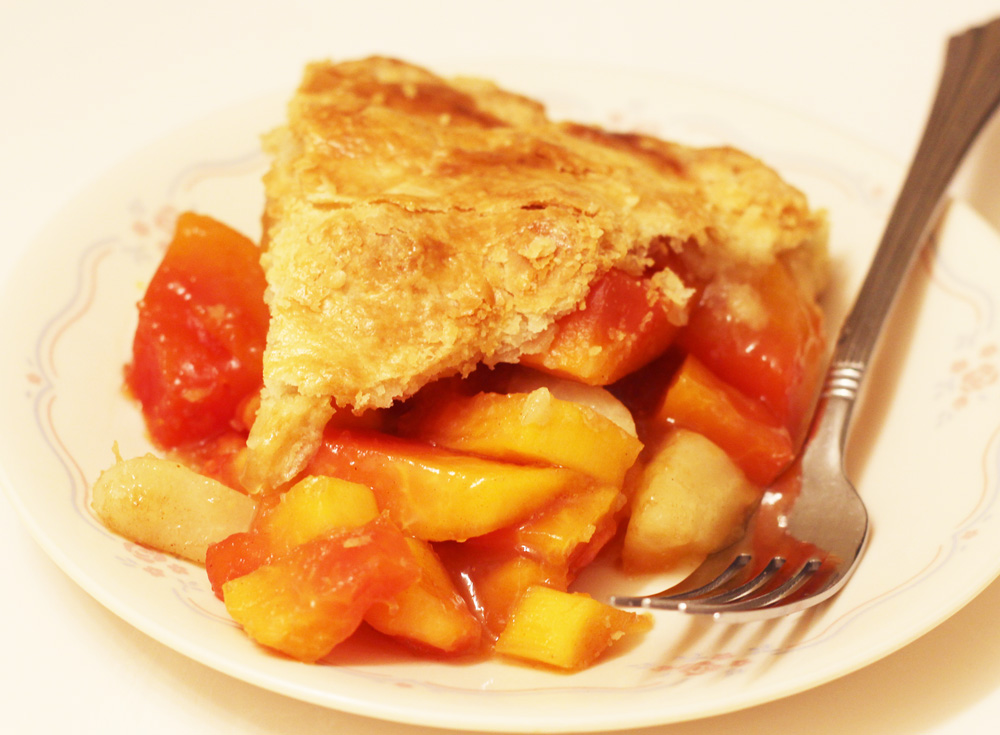 A short story about the name
My family all asked me, "Why a papaya pie?". So I decided to call this pie "Papa Why-A Pie". Can you see the connection since I'm a papa?
Oh My Papaya Pie
This pie is so wonderful. Not only did it taste scrumptious, it looked very pretty with hues of orange flesh with pink splashes.
This was such a hit at work that my coworker is making it for their family reunion party. It feels so good to be able to please others with your creations.
Some facts about papaya
The papaya is the fruit of the Carica Papaya tree.
It is native to southern Mexico and Central America and is now cultivated in many tropical regions.
The fruit sometimes used to be referred to as a "tree melon." In Australia it is called Papaw or Paw Paw.
Today there are two varieties of papaya, Hawaiian and Mexican. The Mexican papaya can weigh as much as ten pounds while the Hawaiian usually weighs about a pound. It is the smaller Hawaiian papaya that is found in most produce aisles.
The papaya was introduced to Hawaii in the early 1800s. Today, Hawaii is the only U.S. state that grows papayas commercially.
The seeds of the fruit resemble peppercorns and are edible. They can be ground up and used as a substitute for black pepper.
Ripe papaya is usually eaten raw. Unripe papaya can be eaten if cooked and is used in many sauces and dishes around the world.
 A small papaya contains about 300% of the recommended daily amount of Vitamin C

More About 'Papayas'
Papayas contain an enzyme called papain that aids in digestion and can also be used as a meat tenderizer. Papaya is also high in fiber and water content, both of which help to prevent constipation and promote regularity and a healthy digestive tract.
How to prepare fresh papaya for the pie filling. Video
Papa Why-A Pie Recipe:
CRUST
double crust 8-inch or 9-inch pie dish
3 cups all-purpose flour
2 1/2 sticks unsalted butter, very cold
3 tablespoons sugar
1 teaspoon salt
1/2 cup plus 2 tablespoons ice cold good water
2 tablespoons Corn Oil
FILLING
5 cups fresh Papaya diced (Very firm, slightly green papayas)
1 1/2 cups Bosc Pear or D'Anjou (Firm and ripe)
3 tablespoon fresh Lemon juice
1 teaspoon Lemon zest
1/2 cup White Sugar
1/2 cup light Brown Sugar
1/2 teaspoon ground Vietnamese Cinnamon
1/2 teaspoon fine grain Sea Salt
2 dashes ground Cardamon
1 dash ground Cloves
3 tablespoons Clear gel (or Cornstarch)
1 tablespoons unsalted Butter
TOPPING
Optional Egg wash:
1 fresh egg
1/2 tablespoons filtered water
Papa Why-A Pie Directions:
Crust:
1. Add all your dry ingredients to a chilled glass bowl and tossed the mixture with a fork.
2. Cube your fats into small pieces and add to the bowl.
3. Using just your fingertips rub the cold fat into the flour. Stop when the mixture resembles cracker crumbs and tiny peas.
Do not use
the water all at once
4. Whip the ice cold water and oil until it looks cloudy and the mixture looks a little foamy. Quickly add two-thirds of this liquid to the dry ingredients and toss with a fork. If it is not coming together add the remaining liquid.
Do Not over work the dough.
It will make it tough.

5. The dough should look somewhat dry but come together when squeezed in your hands.
6. Now divide this mixture in half to make two balls by squeezing it all together. Compress and flatten the balls to form two large disks.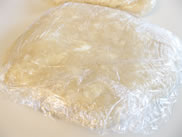 7. Wrap disks tightly with plastic wrap and chill for 30-60 minutes. You can freeze them for two months by adding a foil wrap to the covered disks.
8. Your dough is now ready for your favorite pie recipe.
Papaya Filling:
1.  Peel and core the papayas and pears. Cut and dice them into large 1/2″ pieces.
2. Combine the papayas and pears with lemon juice and zest.
3.  In a separate bowl, mix the cleargel/cornstarch, sugar, and spices.
4. Mix most of the dry mixture with the fruit. Reserve about 1/4 cup for later.
5. Next, take the dough disk from the refrigerator. Roll the disk onto a floured surface. Place it in the bottom of a 9" glass pie pan.
6. Fill pie pan with the papaya and pear mixture.
7. Sprinkle the rest of the dry mixture over the fruit and dock with pieces of butter.
8. Roll out disk and place on top. Pinch top and bottom dough together to form a seal.
9. Cut "vents" in your pie top, brush with egg wash and sprinkle with sugar to get a shiny, golden crust.
10. Bake in a preheated oven at 400 degrees for 15 minutes towards the bottom of your oven to ensure the bottom crust is cooked.
11.Reduce heat to  375 degrees and bake another 30 to 40 minutes or until golden brown and the filling is bubbling. The pie will yield 8-10 portions.