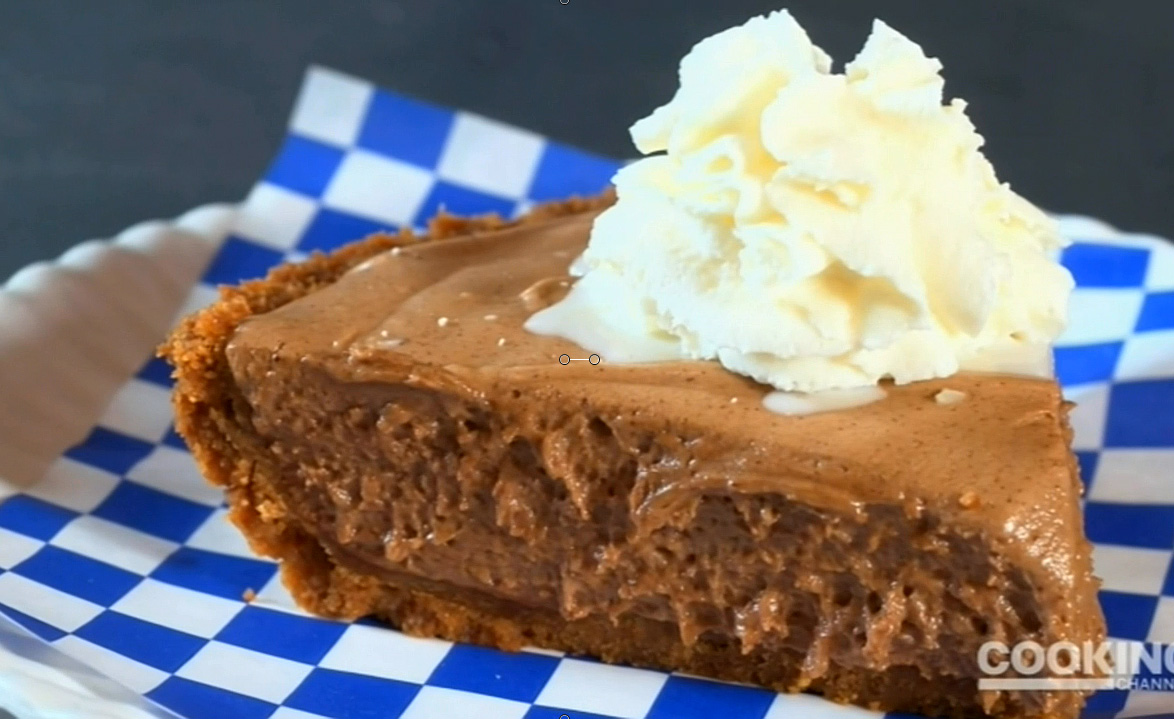 Since their recipe is not published, I mastermind a mocked version from watching their video of them making their silk pie. I bet it's spot on. Just be prepared to buy some Tequila Cream Liqueur $$$.
The french silk pie is Chicago's Bang Bang Pie Shop latest dessert. In the video about Bang Bang's pie, they mention that the filling is comprised dark and milk chocolate with Mexican Crema de liqueur. So the rest I had to invent. They also used a chocolate gram cracker crust topped with whipped cream. These guys know their pies.
The pie crust has to be baked and chilled.
Watch This Video Of Bang! Bang! Pie Shop – Featuring Their French Silk Pie:
About !Bang! Bang Pie Shop
If there is one thing to learn from Bang Bang Pie Shop's Kickstarter success, it's that the public apparently loves their pies. Husband and wife Megan and Dave Miller, along with Michael Ciapciak renovated an old office space in Logan Square to an iconic pie shop in Chicago.
And, to be sure, Bang Bang is serious about the pies, especially the crusts: "I'm putting a sign up soon that explains that these pies have butter and lard in them," says Dave. "It's kind of obvious, but I just want everyone to know." In this case, the shop is using leaf lard sourced from local pigs. The result is a crust that is flaky and crisp, which is also able to stand up to the three different fillings.
While the majority of the focus is on the pies, Bang Bang does offer a couple other options. You'll be able to find freshly baked biscuits, which are served with house made jam and butter. Also, the shop is roasting its own coffee, and we all know how well a slice of pie and a cup of coffee go together.
BANG BANG PIE SHOP
2051 N California Ave, Chicago, IL 60647
bangbangpies.com
Bang! Bang! Mexican French Silk Pie Recipe
– Recapped from video 2016
FOR THE CRUST:
Gram crackers for a single crust 8-inch.
FOR THE FILLING:
4 large eggs
3/4 cup sugar
1 tablespoons very dark strong coffee
10 tablespoons (1 1/4 sticks) unsalted butter, softened
1/4 teaspoon kosher salt
3 ounces milk or dark chocolate, or a mix of both, melted and cooled slightly
1 tablespoons 1921 Tequila Cream
1 teaspoon vanilla
1 teaspoon cinnamon
1 dash Cayenne pepper
Whipped topping
1 cup heavy cream
1 tablespoon confectioners' sugar
Yield: About 8 servings.