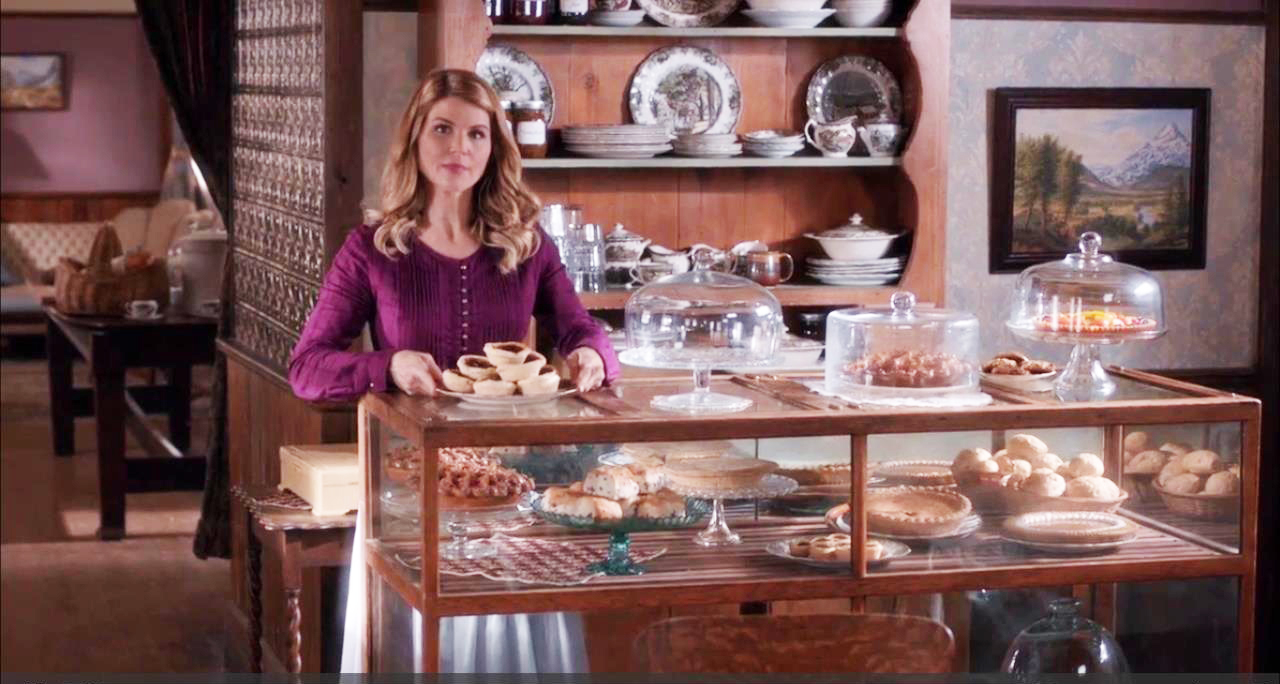 Lee and Rosemary says,
"Lets eat pie at Abigail's Cafe."
Hope Valley
'When Calls the Heart' is a family series of faith, loyalty, and love. This remarkable show takes us back to simpler times. Maybe not so simple for all.
Set in 1910, the series follows schoolteacher Elizabeth Thatcher in Western Canada's Coal Valley (now called Hope Valley), where she'develops a competitive importance with Mountie Jack Thornton that twists to a long paced romance.
Abigail's Cafe – Apple
Abigail Stanton owns and runs her cafe in Hope Valley. As for much cafes of 1910, everything is homemade and home baked. This includes her wonderful pies.
This recipe for Abigail's apple pie on 'When Calls the Heart' is provided by the Hallmark Channel with my direction improvements.
More About 'When Calls the Heart'
Previously on When Calls the Heart, Lee was able to hire additional workers at the mill when he received a major contract stemming from the railroad project. However, the boost in productivity at the mill failed to help the town see eye-to-eye when it came to the railroad project leaving Abigail to cast the tie-breaking vote in the project's town vote.
Elsewhere, Jack and Elizabeth received varying news as Jack was rewarded for his work as part of the mounted Police while Elizabeth got some disheartening news from her potential publisher.
When we return to Hope Valley this week, Abigail is acting Mayor and makes it her mission to complete the railroad deal which brings a swarm of new families to town looking for work on the project.
When Calls the Heart – Pie at Abigail's Cafe, She fights to keep it open against unfair competition. Video
Abigail's Apple Pie (from the Hallmark channel):
CRUST
double crust 8-inch or 9-inch pie dish
3 cups all-purpose flour
2 1/2 sticks unsalted butter, very cold
2 tablespoons sugar (optional)
1 teaspoon salt
1/2 cup plus 2 tablespoons ice cold good water
FILLING
6-8 Granny Smith apples (about 3.5 pounds)
3/4 Cup sugar + 3 tablespoon sugar
1 teaspoon ground Cinnamon
1/2 teaspoon ground Ginger
1/4 teaspoon White Pepper
1/2 teaspoon Lemon zest
1 teaspoon Vanilla extract
2 tablespoon fresh Lemon juice
2 Tablespoons Clear gel (or Cornstarch)
1 1/2 Tablespoons Butter
TOPPING
Optional Egg wash:
1 fresh egg
1/2 tablespoons filtered water
Abigail's Cafe Apple Pie Directions:
Crust:
1. Add all your dry ingredients to a chilled glass bowl and tossed the mixture with a fork.
2. Cube your fats into small pieces and add to the bowl.
3. Using just your fingertips rub the cold fat into the flour. Stop when the mixture resembles cracker crumbs and tiny peas.
Do not use
the water all at once
4. Whip the ice cold water and oil until it looks cloudy and the mixture looks a little foamy. Quickly add two thirds of this liquid to the dry ingredients and toss with a fork. If it is not coming together add the remaining liquid.
Do Not over work the dough.
It will make it tough.

5. The dough should look somewhat dry but come together when squeezed in your hands.
6. Now divide this mixture in half to make two balls by squeezing it all together. Compress and flatten the balls to form two large disks.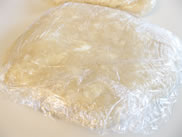 7. Wrap disks tightly with plastic wrap and chill for 30-60 minutes. You can freeze them for two months by adding a foil wrap to the covered disks.
8. Your dough is now ready for your favorite pie recipe.
Apple Filling:
1.  Peel and core the apples and dice apples. Cut them into 1/4″ pieces.
2. Combine the apples with lemon juice and zest and vanilla and 1/2 cup of the sugar.
3.In a separate bowl, mix the cornstarch, 1/4 cup of sugar, and spices, vanilla and lemon juice..
4.Heat up a large sauté pan over medium heat. Melt the butter and add the apples. Cover apples with hot juicse. Reduce heat and simmer until the apples are tender.
5. While the apples are still cooking, slowly sprinkle the cornstarch and sugar mixture onto the apples to thicken the liquid.
6. Remove the pan from the heat and allow the cooked apples to cool to room temperature before filling your pie. Filling can be made the day before and refrigerated before assembling and baking your pie.
7. Next, take the dough disk from the refrigerator. Roll the disk onto a your floured surface. Place it in the bottom of a 9" glass pie pan.
8. Fill pie with cooled or chilled apple filling. Roll out disk and place on top. Pinch top and bottom dough together to form a seal.
9. Cut "vents" in your pie top, brush with egg wash and sprinkle with sugar to get a shiny, golden crust.
10. Bake in a preheated oven at 400 degrees for 15 minutes towards the bottom of your oven to ensure the bottom crust is cooked.
11.Reduce heat to  375 degrees and bake another 30 to 40 minutes or until golden brown and the filling is bubbling. The pie will yield 8-10 portions.