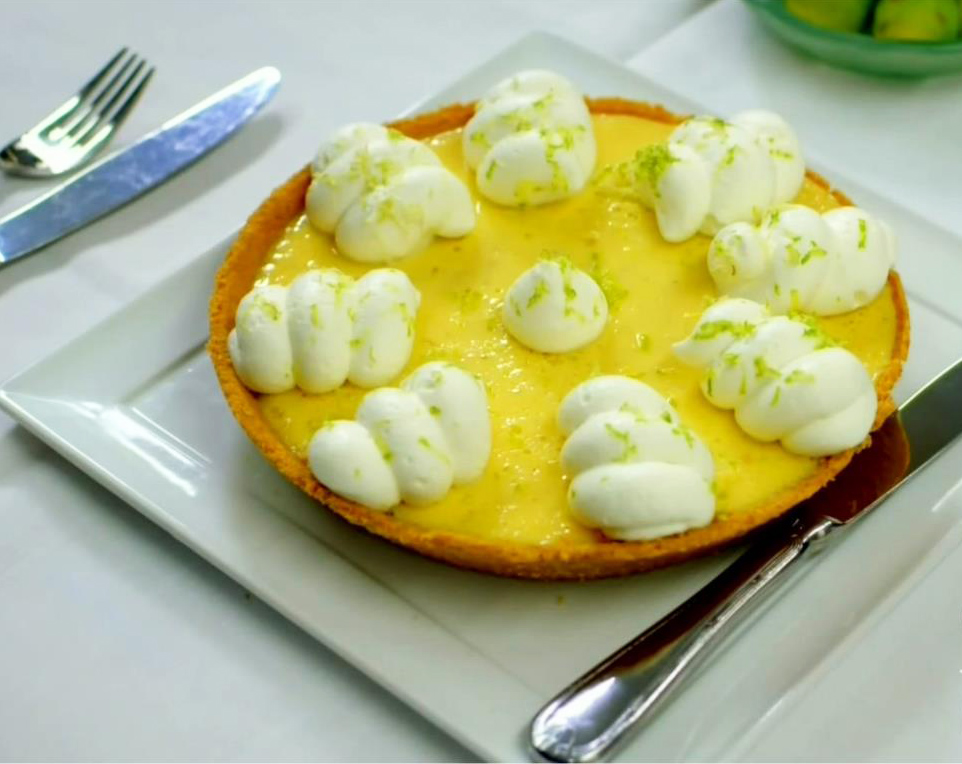 Paul says,
"No other dessert says Florida more than Key lime pie. I love the biscuit base, the smooth, creamy topping, and the tangy flavor from the Key limes. I worked my way through a few slices whilst in Miami–some were too sweet, others too sharp. This recipe strikes the perfect balance. You don't need the small Key limes to make it; regular limes work just as well."
Key Lime Pie Traditional Ingredients
The traditional key lime pie filling contains key lime juice, sweetened, condensed milk, and egg yolks.
A funny thing happens when you combine lime juice and sweetened condensed milk. It sort of "cooks" itself without any heat. The eggs, I'm told, add extra body to the mix, and by the way, give key lime pie its traditional yellow color.
A Little Key Lime Pie History
The Key lime pie has been traced back to the early 20th century in the Key West, Florida area and was invented by botanist Jack Simons. Its exact origins are unknown, but the first formal mention of Key lime pie as a recipe may have been made by William Curry, a ship salvager, and Key West's first millionaire; his cook, "Aunt Sally", made the pie for him.
It's Soooo Easy
This pie is so easy to make, just five ingredients. If you can't get key limes, you can use any tart lime. However, you can buy bottled key lime juice and sister it with a whole fresh lime. Only you would know the difference. Plus, it's easier.
Easy Key Lime Pie, Video
Easy Key Lime Pie Ingredients:
CRUST
Single 8-inch or 9-inch pie dish
14 whole Graham Crackers (each has 4-sections)
7 tablespoons unsalted butter, melted
2 tablespoons sugar (optional)
1/4 teaspoon salt (optional)
1 teaspoon real vanilla extract
FILLING
1/2 cup fresh key lime juice (or common tart limes or bottled)
1 tablespoon fresh lime zest
4 egg yolk
1 can (14 ounces) sweetened condensed milk
TOPPING
Optional Whipped Cream below:
1 1/2 cups chilled heavy cream
1/2 teaspoon best vanilla
2 tablespoons powdered sugar
Easy Key Lime Pie Directions:
Crust:
Preheat oven to 350 degrees.
Crush crackers in a food processor or Ziploc bag.
Pour them into a bowl and stir in sugar and salt and melted butter.
Press into a pie pan.
Press into a pie pan and bake for 10 minutes and set.
Remove from oven and set aside to cool slightly.
Filling:
Whisk the egg yolks with the condensed milk in a bowl.
Add lime zest, and lime juice to bowl. Whisk again.
Pour mixture into crust.
Bake at 300 degrees until just set about 25 minutes. Remove before it bubbles or browns.
Remove from the oven and leave to cool at room temperature.
Now chill in the fridge for at least 2 hours before serving.
Cut the pie into wedges.
Topping (optional):
Beat together cream and confectioners' sugar with a mixer until soft peaks form.
serve with whipped cream and a sprinkling of lime zest. Serve immediately.
Tip
If can't find fresh Key limes, try tart Persian limes, or bottled Key limes with one fresh lime.