Vinegar Pie will surprise you!
When I discovered this pie, I couldn't wait to give it a try. What is the pie called, 'Vinegar Pie'. Yep. You heard right. Vinegar. This pie is another of the "Desperation Pie Era", basically around the 1930's.
I researched dozens of recipes. You can categorize the recipes for Vinegar Pie in two groups. Group one baked the pie like has a custard with eggs. Group two is more of a cream pie where you thicken the pie with cornstarch like a pudding. This version also requires the pie to be chilled.  Jump to Vinegar Pie Recipe  …
Vinegar Pie Recipe Video
Two versions of Vinegar Pie
This is very interesting. How did two versions of the same pie evolve into totally two different methods? Is one more original than the other.
We have to remember Vinegar Pie uses ingredients that were cheap and readily available, something leftover in your food pantry. Also, we have to consider most households did not have refrigeration (so-called icebox) in the mid to late 1800.
Therefore, the second group we mentioned above was most likely devised in the 1900s since it needs to be chilled with cornstarch as a thickener.
Another thing is that the first version made with eggs could be baked and eaten in just a couple of hours instead of waiting for a pie to chill the next day. How desperate could you be if you had to wait a day for your pie?
Let's bake the Vinegar Pie with eggs
So here I made the Vinegar Pie with eggs you bake. This pie uses humble ingredients: eggs, butter, sugar and vinegar which would all be readily available in most home and on small farms. If not, they could always ask their neighbor next door for an ingredient with the promised they would share the finished delightful dessert.
The Anticipation:
Now it's time to taste the pie. Will I like it? Will I hate it? Or would it be just an okay pie? The pie had a chance to cool down. Oddly enough the pie smells divine. Its sweet scent is very tantalizing, almost irresistible.
I used a large very sharp knife and sliced it right down the middle. The filling held together nicely without oozing everywhere. The filling had a nice bright yellow glow, a very appealing color. I placed the almost perfect slice on my bright white plate.
Wait, it needs a garnish. I cooked some sugar down to an amber color and allowed it to set on a cool sheet of parchment. After it hardened, I broke it up into translucent shards of caramelized sugar. I placed some on top and placed some around the plate. Ah, so much better. Let's continue with the taste.
I like to eat pie with a fork. Using my tiny silver fork, I broke off a piece starting with the pie tip. I opened my mouth so slowly and started to chew. O My Goodness! I would have never guessed this. It's so wonderful. It surprised me.
This is one of the best pies I have ever had. It's a shame this is not known to all and commonly shared. You got to try this pie. If you do share it with friends and family, do not tell them it's vinegar. I repeat do not tell them it's vinegar. I bet they never guess what you put in the pie.
When I went through all the recipes, many added other ingredients like lemons, raisins, cinnamon, nutmeg, milk and so forth. However, I'm happy I resisted the urge to adulterate the pie with other stuff. The original does not need any enhancements. So don't add anything. Just follow the recipe to the letter then later on, if you feel it necessary you may add your own touches.
I hope you enjoy this pie as much as I did. I used red wine vinegar. I recommend you use the same. Remember vinegar comes in different strengths. You want to use one in the lower range. Lower strength is most commonly used in homes for cooking.
The vinegar I used from Star had an acidity level of 5% or 50 grain. So adjust the recipe respectively if yours is different.
Vinegar Pie History – 19th century American recipe
It is believed that the Vinegar pie was originally created in the pioneer days, as something of a version of a Chess Pie that came from England to the New World.

While researching Vinegar Pies, I came across my cookbook The Hoosier Mama Book of Pies, which has an entire chapter devoted to desperation pies as they were called. "They think it came across the prairies in covered wagons, similar to the Amish milk pie [a confection made of molasses, milk, and eggs that tastes like a custardy sugar cookie]," Ms. Haney, the author, said. "The legend goes that farm wives loved the recipe so much because of what little time it took to make. They'd be out in the fields working, run back inside and mix all the ingredients in a dish, and then go back to the fields."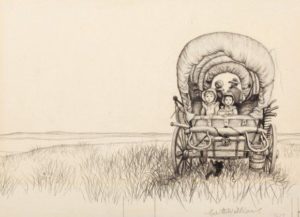 One friend even told me that she and her children had recently read in Little House in the Big Woods that Laura Ingalls's "Ma" would make vinegar pies at Christmastime. They were a perfect dessert for poor farming families who didn't have access to fancy ingredients like lemons and apples. Eggs, butter, vinegar, and sugar were always on hand!
On the pages of her Little House series of books, I learned that Ma could make pies out of almost anything: green pumpkins (The Long Winter), blackbirds (Little Town on the Prairie), dried apples (By the Shores of Silver Lake), and even Vinegar (Little House in the Big Woods).
William Woys Weaver's book "America Eats," says that the vinegar pie and boiled cider (vinegar) pie offered in his "America Eats" are but two examples of culinary regionalism. Woys explains that vinegar pie is an adaptation, through substitution, of the baked lemon pudding introduced by confectioner Elizabeth Goodfellow (1767-1851) of Philadelphia and much commented on by her protégée Eliza Leslie. Mrs. Goodfellow's baked lemon pudding, now known as lemon meringue pie, was at one time a mark of great luxury in cookery in Philadelphia and New York, since it required many fresh eggs, sweet-cream butter and fresh lemons. The vinegar pie reduces the lemons to a mere hint of grated zest and replaces them with vinegar.
Vinegar strength?
Vinegar strength is represented in grain. Grain strength refers to the acetic acid content  10 times the acid content.
For example: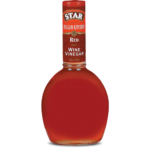 5% acidity = 50 grain
10% acidity = 100 grain
20% acidity = 200 grain
Lower grain strength is most commonly used in homes for cooking, canning, and preserving, whereas higher grain strengths are used as an ingredient on an industrial or manufacturer level and for cleaning.

Vinegar Pie Recipe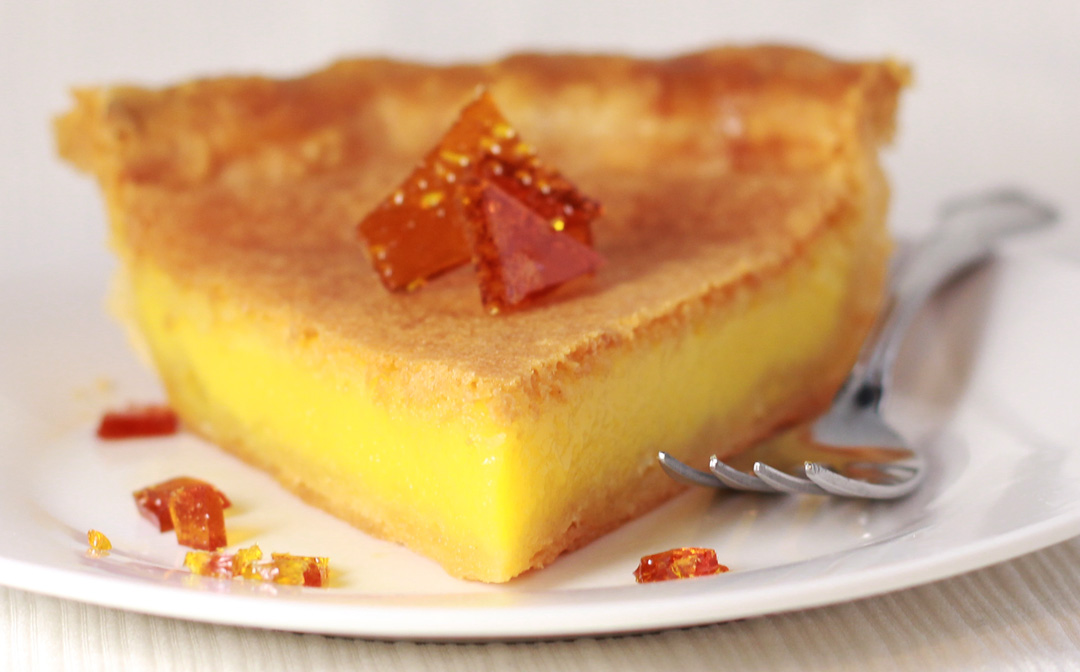 Ingredients for one 9-inch pie
One Pie Crust
Filling
8 tablespoons (1 stick) unsalted butter
1 1/2 cups white sugar
1 pinch salt
2 tablespoons masa (maize) flour

4 large eggs

1 egg yolk
1 1/2 teaspoons pure vanilla extract
1 1/2 tablespoons vinegar (Star Red Wine 5% acidity)
Sugar Shards – optional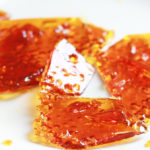 1/4 cup sugar  (caramelized)
Crust Directions:
Prepare the pastry: Roll the pastry and line a 9-inch pie plate with the pastry.
Flute or crimp edges.
Lined with foil and fill with pie weights.
Blind bake at 375 F for 18 to 25 minutes until golden and cool.
Egg wash the pie edges prior to adding the filling.
Filling Directions:
In a large bowl, cream the butter. It's easier to cream softened butter at just below room temperature.
Mix the sugar and salt in a small bowl.
Slowly incorporate the dry ingredient into the butter mixture. There should be no lumps left.
Stir in the flour, sprinkle it in slowly.
Slowly add cool eggs to the butter mixture. If it's too warm, it will cause the butter to melt. Mix until it looks creamy.
Now add your vanilla.
Add the vinegar to the mixture. Work quickly. The vinegar could cause the batter to separate.
Pour batter into pie crust. Slightly rotate the pie plate to work the batter up the inside edges. This will help the natter to rise during the baking.
Bake at 350º F in a preheated oven for 50 minutes or until the center is set and golden in color.
Transfer the pie to cool. And eat!
Vinegar Pie Success Tip
To keep the edges from burning early in the baking process, cover with foil. Bake the filling low and slow, low heat and more time in the oven to keep the pie from darkening for a better presentation.
Using maza flour instead of using cornmeal in the pie will give you a creamier filling. Cornmeal has the tendency to be grainy and leave a sandy texture in your mouth.