Pumpkin Pie Recipe – 1915 Vintage
Posted by Warren
Makes one 9-inch pie, single crust, custard filling
Mary at the Farm and Book of Recipes Compiled during Her Visit among the "Pennsylvania Germans", by Edith M. Thomas, 1915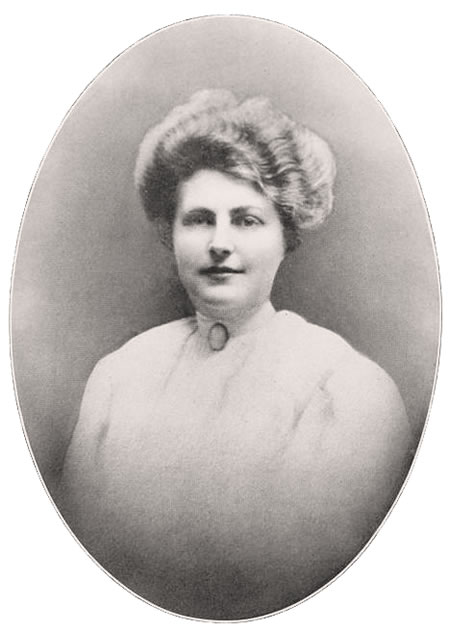 A fresh pumpkin pie with old-fashioned richness.
Mary's Recipe for Plain Punpkin Pie
Mary at the Farm and Book of Recipes Compiled during Her Visit among the "Pennsylvania Germans", by Edith M. Thomas, 1915
Line a pie-tin, one holding 3 cups of liquid, with rich pastry.
For the filling for pie mix together the following:
1 cup of steamed pumpkin, which had been mashed through a colander,
1 egg, beaten separately,
1 tablespoonful of flour,
2½ tablespoonfuls of sugar,
⅛ teaspoonful of salt,
½ teaspoonful of grated nutmeg,
same of ginger,
1½ cups of milk (scant measure).
The mixture should measure exactly 3 cups, after adding milk.
Pour this mixture into the pastry-lined pie-tin and bake in a moderate oven until top of pie is a rich brown.
Mary is taught to make pies 1915
MARY IS TAUGHT TO MAKE PASTRY, PATTIES AND "ROSEN KUCHEN."
Mary's Aunt taught her to make light, flaky pastry and pies of every description. In this part of Bucks County a young girl's education was considered incomplete without a knowledge of pie-making. Some of the commonest varieties of pies made at the farm were "Rivel Kuchen," a pie crust covered with a mixture of sugar, butter and flour crumbled together; "Snitz Pie," composed of either stewed dried apples or peaches, finely mashed through a colander, sweetened, spread over a crust and this covered with a lattice-work of narrow strips of pastry laid diamond-wise over the top of the pie; "Crumb" pies, very popular when served for breakfast, made with the addition of molasses or without it; Cheese pies, made of "Smier Kase;" Egg Custard, Pumpkin and Molasses pie.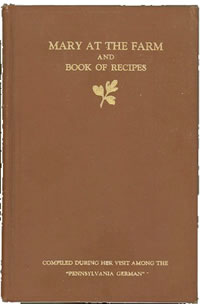 Pies were made of all the different fruits and berries which grew on the farm. When fresh fruits were not obtainable, dried fruits and berries were used. Pie made from dried, sour cherries was an especial favorite of Farmer Landis, and raisin or "Rosina" pie, as it was usually called at the farm, also known as "Funeral" pie, was a standby at all seasons of the year, as it was invariably served at funerals, where, in old times, sumptuous feasts were provided for relatives and friends, a regular custom for years among the "Pennsylvania Germans," and I have heard Aunt Sarah say, "In old times, the wives of the grave-diggers were always expected to assist with the extra baking at the house where a funeral was to be held."
It would seem as if Bucks County German housewives did not like a dessert without a crust surrounding it.
The Pennsylvania German farmers' wives, with few exceptions, serve the greatest variety of pies at a meal of any class of people I know; not alone as a dessert at twelve o'clock dinner, but frequently serve several different varieties of pie at breakfast and at each meal during the day. No ill effects following the frequent eating of pie I attribute to their active life, the greater part of which, during the day, was usually spent in the open air, and some credit may he due the housewife for having acquired the knack of making good pie crust, which was neither very rich nor indigestible, if such a thing be possible.
The combination of fruit and pastry called pie is thought to be of American invention. Material for pies at a trifling cost were furnished the early settlers in Bucks County by the large supply of fruit and vegetables which their fertile farms produced, and these were utilized by the thrifty German housewives, noted for their wise management and economy.
The Professor's wife taught Mary to make superior pastry, so flaky and tender as to fairly melt in one's mouth; but Mary never could learn from her the knack of making a dainty, crimped edge to her pies with thumb and forefinger, although it looked so very simple when she watched "Frau Schmidt" deftly roll over a tiny edge as a finish to the pie.
Mary laughingly told the Professor's wife (when speaking of pies) of the brilliant remark she made about lard, on first coming to the farm. Her Aunt Sarah, when baking pies one day, said to her, "Look, Mary, see this can of snowy lard, rendered from pork, obtained from our fat pigs last winter!"
"Why, Aunt Sarah!" exclaimed Mary, "is lard made from pork fat? I always thought lard was made from milk and butter was made from cream."
Interested in Pumpkin Pies?
Pumpkin Pie Recipe – Old Fashioned of 1803
—Ingredients—
Filling
1 3/4 cups (one 15 ounce can) pumpkin puree
1/2 cup white sugar or molasses
1/4 cup light molasses
3/4 cup milk
3/4 cup heavy cream
3 large eggs
1 teaspoon ground cinnamon
1/4 teaspoon ground ginger
1/4 teaspoon salt
Directions
1. Prepare the pastry:  Transfer to a 9-inch pie pan or dish. Trim the edges of the pie. Fold the overhang under itself and pinch it together to create a high edge on the pan's rim. Flute the edge decoratively.
2. Refrigerate or freeze the pie shell until firm, about 30 minutes. Meanwhile, place an oven rack in the lower third of the oven and preheat to 375°F.
3. Partially bake the pie shell: Remove the pastry shell from the refrigerator or freezer and line with a sheet of aluminum foil or parchment paper. Large enough to overhang the sides patting it to the bottom and up and over the sides of the pie shell. Cover the bottom of the shell with a generous layer of pie weights or raw short grain rice. The weights keep the crust from bubbling and help prevent shrinkage.
4. Bake shell for 20 minutes at 375°F. Lift edge of foil to check the dough. If it looks wet continued baking, checking it every five minutes until the dough is pale gold.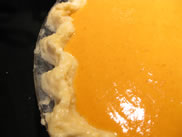 5. Prepare filling: In a large bowl, whisk together the sugars, molasses and eggs until well blended. Add the cinnamon, salt, and ginger and mix well. Add the pumpkin puree, milk, heavy cream and whisk until smooth. Pour into the partially baked pie shell.
6. Preheat the oven to 375°F.
7. Bake the pie until the filling is slightly raised and firm in the middle, 50-60 minutes. The center will jiggle like Jell-O when done. Transfer to a wire rack and let cool. Serve slightly warm or at room temperature. Store the pie covered in the refrigerator for up to two days.
Store Pumpkin Pie for Months
Save the pumpkin pie for up to a month by freezing it. It must be done the right way. Otherwise, when it comes time to thaw the pie you will be disappointment.
My Freeze Pumpkin Pie has all of the instructions you need.
Pumpkin Pie Success
Serving tip: Serve each wedge with a dollop of sweetened whipped cream.
Try substituting the sugar for maple syrup.