What to do with leftover pie crust dough? Make Yummy Almond Cookies.
Posted by Warren
Make golden almond butter cookies from leftover pie dough. Total time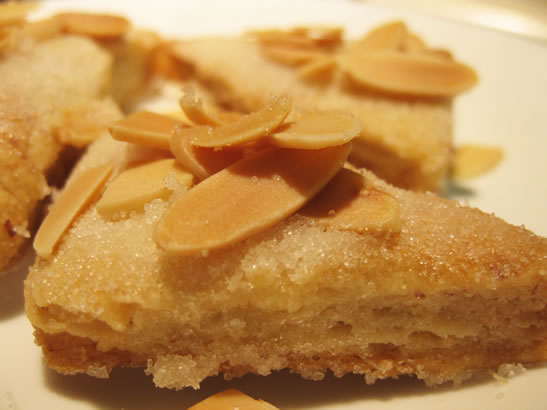 Sweet Golden Almond Cookies with a delightful crunch.
This is easy and fast to make and fun for the kids to snack on.
All you need is almonds, almond extract, egg and sugar.
Turn your scraps of pie crust dough into delicious almond cookies. It is quick and easy to make.
Leftover pie crust

– Golden Delicious Almond Butter Cookies – Recipe

—Ingredients—

Leftover pie crust dough made with butter (shortening) – chilled

1 egg

1/4 cup sugar

1/4 cup sliced raw almonds

1 teaspoon almond extract

Directions

1. Preheat the oven to 400° F.

2. Form all of your leftover pie crust dough in a ball.
Make golden cinnamon rolls
from leftover pie crust.
3. Roll dough out flat on a floured flat surface to about 3/8 inch thick. Roll it to a rectangle shape.
4. Cut out 2 inch by 2 inch squares and then cut these squares in half diagonally making triangles and place them on an oiled or foil lined cookie sheet.
5. Whisk the egg and almond extract in a small bowl.
6. Brush the egg-almond wash over the dough and sprinkle the sugar all over the top.
7. Place your almonds on each cookie and give them a slight press so they will stick to the surface of the dough.
8. Put them in a hot over and bake for 10 to 15 minutes or until the almond cookies are golden.
Let us eat!
Leftover pie crust – Almond Butter Cookies Recipe Success
Most nuts like almonds will burn quickly after changing color in the oven. Watch them closely.
Remember nuts will continue to cook a little longer after being removed from the hot oven. So remove them once they start to brown.