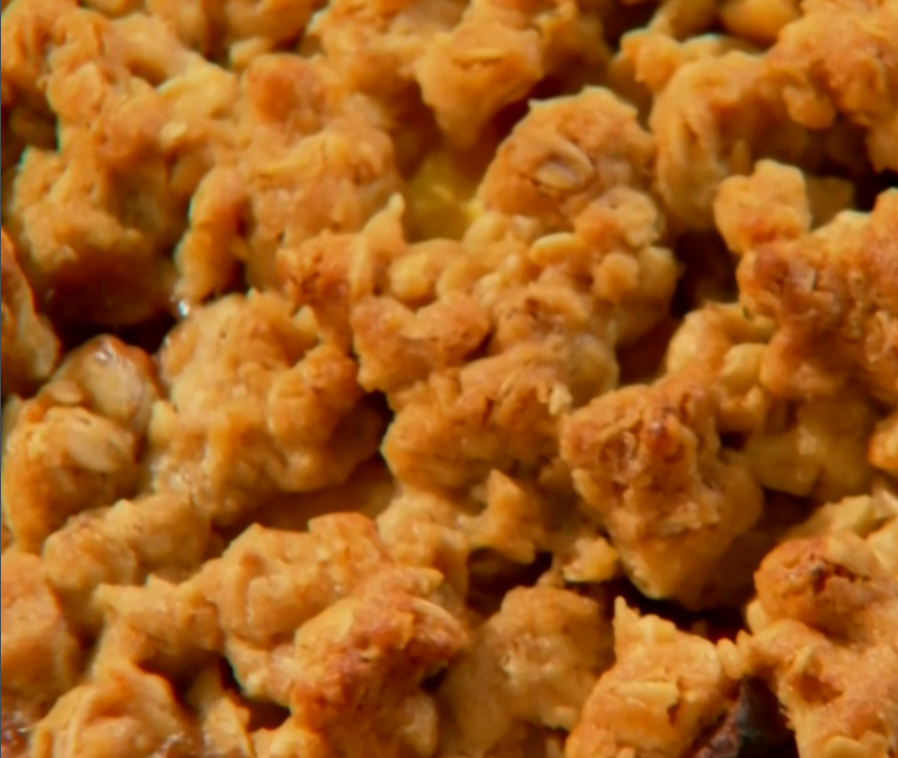 Martha is one of my most favorite pie baker. I get the feeling she loves her pies and really knows what it takes to make a fabulous one.
This is one of Martha's Peach Crumble Pie recipes that I modified to make it better, or in another thinking, I changed it to my liking hopefully better. The recipe is below the video.
Peach Crumble Pie Video
Ingredients:
CRUST
prepare pastry dough  for a single  crust pie
FILLING
3 pounds peaches, halved, pitted, and cut (peel or thaw frozen)  (about 7 to 8 cups)
1 tablespoon lemon juice
1 teaspoon lemon zest
1/4 cup white sugar
1/4 cup light-brown sugar
2 tablespoons clear gel
1/4 teaspoon cinnamon
1 good pinch of salt
CRUMBLE TOP
2/3 cup light-brown sugar
2/3 cup all-purpose flour
2/3 cup quick rolled oats
12 tablespoons (1 1/2 sticks) cold unsalted butter, small pieces
Directions:
Roll out your dough and place it in a 9-inch glass pie plate. Crimp edges and refrigerate for at least 15 minutes.pan.
Make filling: In a large bowl, toss together peaches, brown and white sugar, and clear gel, lemon zest and juice, cinnamon, salt until combined.
Make crumble: In a small bowl, combine brown sugar, flour, and oats; using your hands or a pastry cutter, work in butter until large clumps form.
Transfer peach filling to pie shell, then sprinkle crumble evenly over top. Place pie on a rimmed baking sheet and bake until juices are bubbling and topping is golden, 1 hour 30 minutes to 1 hour 45 minutes. Let cool on a wire rack 1 1/2 hours before serving.
Place pie on a rimmed baking sheet to catch the juices and place in a preheated oven at 375 degrees. Bake until juices are bubbling and topping is golden, 1 hour 15 minutes  to 1 hour 30 minutes.
Let the pie cool on a wire rack until filling is set and not watery.
Optional: Serve with whipped cream or vanilla ice cream.