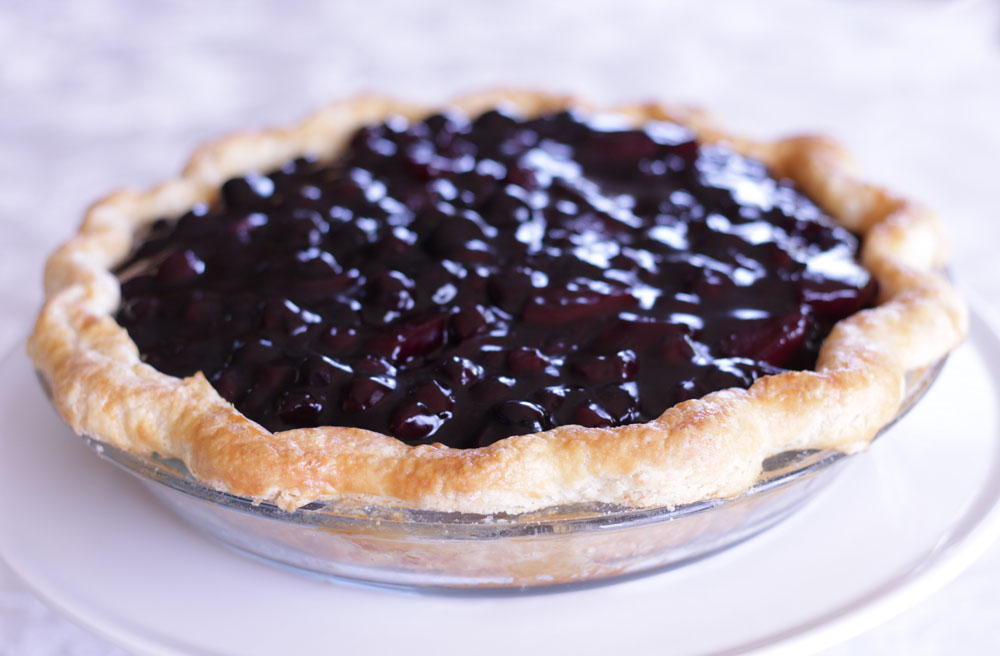 What interest me the most about Dave and Megan Miller Bang Bang's blueberry pie is that it contains both fresh and cooked berries, spiked up with red wine. – Jump to Recipe Now!
Since their recipe is not published, I mastermind a mocked version from watching their video of them making their blueberry pie. I bet it's spot on. Just be prepared to use a whole lot of blueberries. Unless you live on a berry farm, it's going to cost you plenty $$$.
The blueberry pie is Chicago's Bang Bang Pie Shop signature dessert. In the video about Bang Bang's Blueberry pie, they mention that the filling is comprised of cooked and fresh blueberries, lemon juice, lemon zest, sugar, and red wine.  So the rest I had to invent. They also used a leaf lard/butter homemade pie crust. These guys know their pies.
The pie crust has to be blind baked since the filling is prepared on the stovetop.
Watch This Video Of Bang! Bang! Pie Shop – Featuring Their Blueberry Pie:
About !Bang! Bang Pie Shop
If there is one thing to learn from Bang Bang Pie Shop's Kickstarter success, it's that the public apparently loves their pies. Husband and wife Megan and Dave Miller, along with Michael Ciapciak renovated an old office space in Logan Square to an iconic pie shop in Chicago.
And, to be sure, Bang Bang is serious about the pies, especially the crusts: "I'm putting a sign up soon that explains that these pies have butter and lard in them," says Dave. "It's kind of obvious, but I just want everyone to know." In this case, the shop is using leaf lard sourced from local pigs. The result is a crust that is flaky and crisp, which is also able to stand up to the three different fillings.
While the majority of the focus is on the pies, Bang Bang does offer a couple other options. You'll be able to find freshly baked biscuits, which are served with house made jam and butter. Also, the shop is roasting its own coffee, and we all know how well a slice of pie and a cup of coffee go together.
BANG BANG PIE SHOP
2051 N California Ave, Chicago, IL 60647
bangbangpies.com
Bang! Bang! Blueberry Pie Recipe
– Recapped from video 2013
FOR THE CRUST:
Pie pastry for a single crust 8-inch, blind baked.
FOR THE FILLING:
5 1/2 cups frozen blueberries
2 cups fresh blueberries
1/2 cup Cabernet Sauvignon
3 1/2 or 4 tablespoons clear-gel
1 1/4  cup sugar
1/2 tablespoon unsalted butter melted
2 teaspoon lemon zest
2 tablespoons lemon juice
1 teaspoon cinnamon
2 dashes cloves (use just a little)
1 teaspoon real vanilla extract
1/2 teaspoon salt
1. CRUST: On a lightly floured surface, roll dough into a circle at least 13 inches in diameter.
Transfer to a 9-inch pie pan, preferably glass. Allow the dough to hange over the edges. Trim the edges so there is a 1-inch overhang. Roll the edges under and flute the edge into a wide, wavy design.
Dock all over the bottom of the crust with a fork. Place pan in the freezer for at least 30 minutes.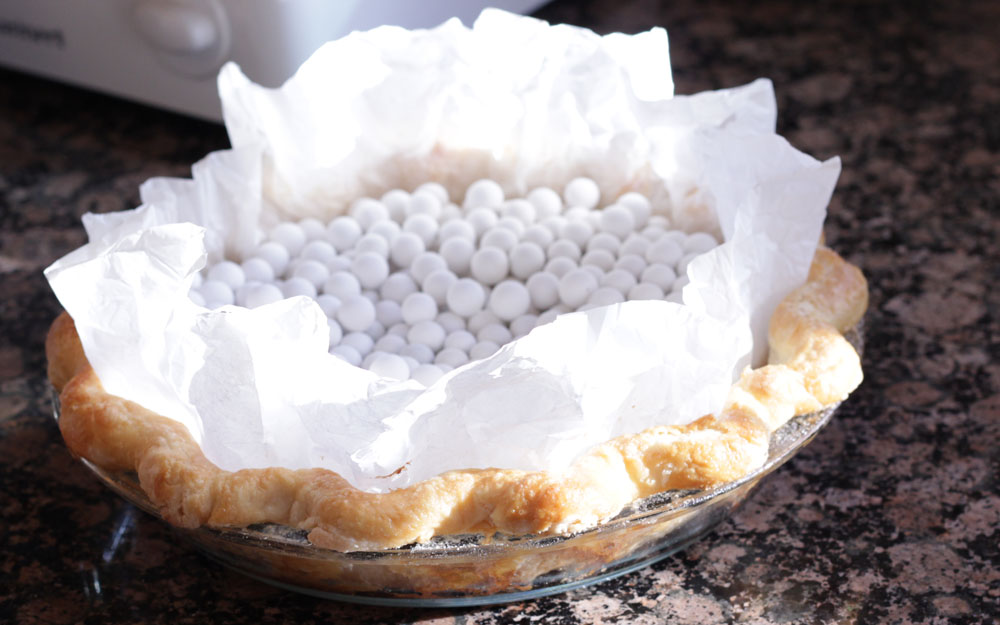 2. When ready to bake the pie crust, preheat your oven to 400°F. Place a piece of crushed parchment paper in the bottom of the crust and fill with pie weights or dried beans.
Bake for 20 minutes, then carefully remove the parchment paper with the pie weights/beans. Bake the naked crust for another 15-20 minutes at 350°F, until golden brown. Allow time to cool.
3. FILLING: Mix the sugar and clear gel, in a large saucepan, combine the zests, juice, clear gel, wine, salt, butter, cinnamon, cloves, and 5 1/2 cups of blueberries. Gently toss the mixture. Cook over medium-high heat until the berries have mostly broken down and the mixture has thickened. The mixture will burp like boiling oatmeal cereal.
Remove from heat. Add the butter and vanilla. Allow to rest for 30 minutes or so.
4. Add fresh blueberries to the mixture.
5. Pour warm blueberry filling into the pie crust. Allow to cool before serving. Top with whipped cream or vanilla ice cream, if desired. Store leftovers in the refrigerator for up to 2 days covered with plastic wrap.
Yield: About 8 servings.
Calories: 360 per serving