What to do with leftover pie crust dough? Make Cinnamon Twists.
Posted by Warren
Make golden sweet flaky cinnamon rolls with wonderful swirls. Total time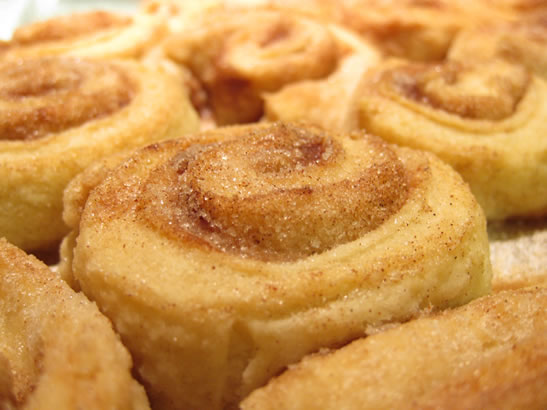 Sweet Golden Flaky Cinnamon Rolls with a playful swirl.
This is easy and fast to make and fun for the kids to snack on.
All you need is butter, sugar and cinnamon.
Turn your scraps of pie crust dough into delicious golden cinnamon rolls. It is quick and easy to make.

Golden Sweet Flaky Cinnamon Rolls – Twists – Recipe
—Ingredients—
Leftover pie crust dough – chilled
Some butter at room temperature
Some sugar
Some ground cinnamon
Some raisins or nuts (optional)
Directions
1. Preheat the oven to 400° F.
2. Form all of your leftover pie crust dough in a ball.
Make delicious Almond Cookies
from leftover pie crust.
3. Roll dough out flat on a floured flat surface to about 3/8 inch thick. Roll it to a rectangle shape.
4. Smear the soft butter all over on dough surface.
5. Sprinkle the sugar all over the top. Use more if you like it very sweet.
6. Now sprinkle the cinnamon but not too much.
7. Start from one end of the dough and roll it up to form a log like shape.
8. Slice the log like bread to about 1/2 inch thick.
9. Lay the sliced pieces flat on a cookie sheet covered with foil or parchment paper.
10. Put in a hot oven and bake for 10 to 15 minutes or until cinnamon rolls are golden.
Let us eat!