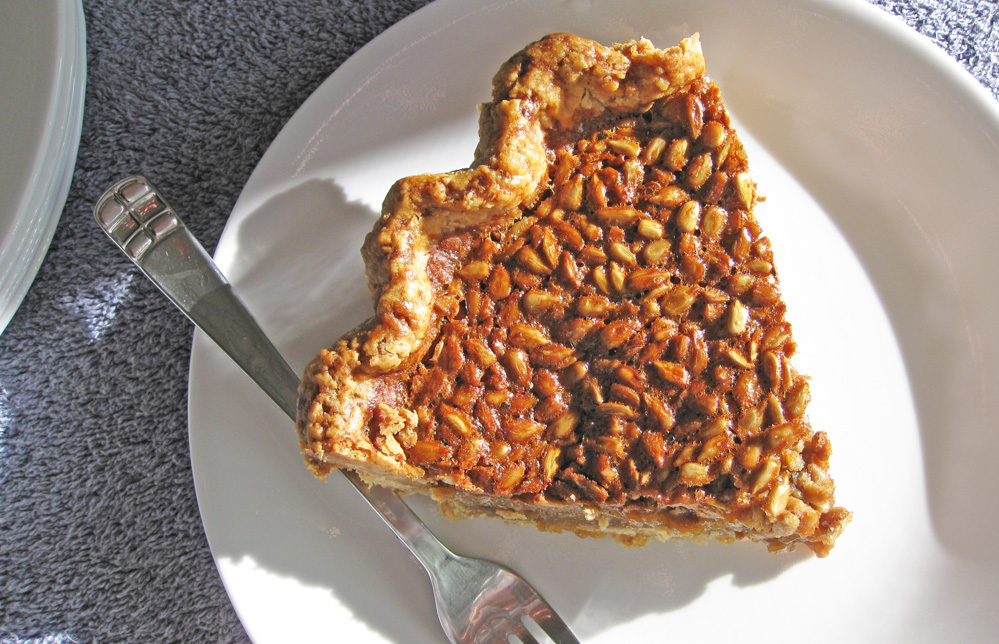 What! Sunflower Seeds
This Sunflower Seed Pie is so wonderfully delicious that any candy-loving kid would love to eat. However, it's fit and healthy enough for the health conscience parent.
This pie is the invention of two of my closest family members in mind. One said she can't eat process sugar and the other is gluten intolerant and allergic to nuts. Making two different pies would be too much. So I combined both of their diet restrictions to develop this pie recipe.
New Pie Name for the world to know, 'Jazmella Pie'
The name has nothing to do with that it's made with sunflower seeds. Instead, it's who I made it for.  It's the combination of their names. Have you named a pie you created after someone you love? Okay on to the Jazmella Pie.
A short story about this pie
Sunflower Seed Pie can easily be explained to be just like pecan pie but made with sunflower seeds instead of nuts. Although it is similar to pecan pie, this sunflower seed pie recipe is so much different:

It's much more healthier for you.
The flavor and texture have warmer notes and smell like sweet brittle candy. Believe me, this pie is really great!
Those with dentures or braces will love this pie too. It's much easier to chew instead of large chunks of hard nuts that could knock dentures loose or break a braket. All of this without loosing that lovely chrunch and nutty chew. Keep smiling!
Sunflower seeds in my pie
This pie is great for those whom you love that can't have pecan pie because they are allergic to nuts. As I mentioned before, I made this pie for the family who won't eat white sugar, is gluten intolerant, and allergic to nuts. However, no matter what diet we were on or not on, we all enjoyed this unique pie.
I tell you. You can't buy this pie from any place in town, no store, no bakery will sell it to you. I guess you have to bake it yourself.
Some facts about sunflowers seeds
Reduces Risk for Heart Disease
Helps to Prevent Cancer Due to High Antioxidant Content
Supports Thyroid Function Through Selenium
Helps Combat Osteoporosis, Bone Loss, and Muscle Cramps
More About 'Sunflower Seeds'
Sunflower seeds are a unique food, rich in many types of essential, and sometimes hard to get nutrients. In fact, sunflower seeds make the Top 10 List of foods rich in Vitamin E, copper, B Vitamins like thiamine, phosphorus, selenium, and more.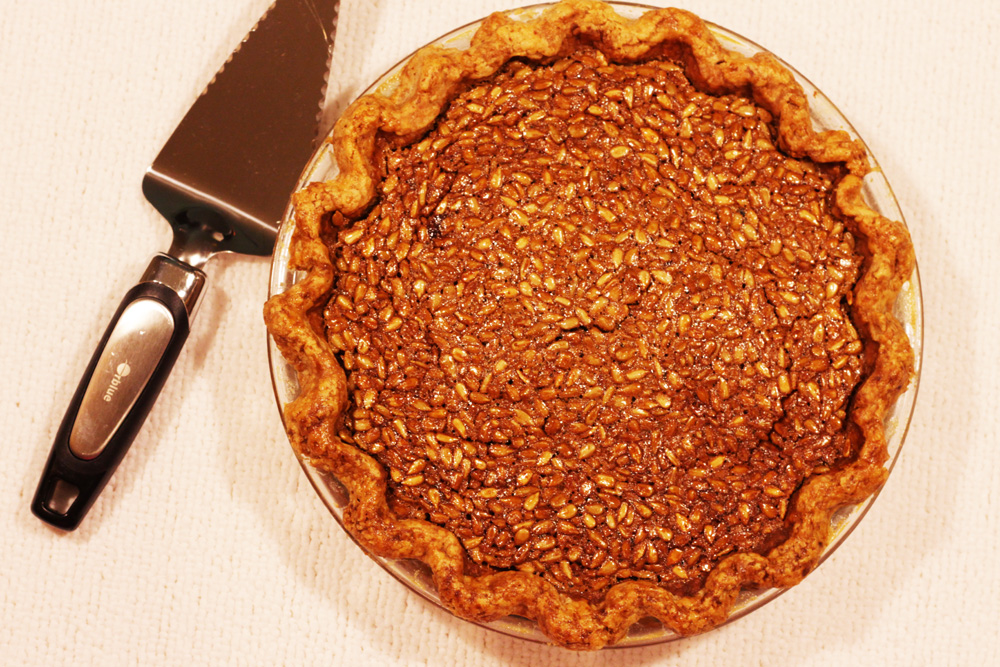 Sunflower Pie (seeds) Recipe:
CRUST (optional gluten free)
single crust 8-inch or 9-inch pie dish
2 cups gluten-free pizza dough Flour (Bob Redmill)
1 3/4 sticks (14 tablespoons) unsalted Butter, very cold
3 tablespoons Coconut Sugar
1/4 teaspoon salt
3 tablespoons ice-cold filtered Water
FILLING
1 cup unsalted raw Sunflower seeds (lightly roasted)
1 cup light Honey (clover)
1/2 cup organic Coconut sugar
3 large fresh Eggs
1/4 cup fresh Orange juice
1 teaspoon fresh Orange Zest
1 teaspoon best quality Vanilla
3 tablespoons unsalted Butter
1/2 teaspoon fine grain Sea Salt
1 dash fresh ground Nutmeg
TOPPING
Optional Egg wash:
1 fresh egg
1/2 tablespoons filtered water
Sunflower Seed Pie Directions:
Crust:
1. Add all your dry ingredients to a chilled glass bowl and tossed the mixture with a fork.
2. Cube your fats into small pieces and add to the bowl.
3. Using just your fingertips rub the cold fat into the flour. Stop when the mixture resembles cracker crumbs and tiny peas.
Do not use
the water all at once
4. Quickly add two-thirds of this liquid to the dry ingredients and toss with a fork. If it is not coming together add the remaining liquid.
Do Not over work the dough.
It will make it tough.

5. The dough should look somewhat dry but come together when squeezed in your hands.
6. Compress and flatten to form a large disk.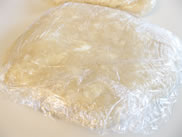 7. Wrap disk tightly with plastic wrap and chill for 30-60 minutes. You can freeze them for two months by adding a foil wrap to the covered disk.
9. Your dough is now ready for your favorite pie recipe.
8. Remove from refrigerator and roll out to a 12″ to 13″ circle.
10. Pre-bake crust: Place dough in glass pie dish. Flute and feel with pie weights or dry beans. Place in 375 F oven for 20 minutes. Remove weights and bake for 10 to 15 minutes longer or until golden brown.
Sunflower Seed Filling:
1.  Roast Seeds: Spread seeds evenly over a large cookie sheet and bake for about 15 minutes in a preheated 300 F oven. Be very careful not to burn your seeds. At once you see browning and can smell the seeds roasting remove them immediately from the oven. If you have to, use a flashlight to peek on the progress. (continue below image)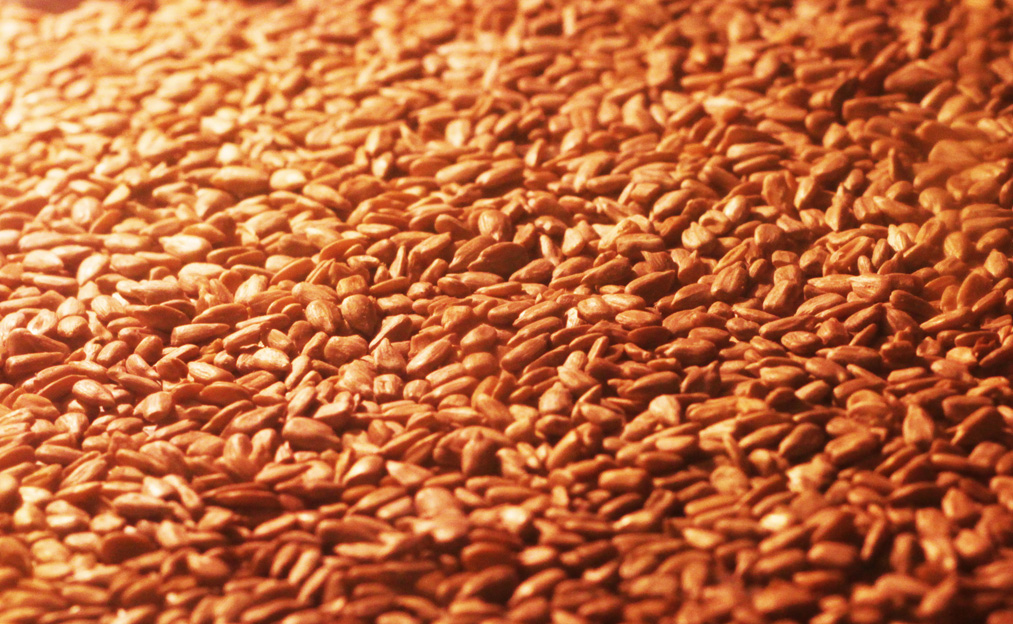 2. Mix the eggs in a large bowl.
3. Add in the remaining ingredients for the filling and mix.
4. Pour mixture into your pre-baked pie crust.
5. Brush crust edge with egg wash (optional).
6. Place pie in a preheated oven at 350 degrees for 35 minutes in the center of your oven.
7. Remove when the center of the pie is set, it does not ripple when shaken. The pie will yield 8-10 portions.