Bacon Lattice and Crumble Top Apple Pear Pie with Mandarin Orange Glaze
It's BACON!
Once again, a recipe that proves bacon goes with anything! I wasn't sure if I would like this, but it turned out great! Definitely for people who like the salty-sweet flavor combination. I made my own crust and pie filling and to up my game, there's a crumble top. I also gave the bacon and crust a nice lustrous orange glaze. Go big or go home. Right? Jump to recipe…
Bacon Lattice Crumble Top Apple Pear Orange Glazed Pie: Timelapse Video
Guilty Food Pleasures?
Guilty food pleasures are important, once in a while. Okay, a very long while. You need to dive into real gold, something ridiculously amazing. If you don't, life is just not worth living. Did I just say that?
This bacon apple pie is very special. Imagine the best apple pie you ever had, super flaky crust, sweet juicy, and buttery. Then instead of the dough lattice top, it is made of strips of bacon. BOOM!
Build a tight lattice top with the bacon so when it cooks and shrinks it will not separate. The bacon protects the apples from not drying out and burning.
When the pie goes into the oven, the real magic happens. All of that bacon fat that usually stays at the bottom of your pan penetrates through tender baked apples. Now you're talkin'. It's so brilliant, you can just live on the aroma along.
It is heaven. I just love eating it because it's just so comforting. You have the butteriness of the crust. Then the cinnamon tart sweetness of warm apples. And of course the added bonus of sweetened smokin' bacon. It is pretty amazing of a tri-affective of ingredients. I'm going to sing it one more time, strips of smokin' bacon is sooo goood!
Bacon History
Salted pork belly appeared on dining tables thousands of years ago in China. Pork curing methods spread throughout the Roman Empire, and Anglo-Saxon peasants cooked with bacon fat.
Until well into the 16th century, the Middle English term bacon or bacoun referred to all pork in general. The word bacon derives from various Germanic and French dialects. The cut typically used to make bacon comes from the side, or belly, of the hog. In modern England, a side of bacon is called a gammon and a slice of bacon is known as a rasher.
In the 12th century, a church in the English town of Dunmow promised a side of bacon to any married man who could swear before the congregation and God that he had not quarreled with his wife for a year and a day. A husband who could "bring home the bacon" was highly regarded by the community for his forbearance.
Americans consume 70 percent of their bacon with breakfast. But the crispy, salty meat also stars as a sandwich ingredient and a favorite of chefs in fine dining establishments, so that bacon shortages have at times caused prices to soar. Still, bacon remains a bargain when it comes to adding flavor. Bacon aficionados enjoy the cured meat in both classic dishes such as chowders and adventurous concoctions ranging from bacon ice cream to chocolate-covered bacon to bacon jam and now PIE.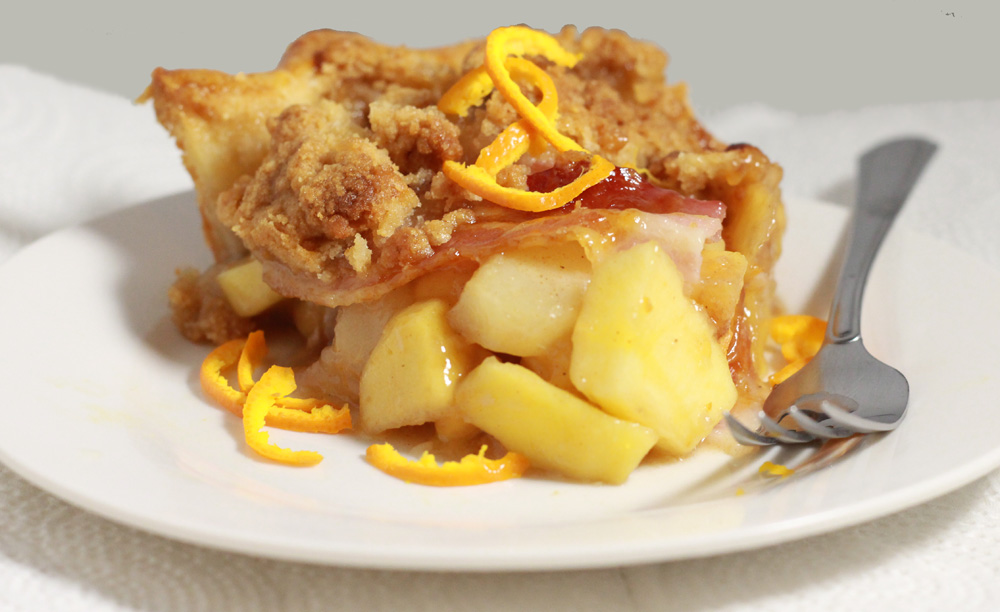 Ingredients for one 9-inch pie
One Pie Crust
Filling
3 pears (D Anjo, Bartlett, Bosc variety) diced
3 apples (tart variety) diced
3/4 cup white sugar
3/4 cup brown sugar
 cup light brown sugar
2 tablespoons Clear Gel
1 tablespoon unsalted butter
1/2 teaspoon ground cinnamon
1/2 teaspoon fresh ground nutmeg
2 pinches ground cloves
2 pinches ground cardamom
1/4 teaspoon salt
2 tablespoons fresh lemon juice
1/2 teaspoon fresh lemon zest
2 tablespoons half and half for wash
Crumble Top
1/2 cup white sugar
1/4 cup brown sugar
 1/2 cup flour
1/4 almond flour
1/2 teaspoon ground cinnamon
2 pinches salt
6 tablespoons unsalted butter
Bacon Lattice
6 long strips bacon (thick hardwood or applewood flavor)
2 tablespoons real bacon (cooked and chopped) – optional
Orange Glaze
1 fresh orange (or 2 mandarin oranges)
2 tablespoons sugar
1/2 teaspoon Clear Gel
1/2 pure vanilla extract
Crust Directions:
Prepare the pastry: Roll the pastry and line a 9-inch pie plate with the bottom crust.  Chill the pastry.
Brush on milk-wash over edges.
Preheat the oven to 400° F.
Filling Directions:
Mix sugar, clear gel, cinnamon, nutmeg, cardamom, and salt.
Dice apples and pears, toss with lemon juice and zest in a bowl.
Now toss in the sugar mixture and coat the fruit well.
Dump the spiced fruit into the pie shell, including any sugar and juices that have accumulated in the bowl.
Weave the uncooked bacon on top of the pie filling, starting from the center and working your way out to the edges.
For the lattice topping, you should have an over-under pattern with 3 pieces going vertically and 3 pieces going horizontally.
Place a 6-inch dish over the bacon lattice to keep crumble off.
Crumble mixture: Combine sugars, flour, spice, and butter in medium bowl. Pinch ingredients together with fingers then toss with a fork to break apart into large crumbs.
Optional: Add bacon pieces to crumble for more of that salt sweetness power.
Carefully apply crumble to space left between the 6-inch dish and pie edge. Cover completely so no gaps are left. The crumble helps to hold in the juices and prevent the apples from burning.
Remove the 6-inch dish and only cover the exposed bacon lattice with foil to prevent it from burning.
Reduce the oven temperature to 350° F.
Set the pie on the center oven rack and bake for 40 minutes
Remove foil from bacon lattice and cover the crumble top and pie edges with foil to protect from the heat of the oven.
Turn the pie 180° degrees. Continue baking for another 20 minutes or until the bacon center is golden and the filling is bubbling.
Watch the bacon closely to make sure it does not start to burn.
Transfer the pie to cool and glaze while still warm.
Orange Glaze: Mix sugar and clear gel in a small microwave-safe bowl. Stir in fresh orange juice and vanilla. Microwave for 15 seconds and stir. Repeat until it thickens to a clear glaze.
Brush clear glaze over bacon lattice and crust edges.
For storage, cover the pie loosely with aluminum foil and refrigerate.
Bacon Apple Pie Success Tip
To keep the bacon from burning early in the baking process, cover with foil and remove 15 to 20 before baking is done. Keep a close watch. You want a slight caramel color, no darker.