Apple Pie Recipe – Vintage
Posted by Warren
Makes one 9-inch pie, single crust, fruit filling
Buckeye Cookery, and Practical Housekeeping, by Estelle W. Wilcox, 1877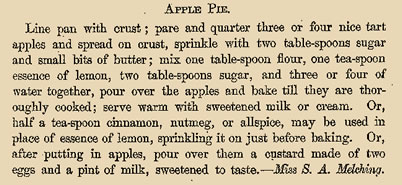 A single crust custard apple pie with an old fashioned twist of 1877.
Apple Pie Recipe
Buckeye Cookery, and Practical Housekeeping, by Estelle W. Wilcox, 1877
APPLE PIE.
Line pan with crust; pare and quarter three or four nice tart apples and spread on crust, sprinkle with two table-spoons sugar and small bits of butter; mix one table-spoon flour, one tea-spoon essence of lemon, two table-spoons sugar, and three or four of water together, pour over the apples and bake till they are thoroughly cooked; serve warm with sweetened milk or cream.
Or, half a tea-spoon cinnamon, nutmeg, or allspice, may be used in place of essence of lemon, sprinkling it on just before baking.
Or, after putting in apples, pour over them a custard made of two eggs and a pint of milk, sweetened to taste.–Miss S. A. Melching.
A Cookbook with vintage pie recipes
This was the great mid-American cookbook of its day. It began life as a charity cookbook when, in 1876. They published the Buckeye Cookery cookbook to raise money to build a parsonage. They named it The Centennial Buckeye Cook Book, in honor of America's Centennial.
Why was the book so popular? Clearly, it met the needs of thousands of women looking for advice on how to feed their families and manage their households. It kept up-to-date by revisions covering newly introduced foods and equipment.
It contains about 300 pages of cookery recipes and another 125 or so of household hints, suggestions for caring for the sick, for doing laundry, for the cellar and the ice-house, for "Hired Help", for preserving, gardening – and everything else within the housewives' sphere of responsibility.
Apple Pie Recipe – Old Fashioned of 1877
—Ingredients—
Filling
3 pounds tart apples
1 teaspoon fresh lemon zest
3/4 cup white sugar
1 tablespoon flour
1/2 teaspoon ground cinnamon or nutmeg or allspice
1 pint milk
2 whole eggs
same water
Directions
1. Prepare the pastry: Roll the pastry and line a 9-inch pie plate with the bottom crust. Roll out the remaining dough for the top crust. Chill the pastry.
2. Preheat the oven to 400° F.
3. Prepare the filling: Pour the fresh-squeezed lemon juice in the bottom of a large bowl. Add your lemon zest to the bowl. Peel, halve and core the apples. Be sure to remove seeds. Slice them evenly and slim into the bowl, coating them with the lemon juice as you go.
4. Follow vintage recipe above with these instructions. In a separate bowl, mix together the sugars and spices. Add them to the apples just before you want to bake the pie, mix gently. Adjust sugar to taste as needed.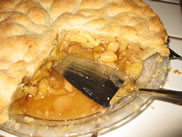 5. Scrape the filling into the bottom crust. Trim and crimp the crust.
6. Bake the pie on a baking sheet for 10 minutes at 400° F or until the crust looks dry, blistered, and blonde. Turner the oven down to 375°F, and bake for at least 45 minutes more or until the crust is golden brown, and visible juices are thickened and bubble slowly through the slits in the top crust. Check if the bottom crust has darkened. If not bake a little more and cover the top crust, so it does not burn.
7. Cool the pie completely before cutting at least a few hours or warm in an hour. Store the pie uncovered in a cool place up to three days.