Sweet Cream Pies Recipe of 1877
Posted by Warren
Makes one 9 to 10 inch pie, single crust, cream. Text version is below image.
Buckeye Cookery, and Practical Housekeeping, by Estelle W. Wilcox, 1877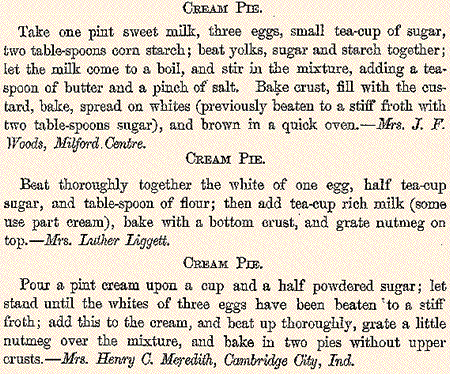 These are classic vanilla cream pie recipes that are beloved by all.
Cream pies are a monument to uncomplicated American cuisine that sets the foundation for most cream pies.
Cream pie should be in every baker's repertoire.
Sweet Cream Pies Recipe from 1877
Buckeye Cookery, and Practical Housekeeping, by Estelle W. Wilcox, 1877 – Text Version
Cream Pie I
Ingredients
Take one pint sweet milk, three eggs, small tea-cup of sugar, two table-spoons corn starch; beat yolks, sugar and starch together;
Add 1 teaspoon of
vanilla to these
Directions
let the milk come to a boil, and stir in the mixture, adding a teaspoon of butter and a pinch of salt. Bake crust, fill with the custard, bake, spread on whites (previously beaten to a stiff froth with two table-spoons sugar), and brown in a quick oven.–Mrs. J. F. Woods, Milford Centre.
Cream Pie II
Ingredients
Beat thoroughly together the white of one egg, half tea-cup sugar, and table-spoon of flour; then add tea-cup rich milk (some use part cream),
bake with a bottom crust, and grate nutmeg on top.–Mrs. Luther Liggett.
Cream Pie III
Ingredients
Pour a pint cream upon a cup and a half powdered sugar; let stand until the whites of three eggs have been beaten to a stiff froth;
Directions
add this to the cream, and beat up thoroughly, grate a little nutmeg over the mixture, and bake in two pies without upper crusts.–Mrs. Henry C. Meredith, Cambridge City, Ind.
A Cookbook with vintage pie recipes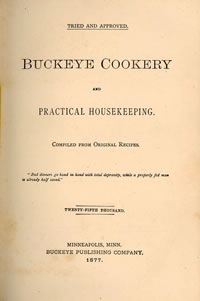 This was the great mid-American cookbook of its day. It began life as a charity cookbook in 1876.
They published the Buckeye Cookery cookbook to raise money to build a parsonage.
They named it The Centennial Buckeye Cook Book, in honor of America's Centennial.
Why was the book so popular? Clearly, it met the needs of thousands of women looking for advice on how to feed their families and manage their households.
This cookbook kept up-to-date by revisions covering newly introduced foods and equipment.
It contains about 300 pages of cookery recipes and another 125 or so of household hints, suggestions for caring for the sick, for doing laundry, for the cellar and the ice-house, for "Hired Help", for preserving, gardening – and everything else within the housewives' sphere of responsibility.
Vanilla Cream Pie Recipe
—Ingredients and instructions are not the actual vintage recipe but is provided for reference purposes.
1 cup sugar
1/4 cup cornstarch
1/8 teaspoon salt
2 1/4 cups whole milk
4 large egg yolks
2 tablespoons unsalted butter (any brand wrapped in foil)
1 1/2 teaspoons pure vanilla extract
Directions for Cream Pie
1. Prepare a graham cracker crust.
2. Mix the ingredients and heat in a heavy saucepan, preferably nonstick.
3. Whisk until it starts to thicken. Cook 7 minutes longer and remove from heat.
4. Pour filling into a cooled pie shell and cover with plastic wrap. Leave no air gaps. This will prevent skin from forming on top.
You may use
a meringue topping instead
5. Refrigerate and let the pie cool.
6. Optional; just before serving cover with whipped cream and dust lightly with nutmeg.
Cream Pie Recipe Success
You will see recipes fro cream pies where the egg yolks are beaten separately and some of the not liquid is added to the egg mixture to prevent curdling.
This is not necessary if you use the self tempering method by adding them to the pot with milk and gradually bringing the liquid to a slow boil.
The presence of cornstarch with the constant whisking prevents the mixture from curdling.