What a day! at my first State Fair Pie Competition
Posted by Warren
Pie competition. Competing in the State Fair with my pies.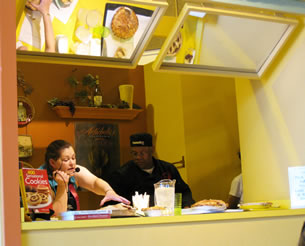 I am just ecstatic with my first State Fair Pie Competition!
This is what happened…
Beeep Beeep my alarm clock goes off at 6:00 AM. This is the day to enter my pies in the State Fair. I crawl out of bed. I am dog gone tired with only three and a half hours of sleep. I was up all night until 2:30 AM in the morning baking 11 pies and eight pastries.
I head straight to the kitchen. I need to do some last minute preparations. Three of the pies need whipped cream. I had no problems doing those. My Crème Brulee pie needed the melted sugar topping. I get the torch, pop on the flame and start to melt the sugar. My flame is so hot the sugar burns before melting. A few seconds later the smoke detector in the house goes off. The loud screeching sound wakes up my whole family. Great! I was trying not to disturb their sleep.
Fortunately, I made two Crème Brulees. So I decided to use the broiler to melt the sugar. It was working but taking way too long. For some reason, the broiler is turning off and on. Now my Crème Brulee is no longer cold. So it melts down to a liquid mess. OK I told myself it´s a lost cause so let´s just forget it and move on.
I checked the clock. Oh my goodness time flew by. I have only 15 minutes to dress and load the car with my pies. I really had no idea how to transport these pies. The State Fair is 120 miles down and around mountains. I said what the heck, I need to leave now. So I got dressed in a flash. My spouse is helping me load the car with my pies. I put the cold pies in an insulated chest. The rest I left on a cookie sheet. I put this is the front seat with me. I m going to baby sit these pies and just hold on to them. I hope they don´t slide off the cookie sheet or roll over while rushing to the Fair.
Let's see. I got my camera, my phone, my Fair entry pass. Did I forget anything I need? I tell myself I filled the car with gas the night before. So off I go with my pies and pastries.
I am at the halfway point. About an hour past since leaving home. I tell myself if there´s an accident on the road anywhere on the way there, I´m doomed. I won´t make it for the pie drop off. What a depressing thought.
I drove as fast as I could without breaking the law. I get to Sacramento. I´m thinking I´m not going to make it. Oh no there´s an accident in the road. Fortunately, it´s in the opposite direction. Sirens are coming from all around me. I noticed in the middle of an intersection a police motorcycle on its side. The police officer fell off his bike while turning the corner rushing to the scene. I hope he´s OK.
Shoot I do not have a map of the area or even have time to look at one. Do I turn here or go straight? I got to ask someone. So while waiting for the light to turn green, I wave my hands and head frantically like I was going crazy to get the attention of the driver next to me hoping he knew the area. Finally he rolls down his window with a bewildered face. I shouted to him,"Is this highway 160?" He motions to me a yes. Thank you very much.
I arrived at the State Fair grounds. I´m looking for gate #12. There it is. I drive through with my gate entry pass. Wow, I made it in. I have never been here before, so I felt lost looking for the pie baking competition building. I am looking for building #2. Where´s building #2? I pulled out the map of the Fair grounds. There it is. So the map says to go here and there. OK I guess this is the way to building #2. No street signs are posted in this place. I see building 8. Maybe building number 2 is close by. I park my car in the middle of the walkway. Hope I don´t get a ticket. I must get my pies entered. I worked day and night on them.
I get out of the car. As I grab the cookie sheet of pies and the ice chest, I saw an elderly lady walking towards me. I shouted, "Is this the place to bring baked goods?" The lady would not tell me a thing. She just gave me a puzzled look. An elderly man was close behind. I asked him, "Is this the place to bring your bake goods for the contest?" He said with a weak voice. Yes. The building is in there on the other side.
It would be nice if I could follow posted signs or something but none were put up. I get to the building. Yes! Building #2. Reaching the door handle to building #2, I was thinking is this door locked, did I make it on time? Yes! The door opens. I run in. Inside there is a table with two ladies sitting behind it. I went to the table. I ran over trying to get in line before the entry closes.
The lady at the table was receiving many items from a contestant before I arrived. So I waited for my turn. The lady said I'll help after I finish with this lady. What a relief knowing I made it. It was as if a ton of bricks were lifted from my head.
After entering my pies and pastries, I got a free pass for the State Fair to return for the judging. I left the Fair grounds, rested a bit and had lunch.
It's now 12:30 PM, the judging starts. This is my first time witnessing an open judging of pies. It is so exciting. There is nearly a 100 of us setting and standing in attendance to watch the judging of the pies, tarts, breads and cakes. Three different kitchens are set up in front of us. Two judges occupied each of the kitchens. One kitchen was designated for pies and tarts. I had my eyes fixed on this kitchen with its judges. One owned her own baking business. The other was a pastry chef at a renowned restaurant in the Bay area.
They started with the refrigerated pies. Right away the judges were making negative comments. This pie crimp is broken. The bottom crust is soggy or undercooked. The filling droops after a slice is removed. I said to myself my pies aren´t going to have a chance in the world with these judges. They're tough and I am just an amateur compared to these pies. You know I´ll be happy just to get a 3rd place ribbon. I made three refrigerated pies and boy did they get picked on the judging block. I sank lower and lower as each of my pies crossed the judging block. I was thinking in my head, I feel sorry for my family because for the last four days I have been engrossed with these pies. I won´t have anything to show for all of my hard work. However, I told myself, this was a learning experience. I would not have missed this for the world. To tell the truth, I was happy that I just got to enter my pies. I make pies because I love them and they make me happy.
The announcement went out, they were going to judge non-refrigerated pies. I was thinking, "How long this judging is going to take?" There were so many pies, and not your run of the mill pies. I sat next to a man who has been competing for four years and won best of division.
Pies came from all over the state of California: LA, San Mateo, San Francisco, Redding, San Diego, Northern and Southern California. Like me, they drove hours to get here. I´m among individuals that were just as dedicated to baking pies as I was. What a feeling it brought me to be among their company. I´m happy just to be here.
Now comes the judging of single crust non-refrigerated pies. I noticed my pie on the judging block. The judge flags the announcer over. She says. I want everyone to see this pie before I cut into it. The pie filling had sliced apples placed in the pan to look like rose pedals. She said I would have given this a perfect score but the apples needed more time to cook.
You got to be kidding me. A perfect score. I´m thinking my pies are better than I thought. This is the very first time I witness a professional tasting my pies. Now I was not as relaxed. I´m now sitting at the edge of my seat anticipating how my 4 remaining pies will rank with the judges. My excitement went into high gear. My pear pie was next on the judging block.
Normally the judges take very small pieces off the pie. They taste the filling first. Then drink some water. Then they taste the crust and drink some water. My single crust pear pie was next on the judging block. However, I notice the judges were tasting my pie three no five different times. One judge even gave the other judge a piece of the crust. I was thinking that something is wrong with my pie.
The narrator noticed my pear pie was ready for review. He walks over and asks the judge what do she think of this mini pear pie. The judge comments, "You might have noticed that I spent more time on this pie. I could not find a thing wrong with it. The filling is perfect. The crust is perfect, tender yet flaky. Who ever made this pie should be real proud." The judge said this baker knows her pears. They are cooked perfectly soft but still has a snap to them. We can´t find any flaws. This pie gets a perfect score. I felt like bouncing off the walls. I was just beside myself. What a shock that I really do know how to bake an excellent pie. At this point, I had three first places and one best of class.
My winning pie secrets
can by found
at this very pie site
everythingPIES.com
Now my pastries are on the block. Someone before me entered a dozen pieces and were disqualified because the rules say you must enter just eight pieces, no more and no less. And thank goodness that is exactly what I did. The judges said that we want to assure everyone that they did receive eight pastries from this contestant.
The judge examines my pastry slowly. He picks it up to smell it. He smiles. He grabs a fresh knife and slices it right down the middle. He spreads the halves slowly apart. And at the very moment his eye pierces inside, he jumps back. He was blown away by what he saw. It impressed him so he called over the announcer. I want everyone to see this. Look here inside it has a fruit filling, It´s red on the outside and translucent on the inside with some type of caramelized sauce. I hear oos and aahs. They have never seen such a treat before like this pastry.
He tastes the outer pastry first. Perfect. Nice and golden, flaky and tender. He tastes the fruit. Perfect again he says. He tastes the caramel sauce. He calls it Honey Walnut. Oh he said I want more! All I need now is to have this heated and with some ice cream.
Again I was beside myself. How much more of this can I take without screaming out with joy.
I thought my pastry was going to be a flop. I planned to do much more with them but ran out of time and just wanted to get it done. I guess I bit off more than I could chew. Baking 11 different items in one day.
This pastry won over all the refrigerated pastries entered and got 1st place and best of class. And another perfect score.
Now the doozie surprise. My pie was on the judges block for best of division. The best pies were all competing with my mini pie. The judges said, this little pie impressed us the most, so we are giving it best of division.
I said, "I just can´t take much more this." So I ran outside to release my extreme happiness.
No one had a clue, I was the famous baker among the crowd of observers. The judges said this year they are glad to see pears in the competition. This pear pie belongs in the best renowned restaurants in the area. We are up here judging pie made by you with standard home appliances. You don´t have the fancy equipment we use but still the quality of this pie will compete with our items with no problem.
What a day I had. Going from running late, thinking my pies are not good enough, to placing four 1st places with my pies, winning two best of class and the most prestigious best of division. I won´t ever forget this day! My desires are to continue to bake the best and most creative pies ever. I hope I can take the pie to new heights that has never been seen or done before. I just love pies!