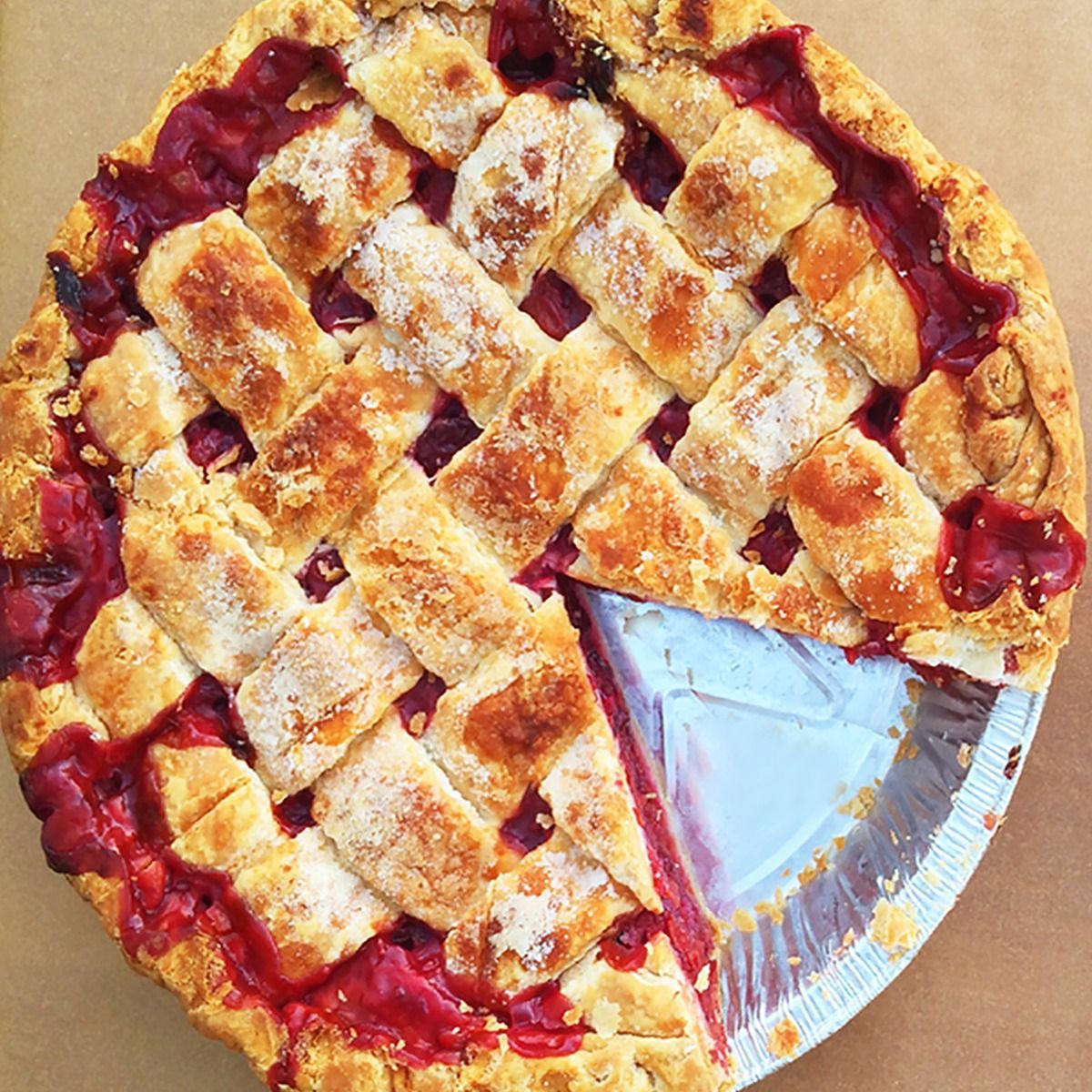 English tradition credits making the first cherry pie to Queen Elizabeth I.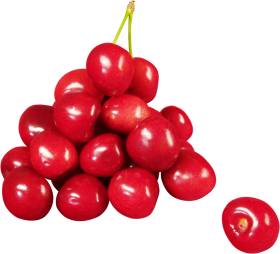 Ninety percent of the sour cherries are grown in Michigan and are pitted and frozen or canned in light sugar. The most common sour cherry is the Montmorency or "cherry pie cherry". It is a bright, icy red cherry with pale golden flesh and a gold pit.
A later cherry in the Balaton. This cherry is Hungarian in origin. It is deep burgundy throughout, with smaller pit, and is bountifully juicy with the color of ruby port.
Hint! Use sour cherries from…
There is only one thing you need to know about this pie: it contains four pounds—four fat juicy, gorgeous pounds—of prime Michigan sour cherries.
Why sour cherries? Unlike table cherries, sour cherries hold their shape beautifully when baked. This means you get a bold cherry pie, not a sad goopy pie. And they are a perfect blend of sweet and tart that makes for a more nuanced and exciting pie.
So why Michigan? Because, hands down, that's where the best sour cherries come from.
Bubby's Cherry Pie
Bubby's nestles the cherries into the lightest, flakiest, hand-rolled organic butter crust you have ever enjoyed, then tops them with more crust with the prettiest lattice weave. Then they bake the pie until the crust is a perfect golden brown, giving you a splendor of sweet and tart, soft and crisp.

Watch This Video Now On Bubby's Pie Company:
Bubby's, which started as a little wholesale pie business, was launched in 1990 as a way for owner Ron Silver to support his writing habit. But Ron soon fell in love with baking and the world soon fell in love with his heirloom pies, so the little wholesale pie operation grew to a string of restaurants in locations ranging from Brooklyn to Yokohama, a catering business, and a store specializing in those amazing pies. Pies, which as Jon Stewart said, "are the best."
The owner of Bubby's, Ron said:
However, I was not born into a life of pie making. I made my first pie when I was twenty-seven. Though I had been a chef for a few years, pie making was a mystery to me. I had never eaten a good pie. Pie was something that came from supermarkets chains and tasted like cardboard crust filled with gelatinous canned fruit.
But my imagination for good pie was strong, and curiosity and the notion that pie must be inherently good, as well as some competitive notion that I might be able to win a pie-baking contest, drove my desire to learn.
When I opened Bubby's Pie Co. in 1990, I was twenty-eight. I told both of my grandmothers, Grammy and Nanny, I was naming the company after them. I scraped together $10,000, got permission to use a catering company's kitchen, and started selling pies wholesale all over New York City
Bubby's sits just ten blocks from ground Zero, so September 11th had a very direct impact on us and or neighbors in lower Manhatten.
We have no secret recipes, and I have always made it clear to our customers that I would rather they eat great food at home, and if they want our recipes, I am happy to share them. After all, I have gleaned most of them from moms, grandmas, dads, and diners across America.
Sour Cherry Lattice Pie – BUBBY'S Homemade Pies
– Ron Silver and Jen Bervin cookbook 2007
FOR THE CRUST:
Pie pastry for a double crust
FOR THE FILLING:
5 1/2 cups pitted sour cherries
1/4 cup quick cooking tapioca
3/4  cup sugar
4 tablespoons (or 1/2 stick) unsalted butter melted
1 teaspoon lemon zest
1/4 teaspoon cinnamon
1/2 teaspoon almond extract
pinch of salt
1. On a lightly floured surface, roll dough into a circle at least 11 inches in diameter.
Transfer to a 9-inch pie pan, preferably glass. Allow the dough to hange over the edges. Refrigerate until ready to bake, at least 15 minutes.
Preheat oven to 400 F
2.FILLING: Add sugar, butter, zests, extract, to the pitted cherries. Toss briefly and fill the bottom crust with the mixture.
3.Cover it with a lattice top crust. Trim and crimp, chill the for at least 15 minutes in the freezer.
4.Remove from freezer. Egg wash the top and sprinkle the top lightly with sugar.
5.Bake the pie in a lipped baking sheet for 10 minutes, or until the crust looks dry, and blond. Turn the oven down to 375 degrees and  bake for at least 30 minutes more, or until the crust is golden and the filling is bubbling.
6.Cool the pie completely before cutting for at least a few hours. Store the pie uncovered at room temperature for up to 2 or 3 days.
Yield: About 8 servings.
Calories: 390 per serving