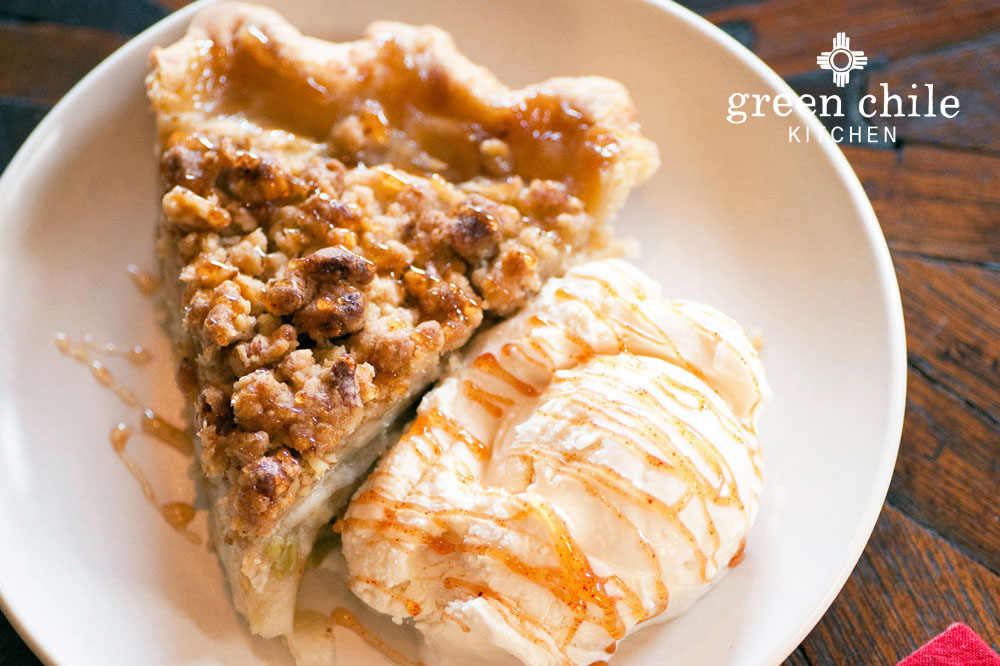 In this savory-sweet pie treat, apples are layered with roasted green chilies, made savory with Cheddar cheese in the crust and sprinkled with a streusel topping of walnuts and brown sugar. It's served with vanilla ice cream drizzled with chile honey sauce.
About Green Chile Pies Baking Company
Chile Pies Baking Co. serves delicious sweet and savory pies, select specialties from Green Chile Kitchen and ice cream. All their butter crust pies are original recipes and are made from scratch every day. Their head pastry chef, Wesley Monahan, created their signature green chile apple pie, made with a sweet apple & green chile filling, cheddar cheese crust & walnut streusel. For a delicious sweet treat, try their take on the classic milkshake. They take a piece of pie and blend it together with ice cream and milk if you like.
Chile Pies Baking Co. opened in the original Green Chile Kitchen location in 2010.

Watch This Video Now On Green Chile Pies:
Apple Green-Chile Pie Ingredients
FOR THE CRUST:
1 1/4 cups all-purpose flour
1/4 teaspoon salt
1/3 cup cold unsalted-butter, cut into small cubes
1/2 cup grated sharp Cheddar cheese
5 tablespoons filtered ice water, more as needed
FOR THE FILLING:
5 cups peeled and thickly sliced tart apples, like Granny Smith, Honeycrisp or Jonagold
1/2 cup chopped roasted green Hatch chilies, mild or medium hot
2 tablespoons fresh lemon juice
1/2 cup granulated sugar
1/4 cup light brown sugar
1/2 teaspoon cinnamon
1/4 teaspoon allspice
1/4 teaspoon nutmeg, preferably freshly grated
1/4 teaspoon salt
1/4 cup cornstarch
Pie TOPPING:
1/2 cup all-purpose King Authur flour
1/2 cup finely chopped walnuts
1/4 cup light brown sugar
4 tablespoons unsalted butter, melted
Vanilla ice cream, for serving
Red Chile Pepper Honey Sauce Ingredients
1 (4 ounce) jar honey
1/2 tablespoon new mexico chile powder
1/4 teaspoon pumpkin pie spice (or five-spice)
Crust Instructions
1. Make the crust: In a food processor or mixer fitted with a paddle attachment, combine flour and salt. Add butter one piece at a time, while pulsing or mixing at low speed, until mixture is fine and crumbly.
Transfer to a large bowl and toss well with the cheese. Add ice water one tablespoon at a time, mixing lightly with fingers just until dough holds together. To test, pinch a small amount of dough. If it is crumbly, add more ice water.
Form dough into a ball, wrap loosely in plastic, then roll into a disk. Refrigerate at least one hour, or up to 3 days, before rolling. (Dough can be frozen for up to a month.)
2. On a lightly floured surface, roll dough into a circle at least 11 inches in diameter.
Transfer to a 9-inch pie pan, preferably glass. Turn edges under to make a thick rim; flute rim by pinching into a zigzag pattern. Refrigerate until ready to bake, at least an hour.
Filling Instructions
3. Make the filling: In a large bowl, toss apples, green chilies and lemon juice together. In another bowl, mix dry ingredients and add to apples and chilies, tossing until thoroughly coated.
Pie Topping Instruction
4. Make the topping: In a small bowl, mix flour, walnuts and brown sugar. Add melted butter and toss together until crumbly.
Bake
5. Bake the pie: Heat oven to 400 degrees. Using a slotted spoon, scoop filling into chilled crust, then drizzle with 2 tablespoons of juice from bottom of bowl. Sprinkle topping evenly over filling. Bake 10 minutes, then reduce heat to 375 degrees. Bake 30 to 40 minutes, or until filling bubbles at edge and crust is brown. Serve warm, with a scoop of vanilla ice cream on the side.
Red Chile Pepper Honey
6. Mix the red chile powder, pumpkin pie spice( or five-spice) into the honey. Store at room temperature. Drizzle over pie and ice cream.
Please note:
Red chile powder is made from hot red chiles that have been dried and ground. Do not confuse chile powder with chili powder, the common mixed spice for making chili dishes. Substitutes: cayenne pepper OR paprika (milder) OR chile oil.
Yield: About 8 servings.
Calories: 411 per serving
Note: Roasted green Hatch chilies from New Mexico can be ordered from newmexicanconnection.com, and are sometimes found frozen in grocery stores. Drained canned green chilies are acceptable.