Pear Tart Family Recipe – The Lions
Posted by Warren
Makes one 9-inch pie, tart pan
The Lions family Recipe of Lake County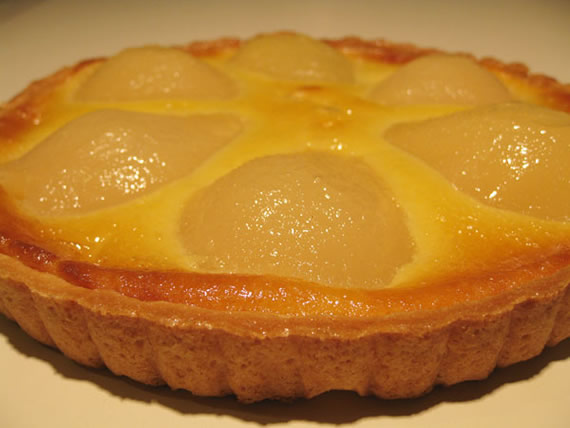 Pie tart made with Riesling
This recipe uses Riesling. Riesling is a white grape variety which originated in the Rhine region of Germany. Riesling is an aromatic grape variety displaying flowery, almost perfumed, aromas as well as high acidity.
The pear tart recipe is straight forward that works also as an open faced pie.

Vintage Pear Pie Recipe (just for kicks)
The Frugal Housewife, by Susannah Carter, 1803
To make an Apple or a Pear Pie.
Make a good puff paste crust, lay some round the sides of the dish, pare and quarter your apples, and take out the cores; lay a row of apples thick, throw in half the sugar you intend for your pie; mince a little lemon-peel fine, throw a few cloves, here and there one, then the rest of your apples, and the rest of your sugar. You must sweeten to your palate, and squeeze in a little lemon juice. Boil the peeling of the apples and the cores in fair water, with a blade of mace till it is very good; strain it, and boil the syrup with sugar till it is rich; pour it into your pie, put on your upper crust, and bake it. You may put in a little quince or marmalade, if you please.
Thus make a pear pie, but don't put in any quince. You may butter them when they come out of the oven, or beat up the yolks of
[continued on next page]
two eggs, and half a pint of cream, with a little nutmeg, sweetened with sugar; take off the lid, and pour in the cream. Cut the crust in little three cornered pieces, stick them about the pie, and send it to table.

Pear Pie Tart – Year 2010
—Ingredients—
Crust
1/2 cup unsalted butter
1/3 cup white sugar
1 egg yolk
1 teaspoon almond extract
2/3 cup toasted almonds, finely chopped
1 1/2 cups flour
Filling
8 oz cream cheese
2 teaspoon finely grated fresh lemon zest
1/2 teaspoon nutmeg
1/2 cup Riesling (white wine)
4 Bartlett pears (best pears for pie)
1 tablespoon white sugar
Glaze
1/4 cup apricot jam
1/4 cup Riesling
Directions
1. Crust: Prepare the pastry: Roll the pastry and line a 9-inch tart plate with the bottom crust. Bake at 400° F degrees for about 20 minutes.
2. Preheat the oven to 350° F.
3. Filling: Mix the cream cheese, lemon rind, nutmeg, sugar and Riesling until completely combined.
4. Pour your mixture into the baked crust.
5. Arrange peeled and quartered Bartlett pears in filling fanning them a bit or placed halved pears faced up. (thirds for large pears)
6. Glaze:Sieve apricot jam and cook together with the Riesling for about 5 minutes, set aside.
7. Bake at 350 degrees for 15 minutes, then brush carefully with glaze and sprinkle with sugar (optional).
8. Bake an additional 15 or 20 minutes until lightly brown.
9. Cool the tart before cutting at least a few hours or warm in an hour. Store the tart covered in the refrigerator for up to two days.