Huckleberry Pie Recipe – by The Los Angeles Times
Posted by Warren
Makes one 9-inch pie, single crust, berry filling
The Times Cook Book, by The Los Angeles Times, 1905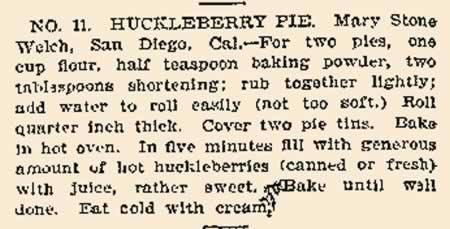 Huckleberries are a small berry that is very tart. They are similar to blueberries but much smaller and sour. These berries are great if pies along or mixed with other forms of berries.

Huckleberry Pie Recipe
The Times Cook Book, by The Los Angeles Times, 1905
NO. 11. HUCKLEBERRY PIE.
Mary Stone Welch, San Diego, Cal.–For two pies, one cup flour, half teaspoon baking powder, two tablespoons shortening; rub together lightly; add water to roll easily (not too soft.) Roll quarter inch thick. Cover two pie tins. Bake in hot oven. In five minutes fill with generous amount of hot huckleberries (canned or fresh) with juice, rather sweet. (Bake until well done. Eat cold with cream.)
A Cookbook with vintage pie recipes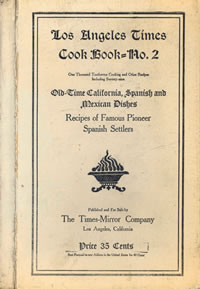 At the end of the 19th century and onto the 20th century various forms of media: newspapers, magazines, radio, the movies and TV, all became involved in the publishing and printing of cookbooks. The Los Angeles Times volume represents the many and diverse types of books. It represented books mainly from the West, but more specific of California.
From 1902 through 1917, the Los Angeles Times newspaper published a series of cookbooks based on its cooking contests and competitions. It is interesting in that they truly reflect the mix from southern California at the start of the 20th century.
The series of Los Angeles Times Cook Books were listed among the one hundred best sellers. This cookbook was on the most wanted book of California Cuisine in One Hundred Books on California Food & Wine collectors in 1990, edited by Dan Strehl and published by The Book Collectors of Los Angeles in 1990. All editions of this famous cookbook are scarce or rare.

Triple Berry Pie Recipe – Traditional
—Ingredients and instructions are not the actual vintage recipe but is provided for reference purposes.
Pastry dough – double crust
3 cups unbleached all-purpose flour
4 tablespoons sugar
1/2 cup ice cold water
1/2 teaspoon fine salt
1 cup (2 sticks) cold unsalted butter
1 teaspoon cold corn oil
Filling
6 cups mixed berries (raspberries, blueberries, marionberries)
1 cup white sugar
2 tablespoons cornstarch
2 tablespoons tapioca flour
1 teaspoon ground cinnamon
pinch of salt
pinch of ground cloves
1 tablespoon cold unsalted butter
Directions
1. Prepare the pastry: Roll the pastry and line a 9-inch pie plate with the bottom crust. Roll out the remaining dough for the top crust. Chill the pastry.
2. Preheat the oven to 400° F.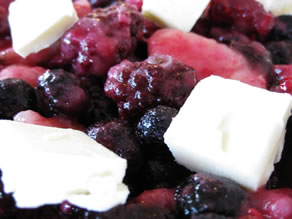 3. Prepare the filling: Thaw out berries if frozen to 40° F or warmer in bowl.
4. In a separate bowl, mix together the sugar, cornstarch, tapioca flour, cinnamon, cloves and salt. Add them to the berries. Mix gently, be careful not to burst them. Adjust sugar to taste as needed.
5. Scrape the filling into the bottom crust, dot with butter and cover it with the second crust. Trim and crimp the crust; chill the pie for about 10 minutes in the refrigerator. Cut vent slits in the top crust. It is your option to sprinkle it with sugar or brush the top with egg white.
6. Bake the pie on a baking sheet for 10 minutes at 400° F or until the crust looks dry, blistered, and blonde. Berry pies can really bubble over so be careful. Turner the oven down to 375??F, and bake for at least 45 minutes more or until the crust is golden brown, and visible juices are thickened and bubble slowly through the slits in the top crust. Check if the bottom crust has darkened. If not bake a little more and cover the top crust, so it does not burn.
7. Cool the pie completely before cutting at least a few hours. Serve it at room temperature. Store the pie uncovered in a cool place up to three days.
Huckleberry Pie Recipe Success
Be sure to wash and drain the huckleberries. Pat dry. Place the berries into a mixing bowl then sprinkle the flour and sugar over them. Stir lightly with a spoon.
Try not to crush the berries.