Homemade Pie Crust – Help
Posted by Warren
Pie crust help and tips. Text version is below page image.
Buckeye Cookery, and Practical Housekeeping, by Estelle W. Wilcox, 1877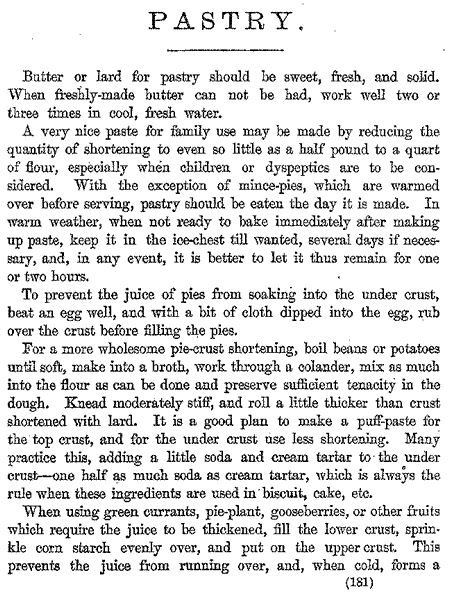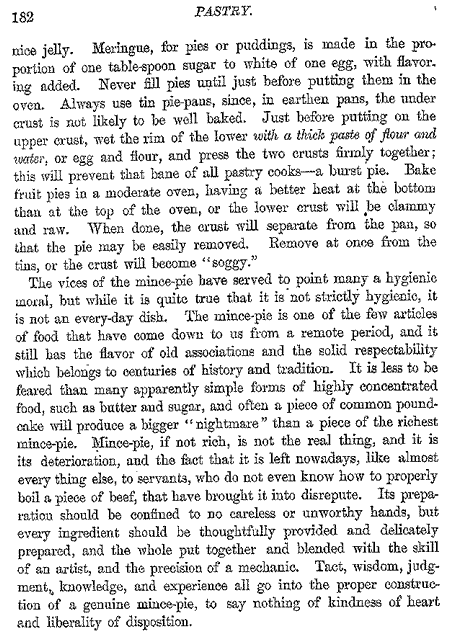 Simply put, a pie crust is a blend of flour, fat, sugar, salt and water. When these ingredients are properly mixed and handled, the result pie crust is flaky and tasty.

For the beginner it is best to learn how to mix by hand. So as to get the feel of the dough. Later on as you gain experience you can move on to using a food processor.
Homemade Pie Crust and Pastry tips from 1877
Buckeye Cookery, and Practical Housekeeping, by Estelle W. Wilcox, 1877 – Text Version
PASTRY.
Butter or lard for pastry should be sweet, fresh, and solid. When freshly-made butter can not be had, work well two or three times in cool, fresh water.
A very nice paste for family use may be made by reducing the quantity of shortening to even so little as a half pound to a quart of flour, especially when children or dyspeptics are to be considered. With the exception of mince-pies, which are warmed over before serving, pastry should be eaten the day it is made.
In warm weather, when not ready to bake immediately after making up paste, keep it in the ice-chest till wanted, several days if necessary, and, in any event, it is better to let it thus remain for one or two hours.
To prevent the juice of pies from soaking into the under crust, beat an egg well, and with a bit of cloth dipped into the egg, rub over the crust before filling the pies.
For a more wholesome pie-crust shortening, boil beans or potatoes until soft, make into a broth, work through a colander, mix as much into the flour as can be done and preserve sufficient tenacity in the dough. Knead moderately stiff, and roll a little thicker than crust shortened with lard.
It is a good plan to make a puff-paste for the top crust, and for the under crust use less shortening. Many practice this, adding a little soda and cream tartar to the under crust–one half as much soda as cream tartar, which is always the rule when these ingredients are used in biscuit, cake, etc.
When using green currants, pie-plant, gooseberries, or other fruits which require the juice to be thickened, fill the lower crust, sprinkle corn starch evenly over, and put on the upper crust. This prevents the juice from running over, and, when cold, forms a
nice jelly.
Meringue, for pies or puddings, is made in the proportion of one table-spoon sugar to white of one egg, with flavoring added. Never fill pies until just before putting them in the oven. Always use tin pie-pans, since, in earthen pans, the under crust is not likely to be well baked.
Just before putting on the upper crust, wet the rim of the lower with a thick paste of flour and water, or egg and flour, and press the two crusts firmly together; this will prevent that bane of all pastry cooks–a burst pie.
Bake fruit pies in a moderate oven, having a better heat at the bottom than at the top of the oven, or the lower crust will be clammy and raw. When done, the crust will separate from the pan, so that the pie may be easily removed. Remove at once from the tins, or the crust will become "soggy."
The vices of the mince-pie have served to point many a hygienic moral, but while it is quite true that it is not strictly hygienic, it is not an every-day dish. The mince-pie is one of the few articles of food that have come down to us from a remote period, and it still has the flavor of old associations and the solid respectability which belongs to centuries of history and tradition.
It is less to be feared than many apparently simple forms of highly concentrated food, such as butter and sugar, and often a piece of common pound-cake will produce a bigger "nightmare" than a piece of the richest mince-pie. Mince-pie, if not rich, is not the real thing, and it is its deterioration, and the fact that it is left nowadays, like almost every thing else, to servants, who do not even know how to properly boil a piece of beef, that have brought it into disrepute. Its preparation should be confined to no careless or unworthy hands, but every ingredient should be thoughtfully provided and delicately prepared, and the whole put together and blended with the skill of an artist, and the precision of a mechanic. Tact, wisdom, judgment, knowledge, and experience all go into the proper construction of a genuine mince-pie, to say nothing of kindness of heart and liberality of disposition.
A Cookbook with vintage pie recipes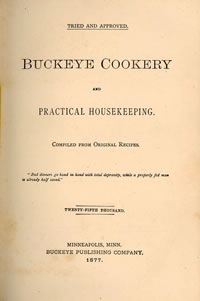 This was the great mid-American cookbook of its day. It began life as a charity cookbook in 1876.
They published the Buckeye Cookery cookbook to raise money to build a parsonage.
They named it The Centennial Buckeye Cook Book, in honor of America's Centennial.
Why was the book so popular? Clearly, it met the needs of thousands of women looking for advice on how to feed their families and manage their households.
This cookbook kept up-to-date by revisions covering newly introduced foods and equipment.
It contains about 300 pages of cookery recipes and another 125 or so of household hints, suggestions for caring for the sick, for doing laundry, for the cellar and the ice-house, for "Hired Help", for preserving, gardening – and everything else within the housewives' sphere of responsibility.

Pie Crust Recipe made with Lard and Butter
—Ingredients and instructions are not the actual vintage recipe but is provided for reference purposes.
Pastry dough – double crust
2 1/2 cups King Arthur all-purpose flour (Red bag)
2 tablespoons sugar
1/2 ice cold water (do not use all at once)
1 teaspoon cold canola oil
1/2 teaspoon fine salt
1/2 cup (8 tablespoons) cold leaf lard
1/2 cup (1 stick) cold unsalted butter (any brand wrapped in foil)
Directions making the dough
1. Add all your dry ingredients to a chilled glass bowl and tossed the mixture with a fork.
2. Cube your fats into small pieces and add to the bowl.
3. Using just your finger tips rub the cold fat into the flour. Stop when the mixture resembles cracker crumbs and tiny peas.
4. Whip the ice cold water and oil until it looks cloudy and the mixture looks a little foamy. Quickly add two thirds of this to the dry ingredients and toss with a fork. If it is not coming together add the remaining liquid.
Do Not over work the dough.
It will make it tough.
5. The dough should look somewhat dry but come together when squeezed in your hands.
6. Now divide this mixture in half to make two balls by squeezing it all together. Compress and flatten the balls to form two large disks.
7. Wrap disks tightly with plastic wrap and chill for 30-60 minutes. You can freeze them for two months by adding a foil wrap to the covered disks.
8. Your dough is now ready for your favorite pie recipe.
Pie Crust Success
Keep your pie crust dough cold.
Never over work the dough. This will activate the gluten and make the pie crust tough.