French Pear Pie Recipe
Posted by Warren
Makes one 9-inch pie, double crust, fruit filling
The Konocti Bartlett Housewife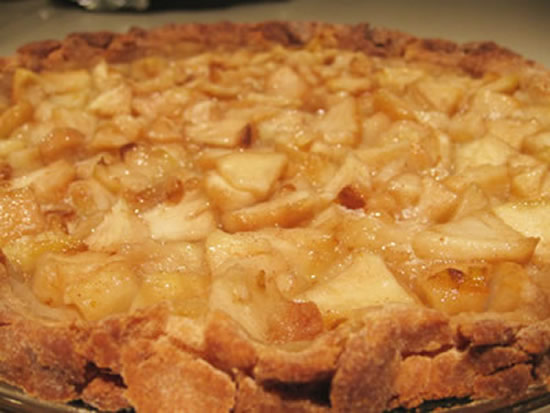 This Pear pie recipe is a French pear pie with ginger, fresh pears, and crumb topping.
Pear Pie Recipe (just for kicks)
The Frugal Housewife, by Susannah Carter, 1803
To make an Apple or a Pear Pie.
Make a good puff paste crust, lay some round the sides of the dish, pare and quarter your apples, and take out the cores; lay a row of apples thick, throw in half the sugar you intend for your pie; mince a little lemon-peel fine, throw a few cloves, here and there one, then the rest of your apples, and the rest of your sugar. You must sweeten to your palate, and squeeze in a little lemon juice. Boil the peeling of the apples and the cores in fair water, with a blade of mace till it is very good; strain it, and boil the syrup with sugar till it is rich; pour it into your pie, put on your upper crust, and bake it. You may put in a little quince or marmalade, if you please.
Thus make a pear pie, but don't put in any quince. You may butter them when they come out of the oven, or beat up the yolks of
[continued on next page]
two eggs, and half a pint of cream, with a little nutmeg, sweetened with sugar; take off the lid, and pour in the cream. Cut the crust in little three cornered pieces, stick them about the pie, and send it to table.
A Cookbook with vintage pie recipes
The Frugal Housewife of 1803, offers an excellent overview of the English contributions to what has become American cooking. This cookbook contained many traditional English recipes.
The Frugal Housewife was popular on both sides of the Atlantic from its first printing in London ca 1765.

French Pear Pie Recipe
—Ingredients—
Pastry dough – single crust 9-inch unbaked pie shell
Filling
6 cups fresh sliced pears (best pears for pie)
2 tablespoon fresh-squeezed lemon juice
1/4 teaspoon fresh lemon zest
2/3 cup white sugar
1/2 teaspoon ground ginger
2 tablespoon all-purpose flour
Crumb Topping
1/2 cup butter
1/2 cup brown sugar
1 cup all-purpose flour
Directions
1. Prepare the pastry: Roll the pastry and line a 9-inch pie plate with the bottom crust. Chill the pastry.
2. Preheat the oven to 375° F.
3. Prepare the filling: Pour the fresh-squeezed lemon juice in the bottom of a large bowl. Add your lemon zest to the bowl. Peel, halve and core the pears. Be sure to remove seeds. Slice them evenly and slim into the bowl, coating them with the lemon juice as you go.
4. Mix pears with sugar, ginger, and flour.
5. Place mixture in chilled pastry-lined pie plate.
Crumb Top
6. For the topping, cream together the butter and brown sugar; stir in flour
7. Spread topping over pears in the pie shell.
8. Bake pie at 375?? for 45 minutes, or until pears are tender and topping is nicely browned
9. Serve warm or cold, with whipped cream or vanilla ice cream.
—SPICY CRUMB TOPPING: —
1/8 teaspoon salt
1/2 cup white sugar
1/2 teaspoon ground ginger
1 teaspoon ground cinnamon
1/4 cup butter or 1/4 cup regular margarine
Directions
1. Mix the flour, sugar, spices and salt in a bowl.
2. Cut in the butter, using a pastry blender, until the mixture is crumbly.
3. Spread evenly over pie and bake for 375F.