Delicious Pumpkin Pie Recipe of 1877
Posted by Warren
Makes one 9-inch pie, single crust, custard filling. Text version is below page image.
Buckeye Cookery, and Practical Housekeeping, by Estelle W. Wilcox, 1877


Pumpkin pies are eaten all year long but especially around the holidays.
Make it easy on yourself bake them days in advance and freeze the pies for later use. Do not believe what you heard that you can not freeze pumpkin pie. You can if it is done right.
It is fine to use can puree pumpkin if you do not want to go through the trouble of processing fresh pumpkins. Libby's is quite good.
Delicious Pumpkin Pie Recipe and tips from 1877
Buckeye Cookery, and Practical Housekeeping, by Estelle W. Wilcox, 1877 – Text Version
DELICIOUS PUMPKIN PIE.
Making the Pumpkin Puree
Cut a pumpkin into thin slices, and boil until tender in as little water as possible, watching carefully that it does not scorch; set the stew-kettle on top of stove, mash the pumpkin fine, heaping it against the sides of the kettle so that the water may drain from it and dry away; repeat this process until the water has all evaporated, and the pumpkin is quite dry.
This will require from half an
hour to an hour.
Pumpkin Pie Ingredients and Directions
Mash and rub through a sieve, adding, while warm, a good-sized lump of butter; to every quart of pumpkin, after it is mashed, add two quarts of milk and six eggs, the yolks and whites beaten separately, sugar to taste, one tea-spoon salt, table-spoon ground cinnamon, one grated nutmeg, tea-spoon ginger;
Bake the Pumpkin Pie
Bake in a hot oven until well set and a nice brown. It is as well to heat the batter scalding hot, stirring constantly until it is poured into the pie-dishes.–Mrs. Gov. Irwin, California.
A Cookbook with vintage pie recipes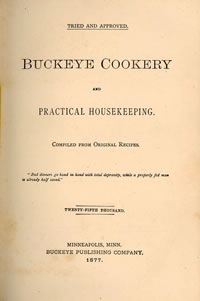 This was the great mid-American cookbook of its day. It began life as a charity cookbook in 1876.
They published the Buckeye Cookery cookbook to raise money to build a parsonage.
They named it The Centennial Buckeye Cook Book, in honor of America's Centennial.
Why was the book so popular? Clearly, it met the needs of thousands of women looking for advice on how to feed their families and manage their households.
This cookbook kept up-to-date by revisions covering newly introduced foods and equipment.
It contains about 300 pages of cookery recipes and another 125 or so of household hints, suggestions for caring for the sick, for doing laundry, for the cellar and the ice-house, for "Hired Help", for preserving, gardening – and everything else within the housewives' sphere of responsibility.

Pumpkin Pie Recipe
—Ingredients and instructions are not the actual vintage recipe but is provided for reference purposes.
Pastry dough – single crust
1 1/2 cups unbleached all-purpose flour
2 tablespoons sugar
1/4 teaspoon fine salt
1/2 cup (1 stick) cold unsalted butter
1/4 cup ice cold water
1 teaspoon cold canola oil
Filling
1 3/4 cups (one 15 ounce can) pumpkin puree
3/4 cup white sugar
1/8 cup light raw sugar
1/8 cup honey
3/4 cup milk
3/4 cup heavy cream
3 large eggs
1/2 teaspoon pure vanilla extract
1 teaspoon ground cinnamon
1/4 teaspoon ground mace
1/4 teaspoon ground ginger
1/4 teaspoon ground cloves
1/4 teaspoon salt
1 tablespoon melted unsalted butter
Directions
1. Prepare the pastry: Transfer to a 9-inch pie pan or dish. Trim the edges of the pie. Fold the overhang under itself and pinch it together to create a high edge on the pan's rim. Flute the edge decoratively.
2. Refrigerate or freeze the pie shell until firm, about 30 minutes. Meanwhile, place an oven rack in the lower third of the oven and preheat to 375°F.
3. Partially bake the pie shell: Remove the pastry shell from the refrigerator or freezer and line with a sheet of aluminum foil or parchment paper. Large enough to overhang the sides patting it to the bottom and up and over the sides of the pie shell. Cover the bottom of the shell with a generous layer of pie weights or raw short grain rice. The weights keep the crust from bubbling and help prevent shrinkage.
4. Bake shell for 20 minutes at 375°F. Lift edge of foil to check the dough. If it looks wet continued baking, checking it every five minutes until the dough is pale gold.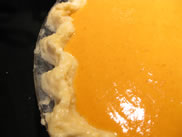 5.
Prepare filling: In a large bowl, whisk together the sugars, honey and eggs until well blended. Add the cinnamon, salt, ginger, cloves, vanilla and mace and mix well with the melted butter. Add the pumpkin puree, milk, heavy cream and whisk until smooth. Pour into the partially baked pie shell.
6. Preheat the oven to 375°F.
7. Bake the pie until the filling is slightly raised and firm in the middle, 50-60 minutes. The center will jiggle like Jell-O when done. Transfer to a wire rack and let cool. Serve slightly warm or at room temperature. Store the pie covered in the refrigerator for up to two days.
Serving tip: Serve each wedge with a dollop of sweetened whipped cream.
Save the pumpkin pie for up to a month by freezing it. It must be done the right way. Otherwise, when it comes time to thaw it you will be a disappointment. My Freeze Pumpkin Pie has all of the instructions you need.
Pumpkin Pie Success
Most of the time, OK all the time, I reach for canned pumpkin when I want to bake a pumpkin pie.
Canned pumpkin gets high grades for flavor and texture. It would take a sophisticated palate to notice the differences between canned and fresh pumpkin puree.