The Custard Pie Recipe – Top Pick
Posted by Warren
Makes one 9-inch pie, single crust, custard filling. Total prep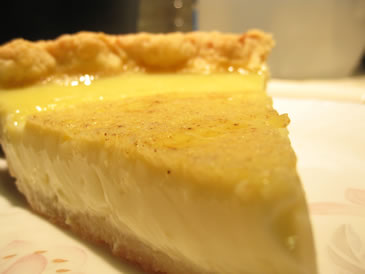 This custard is sweet and creamy and bakes up perfectly.
Custard pies are fast and easy to make.
Pastry chef's use custards in many smooth and creamy desserts. What's amazing is that the same ingredients can turned into a straight custard, a vanilla cream, a mousse or a souffle. No wonder custards is the base for many pies and desserts.
Ideally a custard pie is light and delicate
but still have good body.
Custard Histroy
Ancient Roman cooks were the first to realize the binding properties of eggs.
Custard as Americans know today dates to the Middle ages. At that time custard was eaten alone or used as fillings for pies, tarts, pastry, etc. Flan being the most famous and widely adapted custard dessert in the world.
In the Middle Ages custard was used as a filling and a binder for things like flans and tarts. The name custard is derived from croustade, an edible container used to hold a thick stew, cream or vegetable mixture like a tart.
Custard Pie Humor
Pieing is the act of
throwing a pie at a person.
Silent slapstick comedy shows and movies use custard pies in their pie fights or as some call it pieing. These pieings are very funny to witness but what a mess they create.
Custard Pie Story
When time is limited and I want a homemade pie, custard pie is the thing to bake. Most of the time we all have the ingredients for custard, eggs and milk.
I can bake a fully homemade custard pie in less than 23 minutes, the crust and filling.
On two of these occasion when I was baking my custard pie a funny thing happened.
One time I mixed the ingredients so fast I forgot something. I gave a slice of custard pie to my spouse. From the first bite he made a bitter face and said, "Honey did you forget something?" I forgot to add the sugar.
On another occasion, I decided to try a little cinnamon in the custard. However, when I went to grab the spice, I did not read the full label and accidentally added chili powder.
Handle eggs safely. Even though the chances are very low, your eggs may contain Salmonella.
Custard Pie Recipe

—Ingredients—

Pastry dough – single crust
1 1/2 cups unbleached all-purpose flour
2 tablespoons sugar
1/4 teaspoon fine salt
1/2 cup (1 stick) cold unsalted butter
1/4 cup ice cold water
1 teaspoon cold canola oil
Filling
3 cups milk (scalded)
3/4 cup sugar
4 large eggs
1 teaspoon pure vanilla extract
1/4 teaspoon ground nutmeg
pinch of salt
Directions
1. Prepare the pastry: Roll the pastry and line a 9-inch pie plate with the bottom crust. Roll out the remaining dough for the top crust. Chill the pastry and partial-bake.
2. Heat the milk until a thin skin appears on top of the liquid.
Milk or cream is the most common base for custards. Heavy cream makes a richer and more flavorable custard.
3. Preheat the oven to 350° F.
4. Mix the eggs, sugar, vanilla, nutmeg and salt in a separate bowl. Do not over beat to the point air gets incorporated into the mixture. This will make your custard grainy.
5. Whisking the egg mixture constantly, slowly add about a third of the hot milk. This will temper the eggs. If this is done too quickly, the eggs will cook, and you will have scrambled eggs in your custard.
6. Now add the rest of the milk whisking slowly
7. Slowly pour the mixture into the cooled partially baked pie shell.
8. Cover edges of pie with foil or use a pie crust shield.
9. Set the pie on the lower center oven rack and bake for 20 minutes, turn the pie 180° degrees. Continue baking until the center is set, about another 20 minutes.
Overcooked custard
will have
a pronounced 'eggy' flavor.
10. When ready the filling will be firm. The edges of the filling may puff up a little. You should not see much browning.
11. Shake the custard gently to check for doneness. When the custard ripples on the surface that move back and forth like jello it is properly done. You do not want waves of concentric, circular, rings when giving the shake test.
12. Transfer the pie to cool and set in refrigerator to chill.
Use only egg yolks for a richer, creamier mouth feeling custard. Use whole eggs to give more structure to your custard.