Coconut Buttermilk Custard Pie Recipe – Amish
Posted by Warren
Makes one 9-inch pie, single crust, custard filling. Total prep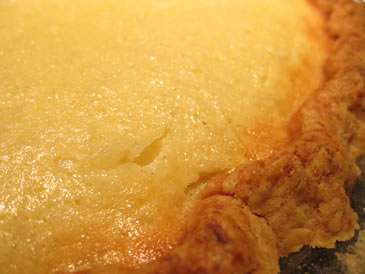 A creamy custard pie hints on the taste of a cheesecake.
This pie is the combination of different recipes. One of the recipes being from Amish roots. The by product of making butter from cream is buttermilk.
Buttermilk was used more often in cooking in the 1800's than today. This buttermilk pie is a piece of history for those who appreciate the not so easy life.
Pastry dough – single crust
1 1/2 cups unbleached all-purpose flour
2 tablespoons sugar
1/4 teaspoon fine salt
1/2 cup (1 stick) cold unsalted butter
1/4 cup ice cold water
1 teaspoon cold canola oil
Filling
2 cups buttermilk
1 cup sweetened flaked coconut
1/2 cup cream of coconut in can
3/4 cup sugar
3 large eggs
3 tablespoon all-purpose flour
1 teaspoon pure vanilla extract
1/4 teaspoon ground nutmeg
pinch of salt
Directions
1. Prepare the pastry: Roll the pastry and line a 9-inch pie plate with the bottom crust. Roll out the remaining dough for the top crust. Chill the pastry and partial-bake.
2. Preheat the oven to 350° F.
3. Mix the eggs, sugar, and flour together in a large bowl. Whisk in the cream of coconut, buttermilk, vanilla, and salt.
4. Stir the coconut flakes and nutmeg until combined.
5. Slowly pour the mixture into the cooled pie shell.
6. Set the pie on the center oven rack and bake for 20 minutes, turn the pie 180 degrees. Continue baking until the center is set, about another 20 minutes.
This pie taste
better chilled.
7. When ready the filling will be firm. The edges of the filling may puff up a little. You should not see much browning if any on pie filling.
8. Transfer the pie to cool and set in refrigerator to chill.