Chocolate Pie Recipe
Posted by Warren
Makes one 9-inch pie, single crust, cream filling. Total prep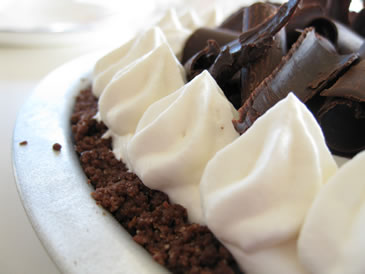 Classic Chocolate Cream Pie is so tempting. Who can bear to resist?
Chocolate cream pie is so pleasing to the senses. This pie is topped with homemade whip cream and semisweet chocolate curls.
—Ingredients—
Crumb Crust
1 1/2 cups chocolate cookie crumbs
5 tablespoons unsalted butter
3 tablespoons fine sugar
Filling
2 cups whole milk
1/2 cup heavy cream
3 tablespoons cornstarch
8 oz semisweet (plain) chocolate chips
4 large egg yolks (beaten)
3/4 cup sugar
1/4 teaspoon salt
1 1/2 teaspoon pure vanilla extract
pinch of cinnamon
Topping
1 cup heavy whipping cream
2 tablespoons powder sugar
1 teaspoon pure vanilla extract
Directions
1. Crust: Combine the all the ingredients in a bowl. Pat the mixture firmly and evenly into a 9 inch pie pan. Bake for 5 to 8 minutes in a 350° F oven.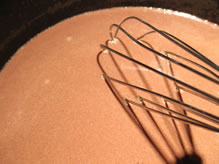 2. Filling: Warm the milk and cream in a heavy non-aluminum pot over low heat. Mix in the chocolate chips. Stir with a whisk until the chocolate is melting. The mixture will speckle with chocolate.
3. Whisk together the egg yolks and sugar in a non-aluminum bowl. Mix until mixture is a pale yellow.
4. Add the cornstarch and salt and the vanilla. Beat it well.
5. Slowly pour the warm chocolate mixture into the yolk mixture while you are mixing.

6. Return the mixture to the pot and heat until it thickens. Continue to stir mixture while it is cooking. In about 10 minutes or more the mixture will start to bubble.
7. Remove it from the heat and stir until smooth, about 1 minute.
8. Pour the chocolate filling into the crumb crust and smooth the top with a spatula.
9. Cover the pie filling with plastic wrap. Press the plastic directly onto the surface of the filling. Let the pie cool in the refrigerator until cold and firm, 2-4 hours.
10. The topping is made using an electric mixer or a whisk. Whip the heavy cream, powder sugar, and vanilla until still peaks form. Spread the whipped cream on chilled pie.
Use vegetable
peeler for
chocolate curls.
11. For added decoration add chocolate curls on top of the whipped cream.
12. Refrigerate until ready to serve. Let it stand for 10 to 20 minutes at room temperature before serving to take the chill off.