Traditional Pumpkin Pie Recipe
Posted by Warren
Makes one 9-inch pie, single crust, custard filling. Total prep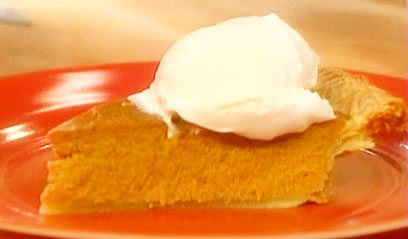 The Pumpkin flavor you came to know – creamy, sweet and spicy.
These pumpkin pies are baked at a renown restaurant in Boston that the customers keep coming back for more.
—Traditional Pumpkin Pie Recipe—
Pastry dough – single crust
Blind – baked Pate Brisee
1 1/2 cups all-purpose flour
2 tablespoons sugar
1/4 ice cold water
1/2 teaspoon fine salt
1/2 cup (1 stick) cold unsalted butter
1 teaspoon cold corn oil
Filling
3 cups canned pumpkin
1 cup brown sugar
1 1/3 cup heavy cream
5/6 cup ( 1/2 cup plus 1/3 cup) sweetened condensed milk
1/3 cup evaporated milk
4 eggs whole
2 egg yolk
2 teaspoons ground ginger
2 teaspoons ground cinnamon
2 teaspoons ground fresh nutmeg
1/8 teaspoon ground cloves
1/2 teaspoon salt
1/2 teaspoon pure vanilla extract
Directions
1. Prepare the pastry: Crimp edges and refrigerate for 15 minutes.
2. Put a sheet of foil in the pie crust and add your pie weights. Beans work well.

3. Blind bake your favorite pie crust at 350° F for about 30 minutes or until the crust edges start to brown.
4. Mix the pumpkin and sugar in a pan and cook on low medium heat for 15 to 20 minutes. Cooking it down will enhance the pumpkin flavor.
5. Add the heavy cream, vanilla evaporated milk, sweeten condensed milk, ginger, cinnamon, fresh nutmeg, cloves, salt, eggs and yolks in a large bowl.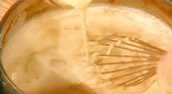 6. Whisk these ingredients all together.
This will make a perfect pumpkin custard.
7. Add the custard mixture to the pumpkin slowly, stirring at the same time. Continue mixing until it is smooth.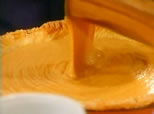 8. This goes right in to the pie shell at 325° F for 55 minutes.
9. Bake until the center sits and starts to jiggle when shaken.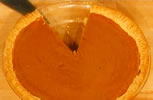 10. Let the pie cool for 2 -3 hours.
11. Canned pumpkin is more consistent in flavor than buying and using a fresh pumpkin.