Sweet Potato Pie Recipe
Posted by Warren
Makes one 9-inch pie, single crust, custard filling. Total prep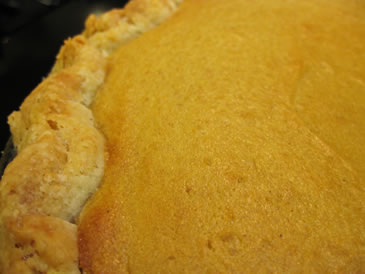 The taste of Sweet Potato Pie cousins the Pumpkin Pie but more starchy.
This is a Southern Pie with some bakers.
This sweet potato pie recipe is comfort food at its best. The pie filling is made with delicious sweet potatoes, butter, and spices.
The aroma of old fashioned home cooking will fill your home as this pie bakes. Just imagine of all the homes in time who enjoyed sweet potato pie, from slaves to pioneers to the common folk.
This pie warmed the stomachs as well as the hearts of many families. The mother could collect her sweet potatoes from her root cellar to bake this pie in the dead of a very cold winter.
What the heck, we can enjoy sweet potato pie any time of the year.
Are you using Yams or Sweet Potatoes in that pie?
Yams are native to Africa and Asia and vary in size from a small potato to a 130 pound potato. There are over 600 varieties of yams and 95% of these crops are grown in Africa. Yams are starchier and drier compared to sweet potatoes.
Sweet potato skin color can range from white to yellow, red, purple or brown. The flesh ranges in color from white to yellow, orange, or orange-red. Sweet potatoes are classified as either 'firm' or 'soft'.
'Firm' sweet potatoes remain firm when cooked. 'Soft' sweet potatoes become soft and moist when cooked.
The 'soft' sweet potato variety is often labeled as yams in the United States.
The 'firm' varieties of sweet potatoes were produced before 'soft' varieties in the United States. When soft varieties were first grown in the United States, there was a need to differentiate between the two.
Most likely those yams
you bought at your local market
are really sweet potatoes.
African slaves had already been calling the 'soft' sweet potatoes 'yams' because they resembled the yams in Africa. Thus,'soft' sweet potatoes were referred to as 'yams' to distinguish them from the 'firm' varieties.
Presently the U.S. Department of Agriculture requires labels with the term 'yam' to be accompanied by the term 'sweet potato.' Unless you specifically search for yams, which are usually found in a specialty market, you are probably eating sweet potatoes!
—Ingredients—
Pastry dough – single crust
1 1/2 cups unbleached all-purpose flour
2 tablespoons sugar
1/4 teaspoon fine salt
1/2 cup (1 stick) cold unsalted butter
1/4 cup ice cold water
1 teaspoon cold canola oil
Filling
4 to 5 medium sweet potatoes (2 1/4 cups cooked and mashed)
1 cup light cream or half-and-half

1/3 cup sugar
1/3 cup light brown sugar
3 large eggs
1 1/2 teaspoons unsalted butter, melted
1/2 teaspoon ground cinnamon
1/2 teaspoon ground mace
1/2 teaspoon pure vanilla extract
1/4 teaspoon salt
Directions
1. Prepare the pastry: Roll the pastry and line a 9-inch pie plate with the bottom crust. Roll out the remaining dough for the top crust. Chill the pastry and partial-bake.
2. Preheat the oven to 400° F.
Bake your sweet potatoes
for a richer flavor.
3. Baked the sweet potatoes until tender all the way through, about 1 hour. Set aside to cool.
4. Remove the sweet potato flesh and puree or beat until smooth.
5. Whip the eggs in a bowl until frothy. Add the sweet potatoes, sugars, cinnamon, mace, vanilla, butter and salt. Mix until smooth.
6. Slowly pour the mixture into the cooled pie shell.
7. Reduce the oven temperature to 350° F.
8. Set the pie on the center oven rack and bake for 30 minutes, turn the pie 180° degrees. Continue baking until the center is set and the edges start to rise, about another 20 minutes.
Cracks in the filling
are signs of an overcooked custard.
It is fine but not the best.
9. When ready the filling will be firm. The edges of the filling may puff up a little. You should not see much browning if any on pie filling.
10. Transfer the pie to cool. Serve slightly warm or at room temperature.
11. For storage cover the pie loosely with aluminum foil and refrigerate.
How to Select and store your sweet potatoes
Choose firm sweet potatoes with no cracks, bruises or soft spots. Avoid those that are refrigerated since very cold temperatures negatively alters their taste.
Store sweet potatoes in a cool, dark and well-ventilated place. They will keep fresh for two weeks or more. Ideally, keep them dry in a dark place not above 60° F. This is an ideal root cellar.


Pie Recipes and much more…