Render Lard from 1913
Posted by Warren
Rendering Lard for pastries. Text version is below image.
Dishes & Beverages Of The Old South, by Martha McCulloch-Williams
, 1913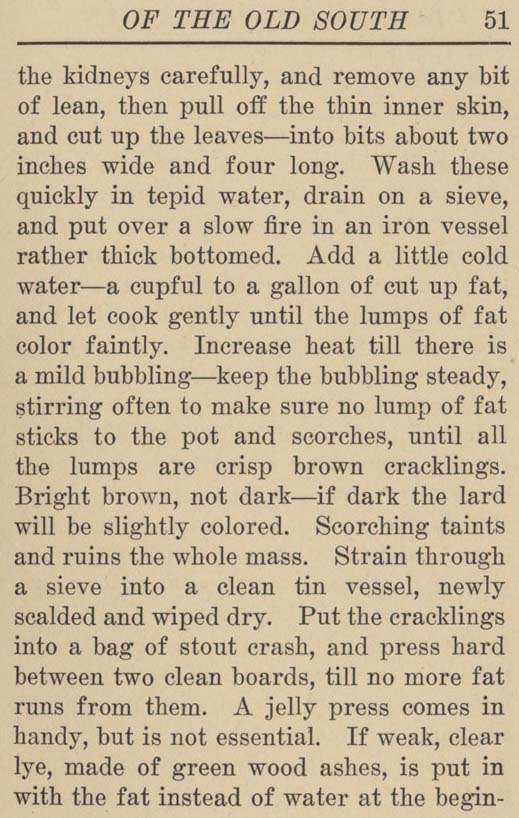 The rendering tips are fantastic. It goes into detail and how to create a creamy shortening from lard.

Be sure to read through it. It is very informative is you want to brush up on your vintage pie skills.
How to Render Lard from the cooks of 1913
Dishes & Beverages Of The Old South, by Martha McCulloch-Williams, 1913
Rendering Lard.
In rendering lard try out leaf fat to itself–it yields the very finest.
Cut out the kidneys carefully, and remove any bit of lean, then pull off the thin inner skin, and cut up the leaves–into bits about two inches wide and four long. Wash these quickly in tepid water, drain on a sieve, and put over a slow fire in an iron vessel rather thick bottomed. Add a little cold water–a cupful to a gallon of cut up fat, and let cook gently until the lumps of fat color faintly.
Increase heat till there is a mild bubbling–keep the bubbling steady, stirring often to make sure no lump of fat sticks to the pot and scorches, until all the lumps are crisp brown cracklings. Bright brown, not dark–if dark the lard will be slightly colored. Scorching taints and ruins the whole mass.
Strain through a sieve into a clean tin vessel, newly scalded and wiped dry. Put the cracklings into a bag of stout crash, and press hard between two clean boards, till no more fat runs from them. A jelly press comes in handy, but is not essential.
If weak, clear lye, made of green wood ashes, is put in with the fat instead of water at the beginning, the fat-yield will be greater, and the bulk of cracklings less, also more nearly disintegrated.
A Cookbook with vintage pie recipes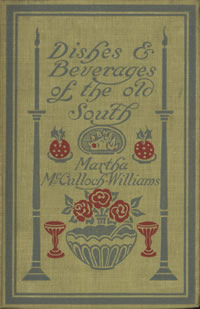 This is a romantic look back at southern foods and foodways.
Typical of many other such books following the Civil War, there is a touching, nostalgic (condescending) evocation of the author's Mammy and her cooking.
If one can pass by this aspect of the book, one can learn a great deal about an antebellum Southern kitchen.
Every chapter contains good, solid Southern recipes.
There are sections on Creole Cookery, and fascinating discussions on the foods and festivities associated with special occassions – Weddings, Christmas, Birthday Barbecues, and Political Barbecues, among others

Pie Crust Recipe made with Lard and Butter
—Ingredients and instructions are not the actual vintage recipe but is provided for reference purposes.
Pastry dough – double crust
2 1/2 cups King Arthur all-purpose flour (Red bag)
2 tablespoons sugar
1/2 ice cold water (do not use all at once)
1 teaspoon cold canola oil
1/2 teaspoon fine salt
1/2 cup (8 tablespoons) cold leaf lard
1/2 cup (1 stick) cold unsalted butter (any brand wrapped in foil)
Directions making the dough
1. Add all your dry ingredients to a chilled glass bowl and tossed the mixture with a fork.
2. Cube your fats into small pieces and add to the bowl.
3. Using just your finger tips rub the cold fat into the flour. Stop when the mixture resembles cracker crumbs and tiny peas.
4. Whip the ice cold water and oil until it looks cloudy and the mixture looks a little foamy. Quickly add two thirds of this to the dry ingredients and toss with a fork. If it is not coming together add the remaining liquid.
Do Not over work the dough.
It will make it tough.

5. The dough should look somewhat dry but come together when squeezed in your hands.
6. Now divide this mixture in half to make two balls by squeezing it all together. Compress and flatten the balls to form two large disks.
7. Wrap disks tightly with plastic wrap and chill for 30-60 minutes. You can freeze them for two months by adding a foil wrap to the covered disks.
8. Your dough is now ready for your favorite pie recipe.
Lard Pie Crust Success
Lard mixed with butter makes a great pastry for pie makers. A chilled lard pie crust is more plasticity, easy to work with, than just about any other pastry.
Keep the dough chilled at all times.