Pumpkin Pie Recipe – low calorie but big in taste
Posted by Warren
Makes one 9-inch pie, single crust, custard filling. Total prep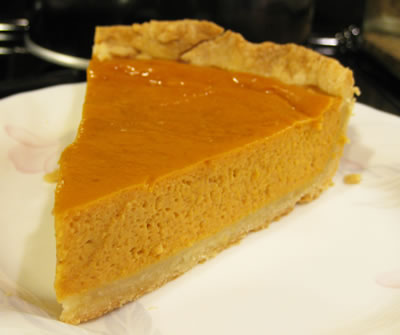 Nutritional data and Weight Watchers PointsPlus
The low-cal pumpkin pie recipe.
Pie is a comfort food. This pumpkin pie is not only comforting but also guilt free.
Cutting out calories
There are a few ways to reduce the calories in a pumpkin pie.

Cutting out calories -continued-
You can use artificial this and artificial that to cut out the calories. However, this method results in a pie that is yucky and leaves a bad after taste in your mouth.
Instead of removing all the bad ingredients, we just use less of it and expand it with lower calorie fillers.
This way you experience the full flavor of the pie. You still have the creamy custard filling surrounded by a sweet buttery pie crust. Yes, you get to eat the pastry.
Have your pie and eat it too.
Our low-calorie pie is 100 calories less than Marie Callendar's pumpkin pie and most frozen pies you find at your local market. But know this that our healthier version is just as large or big a serving size.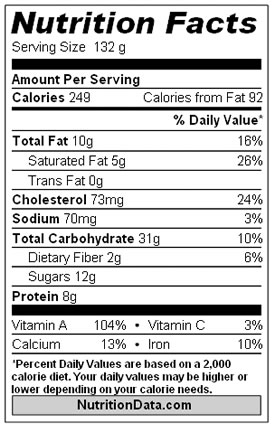 So enjoy
Our pumpkin pie will not hurt your weight-loss program.
If you are on Weight Watchers PointsPlus system, this pie is only 6 points.
Eat your vegatables
Remember pumpkins are considered to be a squash, a vegetable. Why not have a piece of pumpkin pie to help you meet your vegetable intake for the day!
Portion control or damage control
Okay, we have a yummy healthy pumpkin pie, now learn how I exercise portion control.
Interested in Pumpkin Pies?
Pumpkin Pie Recipe – low calories – big taste – no guilt
—Ingredients—
Pastry dough reduced calories- single crust
1 1/3 cups unbleached all-purpose flour
The secret
of making
a flaky pie crust.
2 teaspoons sugar
1/8 teaspoon fine salt
5 tablespoons cold unsalted butter
1/4 cup ice cold water
1 tablespoon cold corn oil (or any vegetable oil)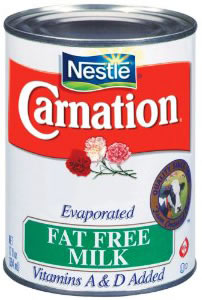 Filling
1 can (15 ounce can) pumpkin puree
1/4 cup white sugar
9 packets Stevia (sweetener substitute)
1 1/2 cups can (12 ounce can) evaporated milk fat-free(or thick powder milk)
2 large eggs
1 large egg whites
1/2 teaspoon pure vanilla extract
1/2 teaspoon ground mace (or nutmeg)
1/4 teaspoon ground cinnamon
1/4 teaspoon ground ginger (optional)
1/8 teaspoon salt
Pumpkin Pie Directions
1. Prepare the pastry: ??Transfer to a 9-inch pie pan or dish. Trim the edges of the pie. Fold the overhang under itself and pinch it together to create a high edge on the pan???s rim. Flute the edge decoratively.
More Help – How to mix the pie crust ingredients.
2. Refrigerate or freeze the pie shell until firm, about 15-30 minutes. Meanwhile, place an oven rack in the lower third of the oven and preheat to 400°F.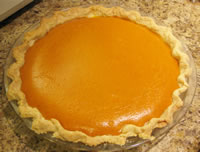 3.
Prepare filling
: In a large bowl, whisk together the sugars, and eggs until well blended. Add the cinnamon, salt, ginger, and mace and mix well. Add the pumpkin puree, fat-free evaporated milk, and whisk until smooth. Pour into the chilled uncooked pie crust.
4. Place pie in hot oven immediately!
5. Bake pie for 15-20 minutes at 400??F or until the bottom crust is set. Now reduce the temperature to 350F.
6. Bake the pie until the filling is slightly raised and firm in the middle, 40-50 minutes more. The center will shake like Jell-O when done.
7. Transfer to a wire rack and let cool. Serve slightly warm or at room temperature. Store the pie covered in the refrigerator for up to three days.
Pumpkin Pie Recipe – saving some for later
Store the pumpkin pie for up to a month by freezing it.
Do it the right way. Otherwise, when it comes time to thaw the pie, you will be disappointed.
My Freeze Pumpkin Pie has all of the instructions you need.