Pie Tips from the year 1887
Posted by Warren
Pie tips and help. Text version is below image.
White House Cook Book, by Fanny Lemira Gillette, 1887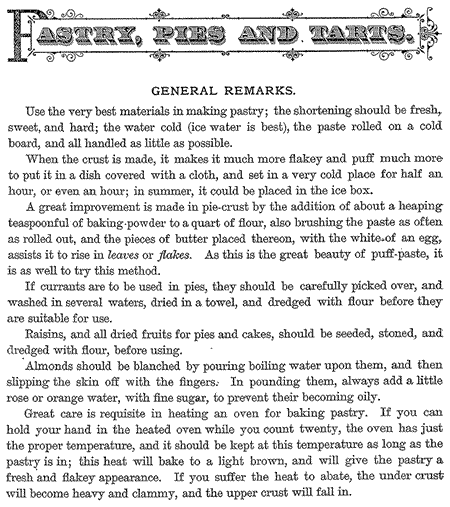 The tips here are fantastic. It goes into detail and how to store the pie after it is baked.

It shows how to test the temperature of the oven to see if it is hot enough to bake your pastry.
Be sure to read through it. It is very informative if you want to brush up on your pie skills.
Pie Tips and Remarks from 1887
White House Cook Book, by Fanny Lemira Gillette, 1887
GENERAL REMARKS.
Use the very best materials in making pastry; the shortening should be fresh, sweet, and hard; the water cold (ice water is best), the paste rolled on a cold board, and all handled as little as possible.
Rest Your Dough
When the crust is made, it makes it much more flakey and puff much more to put it in a dish covered with a cloth, and set in a very cold place for half an hour, or even an hour; in summer, it could be placed in the ice box.
A great improvement is made in pie-crust by the addition of about a heaping teaspoonful of baking-powder to a quart of flour, also brushing the paste as often as rolled out, and the pieces of butter placed thereon, with the white of an egg, assists it to rise in leaves or flakes. As this is the great beauty of puff-paste, it is as well to try this method.
If currants are to be used in pies, they should be carefully picked over, and washed in several waters, dried in a towel, and dredged with flour before they are suitable for use.
Raisins, and all dried fruits for pies and cakes, should be seeded, stoned, and dredged with flour, before using.
Almonds should be blanched by pouring boiling water upon them, and then slipping the skin off with the fingers. In pounding them, always add a little rose or orange water, with fine sugar, to prevent their becoming oily.
Check the Temperature of the Oven
Great care is requisite in heating an oven for baking pastry. If you can hold your hand in the heated oven while you count twenty, the oven has just the proper temperature, and it should be kept at this temperature as long as the pastry is in; this heat will bake to a light brown, and will give the pastry a fresh and flakey appearance. If you suffer the heat to abate, the under crust will become heavy and clammy, and the upper crust will fall in.
Another good way to ascertain when the oven is heated to the proper degree for puff-paste: put a small piece of the paste in previous to baking the whole, and then the heat can thus be judged of.
Storing Pie Crust
Pie-crust can be kept a week, and the last be better than the first, if put in a tightly covered dish, and set in the ice-chest in summer, and in a cool place in winter, and thus you can make a fresh pie every day with little trouble.
In baking custard, pumpkin or squash pies, it is well, in order that the mixture may not be absorbed by the paste, to first partly bake the paste before adding it, and when stewed fruit is used the filling should be perfectly cool when put in, or it will make the bottom crust sodden.
A Cookbook with vintage pie recipes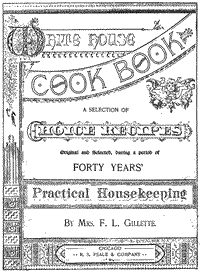 This is one of America's most enduring cookbooks. It was in print, under varying names and guises, for fifty some years and has been reprinted, in full or in part, throughout the 20th century. Early editions were printed on poor quality paper and so have not survived in easily usable form which makes them rare to find.
This the White House Cookbook the first edition.
It had a frontispiece photograph of the wife's of the President of the United States. This practice continued for much of the publishing of the book.
The interesting fact is that this cookbook was and still is a very popular American cookbook and has been for more than a century.
This cookbook is quite comprehensive with many household hints and tips in addition to hundreds of recipes, some being for pies.
Pie Crust Recipe made with Lard and Butter
—Ingredients and instructions are not the actual vintage recipe but is provided for reference purposes.
Pastry dough – double crust
2 1/2 cups King Arthur all-purpose flour (Red bag)
2 tablespoons sugar
1/2 ice cold water (do not use all at once)
1 teaspoon cold canola oil
1/2 teaspoon fine salt
1/2 cup (8 tablespoons) cold leaf lard
1/2 cup (1 stick) cold unsalted butter (any brand wrapped in foil)
Directions making the dough
1. Add all your dry ingredients to a chilled glass bowl and tossed the mixture with a fork.
2. Cube your fats into small pieces and add to the bowl.
3. Using just your finger tips rub the cold fat into the flour. Stop when the mixture resembles cracker crumbs and tiny peas.
4. Whip the ice cold water and oil until it looks cloudy and the mixture looks a little foamy. Quickly add two thirds of this to the dry ingredients and toss with a fork. If it is not coming together add the remaining liquid.
Do Not over work the dough.
It will make it tough.
5. The dough should look somewhat dry but come together when squeezed in your hands.
6. Now divide this mixture in half to make two balls by squeezing it all together. Compress and flatten the balls to form two large disks.
7. Wrap disks tightly with plastic wrap and chill for 30-60 minutes. You can freeze them for two months by adding a foil wrap to the covered disks.
8. Your dough is now ready for your favorite pie recipe.
Pie Crust Success
Lard is a good pastry for beginning pie makers. A chilled lard pie crust is more plasticity, easy to work with, than just about any other pastry.
It is less likely to crack while being rolled flat. It holds its shape very nicely.
So do not be afraid of this one, thinking you need to possess some old-fashioned wisdom.
Never over work the dough. This will activate the gluten and make the pie crust tough.