Key Lime Pie (Keylime Pie)
Posted by Warren
Makes one 9-inch pie, single crust, cream filling. Total prep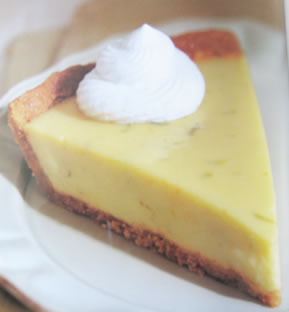 Key Lime pie is so easy to make. Anyone with a heart can do it.
Key limes also known as Mexican and West Indian limes are small, round and pale green. Some of these limes are grown in the Florida Keys, Texas and California. Good-quality bottled Key lime juice is also available.
—Ingredients—
Crumb Crust
1 (9 inch) prepared graham cracker crust
Filling
5 large egg yolks (beaten)
2 (14 ounce) cans sweetened condensed milk
1 cup key lime juice
1 teaspoon finely grated Key lime zest
Topping
1 cup heavy whipping cream
2 tablespoons powder sugar
1 teaspoon pure vanilla extract
Directions
1. Combine the egg yolks, sweetened condensed milk and lime juice. Mix well. Pour into lightly baked graham cracker shell.
2. Preheat the oven to 375°F.
3. Bake the pie for about 25-35 minutes. You should see small bubbles floating to the surface when done. Do not let it brown. The filling will get firm.
4. Transfer to a wire rack and let cool.
5. Refrigerate until ready to serve. Let it sit at room temperature for 15 minutes before serving to take the chill off.
Serving tip: Serve each wedge with a dollop of sweetened whipped cream.