everythingPIES WINNERS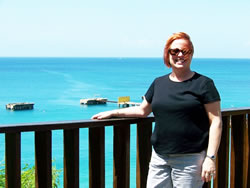 Meet our first pie winner, Crystal:
Baking is therapeutic, especially pie. Pie is so forgiving, so what if the crust isn't pretty or your merinque weeps? It still tastes great. Rolling out dough is good for a work out and for your soul.
I love to put a new twist on old recipes, I don't think I've met a pie I didn't like. My goal is to open a mini gourmet pie shop,
Piece Love Pie!
Crystal
Will you be our next winner?
We thank everyone who participated in our free pie drawings.
Sweetest Regards,
The Pie Guy
We want your visit to everythingPIES.com to be enjoyable and educational.