Elizabeth Taylor – White Chocolate Banana Cream Pie
Posted by The Pie
Makes one 9-inch pie, single crust, cream filling. Total prep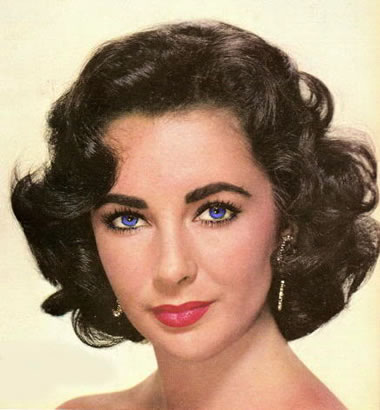 Do you know Elizabeth Taylor's two favorite pies?
Clue, one you cannot eat and the other went bananas.
The White Chocolate Banana Cream Pie Recipe
It is a tragic we no longer have Elizabeth Taylor, an iconic legend of a woman. She took her last breath at the age of 79 on Wednesday morning of March 23, 2011. Most people did not know she had a favorite pie. Did you?
Elizabeth Taylor loved two kinds of pies:
White Chocolate Banana Cream Pie
"The Pie" her horse
National Velvet film of 1944 with "Pie"
When you hear the words Elizabeth Taylor and "Pie" in the same sentence, we think of her movie National Velvet.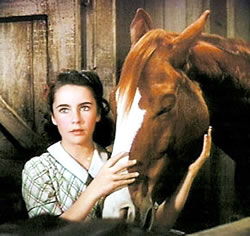 In National Velvet Elizabeth plays a twelve year old girl named Velvet Brown. Velvet is living in Sewels of Sussex England. She falls in love with a horse, she names "Pie. "
She enters "Pie" in England's Grand National Horse Race.
When she discovers that the horse jockey they hired does not believe he can win, she disguises herself as a male jockey by cutting her short and keeping her head covered with a hat.
She fools her entry as the jockey for "Pie" and becomes the first woman to enter and win the Grand National.
"Pie" is Elizabeth Taylor's horse
Elizabeth Taylor loved horses. She chose this horse for the movie and named him "Pie " because of its white spot on its head. After the filming of National Velvet, Elizabeth Taylor was given "The Pie" as a birthday gift.
Elizabeth Taylor loved White Chocolate Banana Cream Pie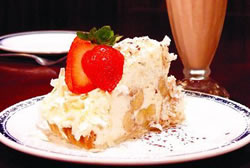 This cream pie is a mess of cream, bananas and white chocolate in a tasty pastry that oozes all over your plate when served. The pie won accolades from the James Beard Foundation, which voted it the best dessert in America in 1994.
Elizabeth Taylor is a big fan of this white chocolate banana cream pie. She was known for sending her staff all the way to Atlanta, Georgia to purchase a whole banana cream pie from Buckhead Diner.
We miss you Elizabeth Taylor.
Elizabeth Taylor – White Chocolate Banana Cream Pie Recipe
—Ingredients—
Pastry dough – double crust
3 cups all-purpose flour
4 tablespoons sugar
1/2 ice cold water
1/2 teaspoon fine salt
1 1/4 cup (2 1/2 sticks) cold unsalted butter
1 teaspoon cold corn oil
Filling Layer One – White Chocolate Pastry Cream
1 vanilla bean, slit lengthwise
1 cup whole milk or half-and-half
3 large egg yolks
1/3 cup white sugar
2 tablespoons cornstarch
3 ounces white chocolate, chopped in small pieces
1 tablespoon cold unsalted butter
pinch of salt
Filling Layer Two – White Chocolate Whipped Cream
1 cup cold heavy whipping cream
4 medium ripe bananas
1 tablespoon fresh lemon juice
1 1/2 tablespoons banana liqueur or rum
1 1/2 tablespoons white creme de cacao or Amaretto
Garnish for top
5 ounces white chocolate curls for top
Unsweetened cocoa powder, for dusting top
Directions
1. Prepare the pastry: Roll the pastry and line a 9-inch pie plate with the bottom crust. Chill the pastry for about one hour.
2. Pre-baked the pie crust shell in a 450° F preheated oven and set aside to cool.
3. Prepare Filling one: Warm the milk and the vanilla bean in a heavy non-aluminum pot over low heat. Mix in the white chocolate chunks. Stir with a whisk until the chocolate is melting. The mixture will speckle with white chocolate. Remove from heat.
4. Whisk together the egg yolks and sugar in a non-aluminum bowl. Mix until mixture is a pale yellow.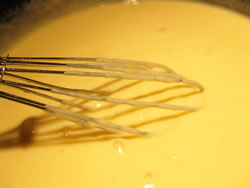 5. Add the cornstarch and salt to the egg mixture. Whisk it well.
6. Slowly pour the warm chocolate mixture into the yolk mixture while you are mixing.
7. Return the mixture to the pot and heat until it thickens. Continue to stir mixture while it is cooking. In about 10 minutes or more the mixture will start to bubble.
8. Remove it from the heat and stir until smooth, about 1 minute.
9. Pour the white chocolate filling into a glass bowl and smooth the top with a spatula.
10. Cover the pie filling with plastic wrap. Press the plastic directly onto the surface of the filling, to prevent a skin from forming. Let the pie filling cool in the refrigerator until cold and firm, 2-4 hours or overnight.
11. Whipped Cream: Chill a glass bowl. Beat the cream until it is stiff but not to grainy and refrigerate.
12. Thinly slice the bananas and toss with the lemon juice to prevent
darkening.
13. Fold the bananas and the liqueurs into the chilled pastry
cream. Be sure to remove the plastic. Carefully this mixture pour into your prebaked pie crust and level it with a spatula.
14. Gently cover the pie with the whipped cream. Fully spread it right to the edge of the crust..
15. Gently scatter some white chocolate curls over the
whipped cream.
16. Very lightly dust the white chocolate
curls with unsweetened cocoa powder.
17. Serve at once or chill up to 2 hours before serving.
White Chocolate Banana Cream Pie Success
Instead of using the vanilla bean, you can simply whisk 1 teaspoon of pure vanilla extract into the filling when it comes off the heat.
The pastry chef at the renowned Buckhead Diner recommends that this pie be served the same day it is made for best results.


Pie Recipes and much more…