Custard Pie Recipe – Vintage
Posted by Warren
Makes one 9-inch pie, single crust, custard filling
White House Cook Book, by Fanny Lemira Gillette, 1887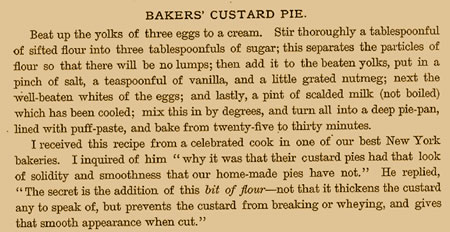 This custard pie recipe contain detains that most cookbooks can not come even close to its defined recipes. It is not as rich as some custards today but still very good.
Custard Pie Recipe
White House Cook Book, by Fanny Lemira Gillette, 1887
BAKERS' CUSTARD PIE.
Beat up the yolks of three eggs to a cream. Stir thoroughly a tablespoonful of sifted flour into three tablespoonfuls of sugar; this separates the particles of flour so that there will be no lumps; then add it to the beaten yolks, put in a pinch of salt, a teaspoonful of vanilla, and a little grated nutmeg; next the well-beaten whites of the eggs; and lastly, a pint of scalded milk (not boiled) which has been cooled; mix this in by degrees, and turn all into a deep pie-pan, lined with puff-paste, and bake from twenty-five to thirty minutes.
I received this recipe from a celebrated cook in one of our best New York bakeries. I inquired of him "why it was that their custard pies had that look of solidity and smoothness that our home-made pies have not." He replied, "The secret is the addition of this bit of flour–not that it thickens the custard any to speak of, but prevents the custard from breaking or wheying, and gives that smooth appearance when cut."
A Cookbook with vintage pie recipes
This is one of America's most enduring cookbooks. It was in print, under varying names and guises, for fifty some years and has been reprinted, in full or in part, throughout the 20th century. Early editions were printed on poor quality paper and so have not survived in easily usable form which makes them rare to find.
Custard Pie Recipe – Old Fashioned of 1887
—Ingredients and instructions are not the actual vintage recipe but is provided for reference purposes.
Pastry dough – single crust
1 1/2 cups unbleached all-purpose flour
2 tablespoons sugar
1/4 teaspoon fine salt
1/2 cup (1 stick) cold unsalted butter
1/4 cup ice cold water
1 teaspoon cold canola oil
Filling
1 1/2 pint milk (scalded)
heaping table-spoonful of sugar
3 large eggs
1/4 teaspoon ground nutmeg
pinch of salt
Directions
1. Prepare the pastry: Roll the pastry and line a 9-inch pie plate with the bottom crust. Roll out the remaining dough for the top crust. Chill the pastry and partial-bake.
2. Heat the milk until a thin skin appears on top of the liquid.
Milk or cream is the most common base for custards. Heavy cream makes a richer and more flavorable custard.
3. Preheat the oven to 350° F.
4. Mix the eggs, sugar, nutmeg and salt in a separate bowl. Do not over beat to the point air gets incorporated into the mixture. This will make your custard grainy.
5. Whisking the egg mixture constantly, slowly add about a third of the hot milk. This will temper the eggs. If this is done too quickly, the eggs will cook, and you will have scrambled eggs in your custard.
6. Now add the rest of the milk whisking slowly
7. Slowly pour the mixture into the cooled partially baked pie shell.
8. Cover edges of pie with foil or use a pie crust shield.
9. Set the pie on the lower center oven rack and bake for 20 minutes, turn the pie 180° degrees. Continue baking until the center is set, about another 20 minutes.
Overcooked custard
will have
a pronounced ???eggy??? flavor.
10. When ready the filling will be firm. The edges of the filling may puff up a little. You should not see much browning.
11. Shake the custard gently to check for doneness. When the custard ripples on the surface that move back and forth like jello it is properly done. You do not want waves of concentric, circular, rings when giving the shake test.
12. Transfer the pie to cool and set in refrigerator to chill.
Custard Pie Success
If you want to dress it, pipe freshly whipped cream over the top and dust it with toasted coconut.