Cream Apple Pie Recipe – Vintage – by a Black Slave
Posted by Warren
Makes one 9-inch pie, single crust, custard filling
What Mrs. Fisher Knows About Old Southern Cooking, by Abby Fisher, 1881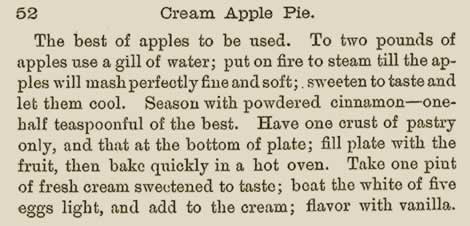 There is an interesting fact about this cream apple pie recipe, is that the recipe was published by a black slave.
Mrs. Fisher is a stellar pie baker and a consistent winner at the Sacramento California State Fair.
It is impressing that her pie crust was flaky, delicate and tasty. When it came to using eggs, she really! used eggs.
Cream Apple Pie Recipe
What Mrs. Fisher Knows About Old Southern Cooking, by Abby Fisher, San Francisco: Women's Co-op Printing Office, 1881
Cream Apple Pie.
The best of apples to be used. To two pounds of apples use a gill of water; put on fire to steam till the apples will mash perfectly fine and soft; sweeten to taste and let them cool. Season with powdered cinnamon–one-half teaspoonful of the best. Have one crust of pastry only, and that at the bottom of plate; fill plate with the fruit, then bake quickly in a hot oven. Take one pint of fresh cream sweetened to taste; beat the white of five eggs light, and add to the cream; flavor with vanilla.
View page [26]
Beat the cream lightly before adding the eggs, then with a spoon spread over pies on sending to table.
A Cookbook with vintage pie recipes
It is surprising that this book was ever written at all and that it has survived to be published since this cookbook was written by a black slave.
Mrs. Fisher, born a black slave, found her way to San Francisco soon after the Civil War. By dint of talent and hard work, she created a life and business there. She and her husband created a business manufacturing and selling "pickles, preserves, brandies, fruits, etc."
Mrs. Fisher was proud of a Diploma awarded at the Sacramento State Fair in 1879 and two medals awarded at the San Francisco Mechanics' Institute Fair, 1880, for best Pickles and Sauces and best assortment of Jellies and Preserves.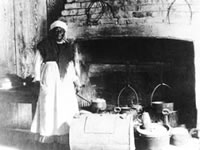 Mrs. Fisher seems to have been supported by many of the leading business and professional figures in the San Francisco and Oakland areas. Perhaps it was these kind hearted citizens who helped Mrs. Fisher to write and publish her book as both she and her husband were illiterate.
We are grateful to whomever it was that helped Mrs. Fisher to publish these splendid recipes. She hints that they were written "at my dictation." This may account for a some interesting variant spellings and names of dishes.
Apple Pie Recipe
—Ingredients and instructions are not the actual vintage recipe but is provided for reference purposes.
Pastry dough – single crust
3 cups unbleached all-purpose flour
4 tablespoons sugar
1/2 cup ice cold water
1/2 teaspoon fine salt
1 cup (2 sticks) cold unsalted butter
1 teaspoon cold corn oil
Filling
6 cups tart apples
2 tablespoons fresh-squeezed lemon juice
1/4 teaspoon fresh lemon zest
3/4 cup white sugar
2 tablespoons light brown sugar
2 tablespoons unbleached all-purpose flour or cornstarch
2 tablespoons tapioca flour
1/2 teaspoon ground cinnamon
1/4 teaspoon ground coriander
pinch of salt
2 tablespoon cold unsalted butter
Directions
1. Prepare the pastry: Roll the pastry and line a 9-inch pie plate with the bottom crust. Roll out the remaining dough for the top crust. Chill the pastry.
2. Preheat the oven to 400° F.
3. Prepare the filling: Pour the fresh-squeezed lemon juice in the bottom of a large bowl. Add your lemon zest to the bowl. Peel, halve and core the apples. Be sure to remove seeds. Slice them evenly about a 1/4 inch thick into the bowl, coating them with the lemon juice as you go.
4. In a separate bowl, mix together the sugars, flour or cornstarch, tapioca flour, cinnamon, coriander and salt. Add them to the apples just before you want to bake the pie, mix gently. Adjust sugar to taste as needed.
5. Scrape the filling into the bottom crust, dot with butter and cover it with the second crust. Trim and crimp the crust; chill the pie for about 10 minutes in the refrigerator. Cut vent slits in the top crust. It is your option to sprinkle it with sugar or brush the top with egg white.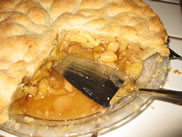 6. Bake the pie on a baking sheet for 10 minutes at 400° F or until the crust looks dry, blistered, and blonde. Turner the oven down to 375°F, and bake for at least 45 minutes more or until the crust is golden brown, and visible juices are thickened and bubble slowly through the slits in the top crust. Check if the bottom crust has darkened. If not bake a little more and cover the top crust, so it does not burn.
7. Cool the pie completely before cutting at least a few hours. Serve it at room temperature. Store the pie uncovered in a cool place up to three days.
Apple Pie Success
Pies taste the best using fresh fruits that are in season. If this is not possible try mixing any combination of fresh and frozen or canned fruit.
Remember frozen fruit should be partially thawed prior to mixing the filling.