Boston Cream Pie Recipe – a cake – of 1887
Posted by Warren
Makes one 9-inch pie, single crust, custard filling
White House Cook Book, by Fanny Lemira Gillette, 1887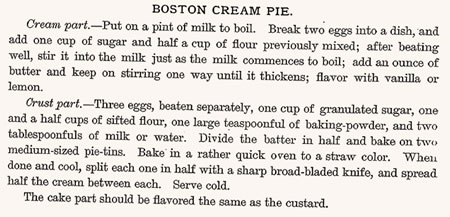 This Boston cream pie is really a cake put decided to include it here since it does use a custard for its filling.
Boston Cream Pie Recipe – a cake
White House Cook Book, by Fanny Lemira Gillette, 1887
BOSTON CREAM PIE.
Cream part.–Put on a pint of milk to boil. Break two eggs into a dish, and add one cup of sugar and half a cup of flour previously mixed; after beating well, stir it into the milk just as the milk commences to boil; add an ounce of butter and keep on stirring one way until it thickens; flavor with vanilla or lemon.
Crust part.–Three eggs, beaten separately, one cup of granulated sugar, one and a half cups of sifted flour, one large teaspoonful of baking-powder, and two tablespoonfuls of milk or water. Divide the batter in half and bake on two medium-sized pie-tins. Bake in a rather quick oven to a straw color. When done and cool, split each one in half with a sharp broad-bladed knife, and spread half the cream between each. Serve cold.
The cake part should be flavored the same as the custard.
A Cookbook with vintage pie recipes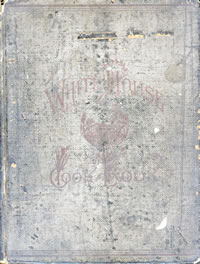 This is one of America's most enduring cookbooks. It was in print, under varying names and guises, for fifty some years and has been reprinted, in full or in part, throughout the 20th century.
Early editions were printed on poor quality paper and so have not survived in easily usable form which makes them rare to find.
This cookbook is the first edition.
It contains a frontispiece photograph of the wife's of the President of the United States, a tradition that continued for much of the life of this cookbook.
Custard Pie Recipe – Old Fashioned of 1887
—Ingredients and instructions are not the actual vintage recipe but is provided for reference purposes.
Pastry dough – single crust
1 1/2 cups unbleached all-purpose flour
2 tablespoons sugar
1/4 teaspoon fine salt
1/2 cup (1 stick) cold unsalted butter
1/4 cup ice cold water
1 teaspoon cold canola oil
Filling
1 1/2 pint milk (scalded)
heaping table-spoonful of sugar
3 large eggs
1/4 teaspoon ground nutmeg
pinch of salt
Directions
1. Prepare the pastry: Roll the pastry and line a 9-inch pie plate with the bottom crust. Roll out the remaining dough for the top crust. Chill the pastry and partial-bake.
2. Heat the milk until a thin skin appears on top of the liquid.
Milk or cream is the most common base for custards. Heavy cream makes a richer and more flavorable custard.
3. Preheat the oven to 350° F.
4. Mix the eggs, sugar, nutmeg and salt in a separate bowl. Do not over beat to the point air gets incorporated into the mixture. This will make your custard grainy.
5. Whisking the egg mixture constantly, slowly add about a third of the hot milk. This will temper the eggs. If this is done too quickly, the eggs will cook, and you will have scrambled eggs in your custard.
6. Now add the rest of the milk whisking slowly
7. Slowly pour the mixture into the cooled partially baked pie shell.
8. Cover edges of pie with foil or use a pie crust shield.
9. Set the pie on the lower center oven rack and bake for 20 minutes, turn the pie 180° degrees. Continue baking until the center is set, about another 20 minutes.
Overcooked custard
will have
a pronounced ???eggy??? flavor.
10. When ready the filling will be firm. The edges of the filling may puff up a little. You should not see much browning.
11. Shake the custard gently to check for doneness. When the custard ripples on the surface that move back and forth like jello it is properly done. You do not want waves of concentric, circular, rings when giving the shake test.
12. Transfer the pie to cool and set in refrigerator to chill.
Custard Pie Success
Baking custards at too high a temperature may cause the custard to break. It will change the texture from creamy to curdled and watery. When baking a custard always err on the low side if you think the oven is too hot. You con not do any harm to a custard by cooking it longer and slower, but you can do plenty by cooking it too fast and too hot.