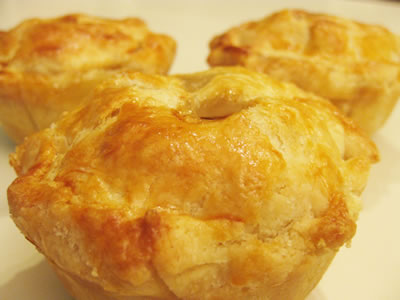 Pie Recipes
Posted by Pie Guy
Mini pies are starting a new trend that is riding on the heels of cupcakes.
They make a great romantic pie to share with your love.
Yes, you can bake them in your toaster oven too. MORE...
Featured Pie Recipes
Why pie recipes?
Because it makes us happy. Pie brings back fond memories that we have with our family and definitely with our dear grandmothers. Our grandmothers always made special pies for us.
Please join us for A Slice of Pie. We are all pie lovers here. The new art form of pie is not lost.
Need help with problem pies? Looking for a new approved pie recipe? Is pie crust difficult for you to make? EverythingPIES.com will hold your hand and take you to pie heaven.
Pie Recipes and more...